NFL Week 9 Predictions: Picks by Rose Presents Teams Guaranteed to Score
November 6, 2011
Rob Carr/Getty Images
It may seem odd to start an NFL Game Prediction series in Week 9, and truth be told, it is.
However, due to consistent success in picking games week in and week out, I have decided to spread my knowledge to those who may be looking for some answers on a weekly basis.
To bring you up to speed, I have been picking, and will continue to pick, every game each week: a.) Straight Up, b.) Against the Spread and c.) Over/Under.
Up until now, this year my season tally sits at:
Straight Up: 84-32 (72 percent)
Spread: 73-43 (63 percent)
Over/Under: 60-56 (52 percent)
I currently reside atop a 30-man pick 'em league that I was also victorious in last season, which should ease any doubts you may still be having.  Long story short, I am trying to help you here!
If you have some money and you are looking to put it down on some football, then look no further for the type of advice you need to make all the right selections on a weekly basis.
And with that, let's get started!
Miami Dolphins (+4) @ Kansas City Chiefs (O/U = 40)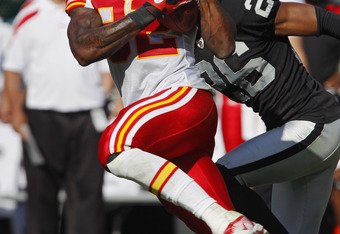 Brian Bahr/Getty Images
It seems like each week the Dolphins leave viewers with more questions than answers.
After last week's impressive performance by ex-Saint Reggie Bush, it seems they will make the obvious decision and start... rookie Daniel Thomas?
Like I said, nothing but question marks with these guys.  The winless Dolphins will not have what it takes to slow down the upstart Chiefs in this one, which will likely be ugly.
Straight: Kansas City
Spread: Kansas City
O/U: Under
Seattle Seahawks (+11.5) @ Dallas Cowboys (O/U = 44)
When being able to start Tarvaris Jackson is your biggest positive heading into the week, then things aren't looking to good for you.
The Cowboys have something to prove after being demoralized by the Eagles in Week 8, and look for them to come out swinging against an offensively non-existent Seahawks club.
Straight: Dallas
Spread: Dallas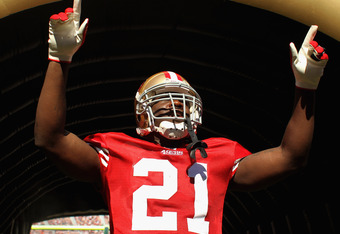 Ezra Shaw/Getty Images
O/U: Over
Tampa Bay Buccaneers (+8) @ New Orleans Saints (O/U = 50)
After an embarrassing loss at the hands of the Rams and A.J. Feeley last week, the Saints will hold nothing back in this NFC South matchup.
LeGarrette Blount's return gives the Bucs some hope, but they simply don't possess the offensive weapons to keep up with the onslaught Brees and the NO offense is likely to put out in this one.
Straight: New Orleans
Spread: New Orleans
O/U:  Over
San Francisco 49ers (-3.5) @ Washington Redskins (O/U = 37.5)
The 49ers may be the surprise team of the year up to this point, sporting a 6-1 record which includes wins against some legitimate football teams.  The Redskins are pretty much who we thought they were, and are riding a three-game losing streak into this one.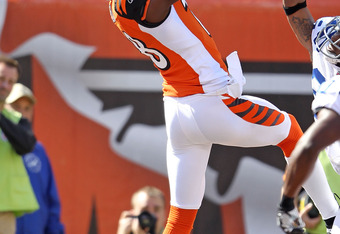 Andy Lyons/Getty Images
John Beck does not have enough pro experience to keep his club competitive against the stout SF defense, and the Niners run away with this one on the road.
Straight: San Francisco
Spread: San Francisco
O/U: Under
New York Jets (+2) @ Buffalo Bills (O/U = 44)
In one of this week's marquee matchups, the Jets travel to Buffalo after coming off of a bye week.
The Bills showed their ability to utilize the bye in their thrashing of the 'Skins in Week 8, but it's unlikely that the Jets will be able to come up with the same result.
This will be a close one, but Buffalo should be able to hold with the help of a rowdy fanbase.
Straight: Buffalo
Spread: Buffalo
O/U: Under
Hannah Foslien/Getty Images
Cleveland Browns (+11) @ Houston Texans (O/U = 41)
The Texans' defense has proven formidable through the midpoint of the season, and an inexperienced Cleveland offense will be lucky to put a TD on the board in this one.
Unfortunately, the return of Chris Ogbonnaya to Houston will not be a pretty one for his first start of the season.  Heck, not even Peyton Hillis could help them out here.
Texans with a big number, Cleveland with a little one.
Straight: Houston
Spread: Houston
O/U: Under
Atlanta Falcons (-7) @ Indianapolis Colts (O/U = 44.5)
The Falcons' defense has had two weeks to prepare for Curtis Painter and Delone Carter, and that is more than enough time.
Look for lots of turnovers and a huge output from Michael Turner as the dirty birds put Jim Caldwell's future in even more jeopardy.  
Straight: Atlanta
Spread: Atlanta
O/U: Under
Cincinnati Bengals (+3) @ Tennessee Titans (O/U = 42)
One of this week's toughest games to call will take place in Tennessee, where the surprising rookie duo of Andy Dalton and A.J. Green look to extend their win streak to five against a Titans team who, despite the well-paid-but-under-performing Chris Johnson, have managed to stay above .500.
As long as CJ2K doesn't return to form in this one, Cincy should be able to pull one out on the road—but if the Tennessee run game finally comes to life, then the scales could easily turn the other way.
Straight: Cincinnati
Spread: Cincinnati
O/U: Over
Denver Broncos (+8) @ Oakland Raiders (O/U = 42.5)
Another interesting matchup here, as the downtrodden Broncos try to turn things around in Oaktown after an embarrassing offensive performance against a tough Lions defense.
With Darren McFadden ruled out and Carson Palmer still trying to get into his groove, the Broncos could very well escape the black hole with a W if Tebow can avoid costly turnovers.
I'm not convinced that he can, but you never know with this guy.
Straight: Oakland
Spread: Denver
O/U: Under
New York Giants (+9) @ New England Patriots (O/U = 51)
In the first regular season matchup of these two since the Giants' unforgettable Super Bowl victory, Brady and the Pats will no doubt be looking for some long-awaited revenge.
Although the Patriots' backfield is, as always, in constant rotation, they should be able to find success against the G-men, who have been surprisingly lax against the ground game this year.
Expect a shootout in this one with both QBs putting up big numbers, but Brady's will be slightly higher and NE will send NY packing with the loss.
Straight: New England
Spread: New England
O/U: Over
Green Bay Packers (-5.5) @ San Diego Chargers (O/U = 51)
San Diego took an embarrassing loss on Monday Night after they let Tony Romo take over at quarterback—oh wait, that was Philip Rivers.
No doubt Norv Turner's bunch still have a sour taste in their mouth after they gave away that game, and it will only get worse once Aaron Rodgers and the unstoppable GB offense take the field.
At this point, I will need to see somebody stop Green Bay before I believe it can happen, and I don't believe that the Bolts' D are the ones to do it.
Straight: Green Bay
Spread: Green Bay
O/U: Over
St. Louis Rams (+3) @ Arizona Cardinals (O/U = 41.5)
The Rams appear to be getting Sam Bradford back for this one after pulling the miracle upset of New Orleans last week without him.
The Cardinals are on the opposite side of the coin, as Kevin Kolb likely sits this one out while nursing an injury.
Who is the backup in AZ?  Nobody knows.  Add that to the fact that Beanie Wells will not be 100 percent, and it's hard to see the Cards pulling this one out at home.
Straight: St. Louis
Spread: St. Louis
O/U: Under
Baltimore Ravens (+3) @ Pittsburgh Steelers (O/U = 41.5)
Throw the numbers out the window in the Week 9 Game of the Week, which pits the Steelers against the Ravens.
As one of the biggest rivalries in the league, this one never seems to disappoint, and the viewers on Sunday Night Football should be entertained yet again.  Big Ben has looked very solid this season, while Joe Flacco has been spotty.
The Terrible Towels will wave all night as the Steelers' home crowd will cheer them to a hard-fought victory against their nemesis.
Straight: Pittsburgh
Spread: Pittsburgh
O/U: Under
Chicago Bears (+7.5) @ Philadelphia Eagles (O/U = 47)
Monday Night pits the Bears, who are coming off a bye week, against the Eagles, who showed last week against the Cowboys that they can indeed be the "Dream Team" that many thought they would be before the season began.
The Eagles' ground game has been unstoppable to this point, and they will continue to stay with what has worked as they try to turn a two-game winning streak into three.  Matt Forte will get his numbers, but the Eagles' big playmakers will have their way in primetime once again this week.
Straight: Philadephia
Spread: Philadelphia
O/U: Over
There are a lot of great matchups this week that any football fan should be excited for.  Here's to hoping that publishing these picks will not be a bad luck charm, and that my success through the first half of the season will only continue.
Stay tuned for next weeks picks as I intend to provide similar insight for the remainder of the 2011 NFL Season!