2012 NFL Mock Draft: 7 Rounds of Houston Texans Predictions
November 10, 2011
Chris Trotman/Getty Images
I know, I know...
It's early.
Perhaps a little too early to be talking about the 2012 NFL draft in a season where the Texans look like they'll be having meaningful games well into December. But the truth is, it's never too early to be keeping one eye on the draft. 
The NFL is truly a year-round phenomenon, and a large chunk of that is the draft. The combine, the senior bowl and pro day's all leading up to team workouts is a ton of fun to watch for any football junkie.
In Houston, we're draft professionals, because we usually start paying attention to these things earlier than most of the league since we're usually close to out of contention by now.
I know this year looks to be different, but by this point it is a habit, and I can't just ignore my draft fascinations.
At this point, we know what the teams' weaknesses are. All those people who call in to local radio whining all the time about how we need this and this guy is lousy and that player needs to be replaced need to realize that you can't fix all of your problems in one offseason.
Although the Texans did come darn close after bringing Wade Phillips aboard, there are still plenty of holes that need to be addressed through the draft in 2012 as well as free agency. But with that still months away, I'm going to take a stab at the college players I'd love to see the Texans bring in to shore up some of these weaknesses.
I realize that nailing a seven-round mock draft is an impossibility, but it will be fun to go back in April right before the draft and see how much this changes between now and then.
With what we know right now, if the draft was tomorrow this is how I would do it were I in the war room with Kubiak and company.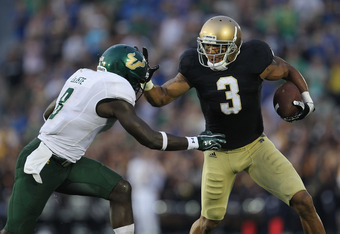 Jonathan Daniel/Getty Images
Round 1 - Michael Floyd, WR, Notre Dame
I'm guessing that the Texans will be picking in the 23-28 range in the first round this year, and if we've seen one thing this year, it has been that the wide receiver depth is below average behind Andre Johnson.
With him missing close to half the season with a serious hamstring injury, the realization has set in that the team not only needs a legitimate No. 2 receiver, but a guy who could be groomed to be a future No. 1 after Andre Johnson hits his eventual decline.
Houston has no shot at Justin Blackmon or Alshon Jeffery, even if they lost the remainder of their games this season.
But Michael Floyd has seen his top 15 stock drop a little after his DUI arrest this spring. The guy has all the tools and talent to be that guy the Houston offense needs to go from explosive to unstoppable.
This position can no longer be ignored, and I believe this is the year they take a wide receiver in the first round again. It very well could be Floyd.
Other Possibilities: Dwight Jones, WR, North Carolina or Alameda Ta'amu, NT, Washington
Round 2 - Josh Chapman, NT, Alabama
While I believe that Shaun Cody has kind of been an unsung hero for the Texans this year, he isn't the long-term answer in the middle for the Texans defensive line. He isn't a true nose tackle, and neither is Earl Mitchell.
Therefore, I believe this will be the first or second position taken in this draft.
Kevin C. Cox/Getty Images
Josh Chapman started as a backup to Terrence Cody before becoming the full-time starter in 2011. At the point of attack, he can be a strong defender against the run and is strong enough to give the opposing offensive line some push. In doing so, this enables the Texans pass-rush to improve even more than it has in 2011.
At 310 pounds, Chapman may not be that true space-eater that Texans fans have been clamoring for seemingly for ages, but he does fit what Bill Kollar likes to do. Many see him more as a five technique, but I believe he fits the mold that the Texans' defensive coaching staff will be looking for.
Other Possibilities: Dont'a Hightower, ILB, Alabama or Robert Lester, S, Alabama
Round 3 - Ryan Tannehill, QB, Texas A&M
When you're done groaning, I will explain. Finished?
By no means am I one of the guys who think that Matt Schaub should be run out of town. Not even close.
I'm one of his most adamant supporters and get called a Schaub-apologist quite often.
But what I want the Texans to do is draft a quality quarterback in the early rounds and groom him to be Matt's replacement.
Schaub isn't getting any younger, and now would be a good time to do this the old fashioned way. Let his successor hold a clipboard for two or three years, learn under him and ease him into things.
Some guy named Aaron Rodgers did it that way, and it seems like it was worth the wait, right?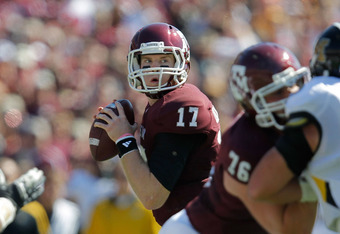 Sarah Glenn/Getty Images
In Tannehill, I see a guy who is raw, but with some good coaching, he could be a stud at the next level. He has first-round talent, but with only 20 starts under his belt at Texas A&M (if he comes out this year) it will have many scouts questioning if he's ready.
Houston needs a quarterback of the future, and Tyler Yates isn't it.
The Texans need to start planning for their quarterback of the future, and Ryan Tannehill could be that guy.
By the way, the fact that he plays at Texas A&M has absolutely nothing to do with this pick.
Other Possibilities: Markelle Martin, S, Oklahoma State or Desmond Trufant, CB, Washington
Round 4 - Jerry Franklin, LB, Arkansas
In this defensive scheme, the one thing you can never have enough of is linebackers. Especially with the questions Houston will face in the offseason, such as if Mario Williams will return to the team and if DeMeco Ryans will be a cap casualty.
Darryl Sharpton will be returning from injury, and we never know if a guy will be the same again.
All that plus the need for depth overall will make this an easy pick if Arkansas standout linebacker Jerry Franklin slips to Houston in the fourth round.
Franklin would be a natural and cheap fit as an inside linebacker in Phillips' scheme opposite Brian Cushing. He looks to be a two-down thumper with a thick build who could rush the passer as needed. Nothing special, but a proper fit at this point in the draft that adds much needed linebacker depth.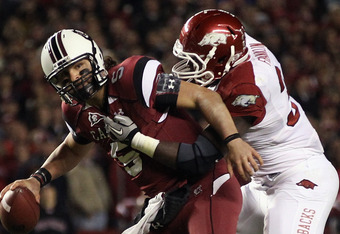 Streeter Lecka/Getty Images
Other Possibilities: Coryell Judie, CB, Texas A&M or Brandon Lindsay, DE/OLB, Pittsburgh
Round 5 - Rokevious Watkins, OG, South Carolina
I realize that there is nothing wrong with the Texans offensive line. In fact, many think it just might be the best in all of football.
But to think that they're always going to stay healthy is putting a lot of your eggs in one basket.
Neither Shelley Smith nor Kasey Studdard inspire much confidence to be eventual replacements on that line in the future. In fact, other than Antoine Caldwell, there isn't much on the active roster that seems to be anything special.
So to think they'd look to add some quality depth on the line isn't unheard of.
Rokevious Watkins could fill in rather nicely with this group, no matter who he replaces. He is a terrific run blocker at South Carolina, and he has the size and speed to succeed at the next level.
Other Possibilities: Brandon Washington, OG, Miami or Shayne Skov, DE/OLB, Stanford
Round 6 - Jonathan Massaquoi, DE, Troy
Just like linebackers, another thing that a Wade Phillips defense likes is a vast number of pass-rushers.
In Jonathan Massaquoi, he would add a guy who is probably more of a tweener, and most scouts would translate him to a linebacker in the NFL. He is good at dropping into coverage, and he is quick enough off the ball to bring quarterback pressure.
Remember what Wade Phillips did the last time he got his hands on a pass-rusher out of Troy?
Other Possibilities: Mike Daniels, DT, Iowa or Derek Wolfe, DT, Cincinnati
Round 7 - Greg McCoy, CB, TCU
You didn't really think the Texans would make it through a draft without adding another depth cornerback, did you?
What can you really say about a seventh-round pick out of TCU? The Texans may not even get this pock if Derrick Mason catches fire in the second half of the season, as this is the conditional pick in question.
But adding more cornerback depth is never going to be criticized, no matter what team you're a part of. In McCoy, they would get a guy with 4.4 speed who is above average in coverage with kick returning ability—something that could be remedied in all areas.
Other Possibilities: Mike Martin, DT, Michigan or Jerrell Young, FS, South Florida 
In the end, this draft should be all about depth for the Texans. They don't have the glaring holes on the team like they did at the end of last season, and filling the team with affordable, young talent and depth is what will keep them in the upper third of the league for years to come.
Mike Kerns is a featured columnist for the Houston Texans at Bleacher Report. Feel free to follow him on Twitter at @Zepp1978 and catch his latest Texans podcast at State of The Texans.