Making a Case for Jon Kitna as Dallas Cowboys Starting Quarterback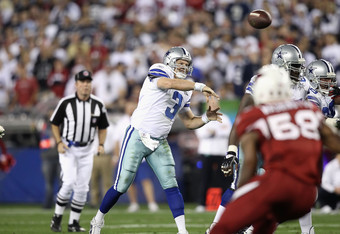 Christian Petersen/Getty Images
As the Cowboys prepare for their Week 8 matchup against the Eagles, I thought that it may be a good time to take a look back. One year ago next week, the Dallas Cowboys started their second season without starting quarterback Tony Romo.
If you can't remember what happened, Romo was lost for the 2010 season when the 'Boys played the Giants. New York linebacker Michael Boley came free on a blitz and blasted Romo, breaking his collarbone.

What's haunting about that hit is that you can hear Romo scream as he hit the Dallas turf. Romo went back to the sideline and team trainers had to constantly tell him that he couldn't get back into the game as he kept begging to re-enter. Romo is a football warrior.
But Dallas had to push on after losing Romo, and for the remainder of the Giants game and the season the Cowboys marched on under the leadership of backup quarterback Jon Kitna. He tossed 187 passing yards against the Giants, and the next week he had almost 400 yards versus the Jaguars. The Cowboys were trounced by Jacksonville, but Kitna still did his thing.
Dallas eventually fired Wade Phillips as their head coach, and team owner Jerry Jones named offensive coordinator Jason Garrett as interim head coach. Dallas went 5-3 under Garrett for the rest of the year and he eventually had the interim tag removed.
Let's jump to the middle of the season when the Cowboys beat the Giants by 13, destroyed the Lions and shocked the Indianapolis Colts.
Kitna led Dallas to a key victory against the Giants because it represented a few things for the team. It was the team's first victory under new head coach Garrett, it showed the Cowboys still had fight and we also saw what happens when Dallas has balance.
Should Jon Kitna Take Over As Starter?
Garrett controlled Kitna by making him manage the ball game. Kitna only threw 22 passes and Dallas ran the ball 28 times. Felix Jones had 51 yards rushing with 85 yards receiving and one touchdown. Dez Bryant only had three catches, but he went for over 100 yards and one touchdown. The Cowboys played as a team as they rallied around each other and Garrett.
Next up, Dallas took on the Detroit Lions. Both teams had no chance at the playoffs but were playing for pride. Garrett again decided to balance his play calling out with Kitna at the helm as he called 24 pass plays compared to 30 rushes. Kitna had four total touchdowns, three passing and one running. Remember that 29-yard bootleg that Kitna had when he darted around the corner? You could see smoke coming from his shoes.
Dallas scrubbed Detroit 35-19 behind only 265 total yards and 147 passing yards.
By this point, the cry from fans was to make Kitna the permanent starter. He seemed to show more leadership than Romo, and had a better handle on the team than his injured predecessor.
The last game we'll talk about will be the Cowboys versus the Colts. Dallas lost their previous game to the Saints by a slim margin, and not many people gave the 'Boys a chance against Indy. After all, the Colts had Peyton Manning and Reggie Wayne, and Dallas had a journeyman quarterback in Kitna and…yeah, that's about it for offense name wise.
Hannah Foslien/Getty Images
Dallas took out to an early 17-0 lead behind the legs of Tashard Choice, the hands of cornerback Orlando Scandrick and the foot of David Buehler.

By the way, Choice led the Cowboys in rushing that game as he had 19 carries for 100 yards. He had an impressive 20-yard scamper for a touchdown early in the first quarter. He shows flashes which, is what led Jason Garrett to say this about Choice: "We're going to continue to believe in him. But he needs to understand he's got to lock the ball up because those are difference-making plays in the game."
Back to the money.
The Colts stormed back, erasing Dallas' 17-point lead. Fast-forward to the fourth quarter, and the Cowboys and Colts are in a dog race. The Cowboys led the Colts 35-28 late in the fourth quarter, but Manning and the Colts scored to send the game to overtime.
Here is where rookie Sean Lee made his mark last season.
Indy has a 3rd-and-4 on their on 35-yard line. Manning drops back to pass, the ball is tipped by Mike Jenkins and it's picked off by Lee—his second interception. The Cowboys take over and win the game as Buehler boots a field goal in sudden death.
Kitna threw only 26 passes for 167 yards and one touchdown, but he was efficient and mistake free. He did what the Cowboys needed for him to do, and Dallas was about to grab victory by the horns.
Christian Petersen/Getty Images
Dallas ran the ball 46 times for 217 yards as Choice and Felix Jones did their thing against Indy.
The only case for Kitna to again take over the reins as starting quarterback is if Romo gets injured or if Garrett believes he gives Dallas the best chance to win. I believe that he's a great team leader and the team's offensive line and skill players rallied around him because they had to and because Kitna is a likable guy. He has a fiery personality that is contagious, and the Cowboys needed it and responded to it last season.
Garrett had to go conservative with Kitna last year because I don't think he fully trusted the veteran QB with his offense and thought the team had a better chance at winning by running and having a manageable passing offense.
It worked last season, but now Dallas needs a guy like Romo who is capable of winning ballgames because he has the ability to take risks. Garrett knows that Romo is familiar with his offense.
Trust is another issue as Garrett has shown, at least in my opinion, that his trust for Romo is starting to slip. But that's another article for another day.
Kitna did a lovely job filling for Romo last season, but is he really the answer to take Dallas to the Super Bowl? You be the judge.
Cowboys News and Notes

Rams vs Cowboys: 8 Things We Learned from Dallas' 34-7 Win

Dallas Cowboys Report Card: Grading Each Unit vs. the St. Louis Rams
This article is
What is the duplicate article?
Why is this article offensive?
Where is this article plagiarized from?
Why is this article poorly edited?

Dallas Cowboys: Like this team?