NFL Fact or Fiction: New York Giants Will Face San Diego Chargers in Super Bowl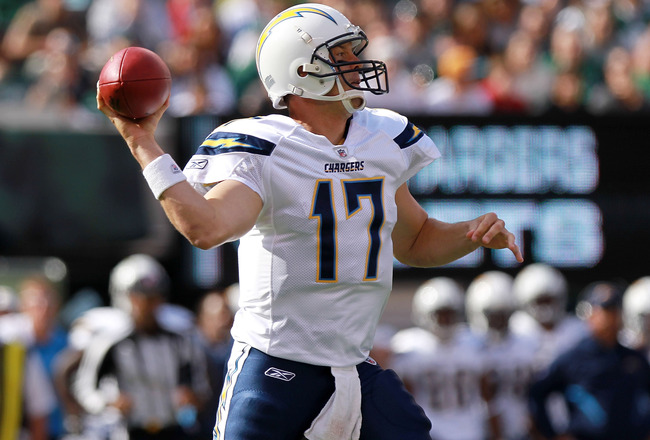 Nick Laham/Getty Images
The Giants versus the Chargers would make for an exciting matchup in this year's Super Bowl.
Both teams have explosive offenses that can score at any moment on any type of play. They have great running games that can be physical and wear down opposing defenses.
Right now, both teams are sitting at the top of their divisions and have a shot at making it to the playoffs. Here is a look at both teams and why they will (or why they won't) face each other in the Super Bowl.
The New York Giants' Offense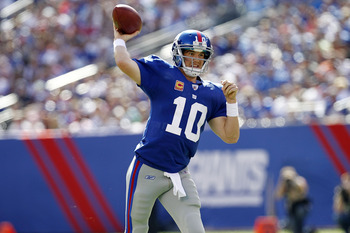 Jeff Zelevansky/Getty Images
The New York Giants have been a surprise team in the NFC East. A good majority of people thought that Philadelphia was going to walk right through and easily take over the division, but this was only a dream.
The Giants are ranked 11th overall on offense, averaging 368.3 yards per game.
The Giants have not been running the ball like as well as they would like to. So far, they have only gained 540 yards on the ground and have relied on Eli Manning's throwing ability. The Giants are ranked sixth in total yards through the air and have put up 154 points so far this year.
The Giants' offense has shown spurts of greatness but has sputtered at times, as well. If the Giants can get their offense to play more consistently and balance out the rushing attack and passing game, they will be a true playoff contender.
The New York Giants' Defense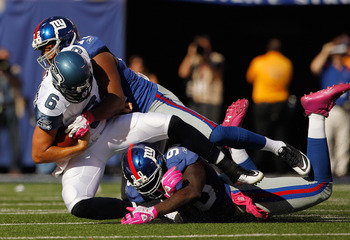 Mike Stobe/Getty Images
The Giants' defense is actually playing pretty well for all of the injuries that they have suffered.
They are giving up an average of 373 yards and 24.5 points this year.
The Giants have been very successful in rushing the quarterback, as they are tied for first in total sacks with 21. They have seven interceptions and eight forced fumbles.
Turnovers have been a big key for the Giants this year. If they can keep the pressure on the quarterback and create turnovers, the Giants could make a magical run to the Super Bowl this year.
The San Diego Chargers' Offense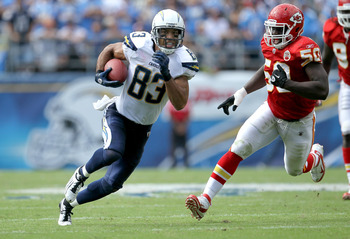 Stephen Dunn/Getty Images
The San Diego Chargers are looking to make their run towards a Super Bowl this year. After a disappointing year last year in which they didn't even win the AFC West, they are determined to get off to a hot start and not look back.
The Chargers are led by gunslinger Phillip Rivers. Rivers has been playing very well at the quarterback position and has been one of the best all-around game-managers for the past few seasons.
The Chargers rank seventh overall in total passing yards per game. They also average 23.5 points per game this year. The Chargers have also been producing on the ground, as well. They average 118.3 yards per game and have seven rushing touchdowns this season.
The Chargers have an explosive offense with playmakers at every position. They have the offense to make a run at the Super Bowl and they could do it this year.
The San Diego Defense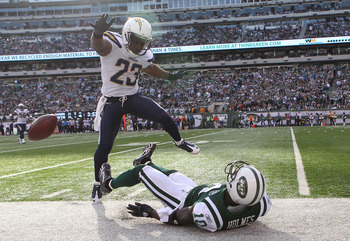 Nick Laham/Getty Images
The San Diego Chargers have the fifth-best defense, giving up an average of 297.3 total yards and 22.7 points per game, which is decent.
They have been solid in the turnover department, intercepting six passes and forcing two fumbles.
The Chargers run a very good 3-4 defensive scheme and use multiple blitz packages that can confuse a good offense. They know how to attack the ball and tackle well.
The big question is whether the defense can create enough turnovers to help them win games late in the season. If they do, I can see this Charger team go a long way.
Fact or Fiction?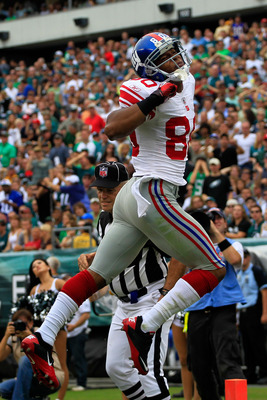 Chris Trotman/Getty Images
It would be great to see the Chargers face the Giants in this year's Super Bowl.
Both teams can score and both defenses can make big-time stops. This being said, they have tough opponents that they face in their own divisions.
The Chargers have a sneaky Oakland team that can capitalize on a Chargers loss, and the Giants have to worry about the Cowboys and Eagles.
Even outside of their divisions they have tough competition. It will be amazing to see these teams face each other, but when it comes down to it, this is just fiction.
Keep Reading

New York Giants: Like this team?