Week 7 Waiver Wire: Carson Palmer and Other Pickups You Need
October 19, 2011
Larry French/Getty Images
NFL trade rumors came to fruition, players were cut, players were signed and the whirlwind of fantasy football waiver wire pickups got a little bit crazier. Whether you need help in a two quarterback league, are hit with some troublesome bye weeks or a top player is hurt, TheSportsCannon.com has got you covered. Here is a list of players you can't afford NOT picking up.
Quarterbacks
Carson Palmer, Oakland Raiders (1 Percent ESPN, 12 Percent Yahoo)
Oh you didn't hear that Palmer got traded in a blockbuster deal that sent the Bengals two first-round picks?! Then you probably also don't play fantasy football. Listen, if you need a quarterback this weekend and have only a few funds in your waiver account left you may have to look elsewhere. Palmer is said to be in good shape but it's asking too much to expect him to be ready to play right away. All indications right now are that Palmer won't be under center in Oakland until after the team's bye week in Week 9 when the Raiders play the Broncos at home. He certainly won't be available on waivers then, however.
John Beck, Washington Redskins (1 Percent ESPN, 2 Percent Yahoo)
It is unclear as of now if Beck of Grossman will start at quarterback for the Redskins this week at Carolina, what is clear is that Grossman has looked downright awful as of late. Beck, on the other hand, had fairly good numbers despite playing limited snaps. There were certainly some ugly throws and plays with Beck under center, but the Shanahans seemed to be keener on Beck at the beginning of the season anyway. Whether it is this weekend or not, Beck will be the starter in Washington eventually.
Curtis Painter, Indianapolis Colts (5.4 Percent ESPN, 14 Percent Yahoo)
He has come to be known as "Jeremy Shockey's Brother", "Dutch Boy" and "Curtis Cobain" but he should also be known as a decent QB2 in any format. Painter didn't have a fantastic showing this past week but was taking on one of the better defenses in football when the Colts lost to the Bengals. In three games as starter Painter has five touchdowns and 746 yards. He's no Peyton Manning but he is a solid option in two quarterback leagues.
Running Backs
Daniel Thomas, Miami Dolphins (95 Percent ESPN, 71 Percent Yahoo)
You may not be able to pick him up off of waivers but you could certainly buy low on him after a poor showing in New York. That is, it was a poor showing on paper. Thomas had good burst against a Jets defense keying on stopping the run and Reggie Bush sustained a neck injury. Thomas' role in the Dolphins offense is only going to increase and so will his fantasy points.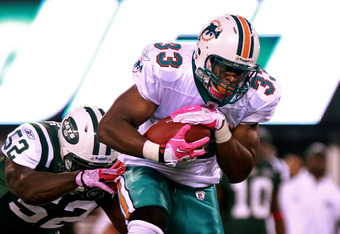 Nick Laham/Getty Images
DeMarco Murray, Dallas Cowboys (3.3 Percent ESPN, 15 Percent Yahoo)
Cowboys' starting back Felix Jones could miss up to four weeks leaving Murray as the Cowboys top back. He will likely split some carries with Tashard Choice but make no mistake; Murray is the best back the Cowboys have. The Cowboys haven't had much, if any, success running the ball this season but if you own Jones picking up Murray is a must. Don't be too worried about the loss of Bill Nagy at left guard; he had been very subpar at run blocking this season.
Earnest Graham, Tampa Bay Buccaneers (66 Percent ESPN, 55 Percent Yahoo)
If you didn't pick him up last week, you may be lucky enough to get one more crack at Graham this week. Graham is an older runner and had been used as the team's third down back prior to the LeGarrette Blount injury. In his Week 6 explosion, Graham ran for 109 yards and had 22 yard receiving. He showed toughness running up the middle, decent burst running outside and, as always, enough talent to be used as a receiver. His value will only be this high for likely one more week, so if you are in need of a one week play, Graham is your best choice.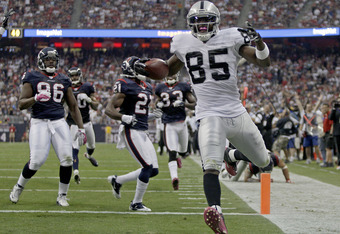 Thomas B. Shea/Getty Images
Jackie Battle, Kansas City Chiefs (26 Percent ESPN, 37 Percent Yahoo)
Battle played very well as the Chiefs primary back in Week 5 but came away with a head injury in the Chiefs' win over the Colts. Battle was held out of the team's bye week practices but is back to practice and is expected to take the bulk of the Chiefs' carries again against the Raiders this weekend. Battle is more than just a bye week replacement and could be a decent FLEX option if you need it down the line. Don't expect Jamaal Charles numbers from Battle, but he is better than any other option the Chiefs have at running back.
Wide Receivers
Darrius Heyward-Bey, Oakland Raiders (51.4 Percent ESPN, 46 Percent Yahoo)
DHB is starting to prove the late Al Davis right, and now will have a Pro Bowl quarterback under center… eventually that is. Kyle Boller should be the Raiders QB this weekend so it's not crazy to expect a drop in production against the Chiefs, that being said he has been incredibly strong these past three weeks and will only get better as the season progresses.
James Jones, Green Bay Packers (65.1 Percent ESPN, 48 Percent Yahoo)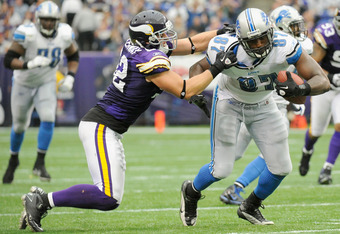 Hannah Foslien/Getty Images
Jordy Nelson is getting all the love in fantasy, but he isn't on the field anywhere near as often as Jones is. He had only one catch against the Rams this past weekend but it was for a touchdown making it three games in a row with a score. Jones is going to get catches every game as the season progresses simply because of how pass happy the Packers are, but also because he is on the field more often than any receiver not named Jennings.
Michael Crabtree, San Francisco 49ers (62.7 Percent ESPN, 42 Percent Yahoo)
Crabtree is back to full health and has shown flashes of first round caliber talent. Let's face it, the 49ers are a good football team and quarterback Alex Smith is playing his best football. Crabtree is the team's best receiver and he showed it against the Lions.
Mark Clayton, St. Louis Rams (1 Percent ESPN, 1 Percent Yahoo)
Clayton was a PPR beast before injuring his knee last season and going on injured reserve. He is off of the PUP list now however and is expected to play this weekend for the Rams. All of a sudden the Rams' receiving corps is looking better with Brandon Lloyd stretching the field and Clayton underneath to make key possession catches. We're not saying he will be a top PPR receiver again, but he is certainly worth the look in a deeper league.
Demaryius Thomas, Denver Broncos (1 Percent ESPN, 2 Percent Yahoo)
Thomas has had more injuries than some aged vets at the receiver position, and he's only in his second season. The former first-round pick is expected to return to the starting lineup this week and will immediately take over as the field-stretching receiver for the Broncos now that Brandon Lloyd has been traded. Thomas is a very good sleeper pick as he is a big, physical receiver capable of burning and out-jumping opposing defensive backs. Tim Tebow was able to hit Brandon Lloyd for deep passes in his limited appearances last season so expecting him to do the same with Thomas isn't out of the question.
Tight Ends
Brandon Pettigrew, Detroit Lions (91.3 Percent ESPN, 79 Percent Yahoo)
When the 270 pound Pettigrew proclaimed he was in great shape many laughed, as did we. He is looking pretty athletic lately though and has become a very big part of the Lions' offense. Tony Scheffler has been injured and may have completely lost his spot in the Lions' offense since Pettigrew has broken out for 29 catches and a pair of touchdowns in the past four weeks.
Defenses
Dallas Cowboys (24.8 Percent ESPN, 53 Percent Yahoo)
The Cowboys defense was able to stymie the Patriots' offense all the way up to the final possession when Tom Brady was… well, Tom Brady. The Cowboys defense has looked very good as of late and it's obvious that Rob Ryan has instilled some confidence in the unit. Not to mention the team has gotten some great play from ILB Sean Lee this season.
Oakland Raiders (15.6 Percent ESPN, 28 Percent Yahoo)
The Raiders have a good matchup at home against the Chiefs this weekend and will likely continue their opportunistic play. The Raiders D has been able to corral nine turnovers and have only had poor fantasy showings against some of the more dominant offenses. The Raiders don't look good as far as fantasy points this season, but they will perform against the right competition.
Kickers
Billy Cundiff, Baltimore Ravens (57.4 Percent ESPN, 37 Percent Yahoo)
Cundiff went 5-for-5 last week when the Ravens took a big home win over the Texans. Cundiff has been a consistent option at kicker so far this season. The Ravens will play the Jaguars in Jacksonville this week and will no doubt get great offensive production, so Cundiff should be used regularly.
Graham Gano, Washington Redskins (1 Percent ESPN, 2 Percent Yahoo)
The Redskins will likely have a new quarterback under center and will be missing their left tackle, so struggles are expected against the Panthers this weekend. That being said, the Shanahan offense will get production in the passing game so Gano should get within field goal position regularly. The Skins defense has been good enough to keep games close, so the team will be content with settling for field goals.