Week 7 NFL Picks: How the Harbaughs Surpassed the Ryans
October 19, 2011
Leon Halip/Getty Images
Another week in the NFL has gone by, and my wallet is feeling a little bit heavier. The lofty lines from last Sunday (and Monday) proved no obstacle for my gambling prowess, as I correctly predicted five out of six lines greater than seven. Only the lowly Colts proved unable to surmount their seven-point spread, once again begging the question: Should Peyton Manning win MVP without playing a single game all year?
In other news, the Harbaugh brothers have effectively displaced the Ryans as everyone's favorite all-in-the-family coaches. They're younger, they're skinnier and they don't make predictions they can't back up. John and Jim (it even sounds as good as Rex and Rob) did not let me down this week, backing up my directive to never bet against a Harbaugh. 
Rex Ryan did, however, manage to pick up a win, albeit an unimpressive one, snapping the Jets' three-game skid. Rob, on the other hand, threw the kitchen sink at Tom Brady just like he promised he would. Unfortunately, next time he might want to try something heavier, like the fridge.
All in all, it was another typical week in the NFL. Coaches almost fought over postgame handshakes, Brandon Marshall threatened to fight Bart Scott and the St. Louis Rams didn't fight anyone. And it's probably a good thing because, ultimately, they would just lose that too.
Now, for your Week 7 picks (via Sportsbook.ag):
Chicago Bears (-1) over Tampa Bay Buccaneers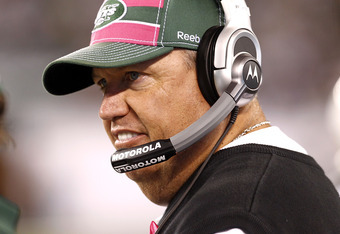 Jeff Zelevansky/Getty Images
 In their last three games, the Bucs barely beat the Colts at home, got demolished 48-3 by the Harbaugh-led 49ers and then somehow took care of business against division-rival New Orleans.  Needless to say, this team is hard to figure out. But what else can you expect from a team as young as Tampa, if not the unexpected? Mike Williams got himself back into the offense this week, and Kellen Winslow proved that LeGarrette isn't the only big boy on the team who can hurdle people.
While all that is fine and dandy, I like what I saw out of the Chicago Bears on Sunday night.  Their defense can shut down the run, and Cutler, Forte and Co. look like they might have found some offensive rhythm after all. As long as Mike Martz doesn't regress and allow another young defensive line to consistently punish his quarterback, I'm taking Da Bears.
Washington Redskins (+2.5) over Carolina Panthers
 With my Skins underdogs in Carolina next Sunday, I'm seriously tempted to break my No. 1 rule of gambling. After two good opening drives, the Washington defense tightened up and shut down Michael Vick in the second half of Sunday's contest.  Rookie Cam Newton is not Michael Vick and will see more blitz packages then his big head can possibly fathom. 
If there's one reason I give the Panthers a chance in this game, it's the injuries along the Washington offensive front. Left guard Kory Lichtensteiger is out for the season, and this should prove to be a huge detriment for the Skins' running game. Additionally, LT Trent Williams, maybe Washington's best lineman to this point, is likely to miss two games and Chris Cooley could miss at least six weeks after breaking his finger. There go three of Washington's six most important blockers. If Rex Grossman remains the starter for this team, defensive coordinators around the league will be salivating at a change to play the Redskins. 
San Diego Chargers (-2.5) over New York Jets
On Monday night, the Jets showed they have exactly one thing going for them: Darrelle Revis.  That's it. Since becoming a head coach, Rex Ryan has prided himself on his team's abilities to play strong defense and run the football. New York doesn't really do, either. 
Today, Ryan told media members he was considering lining Joe McKnight up at wide receiver in order to get him more involved in the offense.  How about giving him more snaps at running back? Shonn Greene has been completely ineffective, and LT looks like he'd be better off at home taking a nap in a recliner, popping meds from a pill box and complaining that the neighbor's music is too loud.
SportsCenter's "Top 10 Coach Confrontations" showed the world that Buddy Ryan might have the weakest right hand in fighting history. Unfortunately, it still carries more weight than Rex's fat mouth.
Seattle Seahawks (+3) over Cleveland Browns
The Peyton Hillis saga continues in Cleveland, following skepticism over whether or not the Browns' running back really pulled his hamstring.  Head coach Pat Shurmur claims that the injury is legit, but how can you trust a guy you've never heard of? Regardless of the authenticity of the injury, it seems inevitable that Peyton will be elsewhere next season. Can anyone say blessing in disguise?
The Seahawks, on the other hand, appear ready to turn over the offense to Charlie Whitehurst.  This may not exactly lead to a revelation, but it should at least make Seattle a little better. If all else fails, at least Pete Carroll can rest easy knowing that he's not the only guy Jim Harbaugh likes to bully.
Houston Texans (+3) over Tennessee Titans
 Corbet's Couloir in Wyoming boasts one of America's most legendary ski slopes. Upon entrance to the chute, skiers immediately begin a free fall, dropping over two stories onto a 55-degree slope. With respect to Barry Corbet, mountaineer and initial discoverer of the chute's skiing promise, this free fall should be named after the Houston Texans. Every year, this team starts at the top of the mountain, all the confidence in the world, only to realize after about four weeks that they're unlikely to finish with their skis intact. 
Despite all of this, I still believe Houston can finally claim the AFC South title. In order to do this, they must beat Tennessee on Sunday.  Despite a loss in Baltimore this past week, the injury-laden Texans played more inspired than I had expected.  A potential Andre Johnson return this Sunday should only help their cause.
Miami Dolphins (-2) over Denver Broncos
 This was by far the toughest game to pick for this week. Which team is less horrible? So far this season, I've been a believer in Miami's ability to "Suck for Luck" better than anyone else. But for some odd reason, I think they're better than the Broncos. I almost picked Denver on the assumption that Tim Tebow could rally the troops and escape with something like a 12-10 victory. 
Instead, however, I like Cameron Wake to unleash the beast for at least two sacks and Brandon Marshall to either put up big numbers on his former team or actually try to fight somebody. This game will either be the most exciting toilet bowl in recent memory, or just another snooze fest.
Detroit Lions (-3.5) over Atlanta Falcons
 It pained me last week to pick against the Lions, and I'm sure not going to do it again.  As much of an overreaction as Jim Schwartz's sprint after Jim Harbaugh was, you better believe he'll use that as motivation to get his guys, in the words of Harbaugh himself, fired up. 
Jahvid Best may be out this week, but there's no one in Atlanta's secondary that can match up with Calvin Johnson. Besides, something about the Falcons is extremely underwhelming, and if I'm Mike Smith, I'm paying very close attention to how Schwartz reacts in victory.
Kansas City Chiefs (+4) over Oakland Raiders
 Before Kansas City's bye, it became clear as to why the Chiefs started out so miserably in 2011. If head coach Todd Haley spent less time reading letters from fans and looking for compliments on his attire, and more time preparing for games, his team would be better off than 2-3. On the other hand, maybe GM Scott Pioli should just name the Marine who convinced Haley to give the rock to Jackie Battle head coach.  
All kidding aside, I like the fight I've seen from the Chiefs in their last two contests after starting the season 0-3. Had Jason Campbell not broken his collarbone, I might have liked Oakland to cover, but it's going to take more than a couple of days for Carson Palmer to acclimate himself within the offense. Although, how hard of an offense can it be to comprehend?  McFadden right, McFadden left.
Pittsburgh Steelers (-3.5) over Arizona Cardinals
 I looked pretty smart last week by picking the Jaguars against the spread versus the Steelers.  I'm more nervous about this game. Ken Whisenhunt has inside knowledge on the Steelers organization, and his Cardinals have played Pittsburgh tight before. That said, the Steelers organization has inside knowledge on Whisenhunt as well, and the Cardinals no longer have Kurt Warner. I like the Steel Curtain to cover.
Dallas Cowboys (-13) over St. Louis Rams
 If it looked like Sam Bradford would play this Sunday, I would be inclined to take the points, especially based on my hatred of the Cowboys. In the long run, I think the addition of Brandon Lloyd and the return of Mark Clayton will improve St. Louis' chances. But, until the St. Louis Rams manage to outscore the St. Louis Cardinals, I refuse to pick them for anything.
Green Bay Packers (-9) over Minnesota Vikings
Every week, I pick the Packers to cover and they've yet to let me down. Normally, with rookie Christian Ponder taking over, I would say the Vikes have even less of a chance. But, with the way Donovan McNabb has played this year, how can I? I actually wish Leslie Frazier would stick with Donovan, as watching him fail gives me a warmer feeling than cuddling up to his Mom on the sofa with some Chunky Soup.
New Orleans Saints (-14) over Indianapolis Colts
 The Colts couldn't beat a touchdown spread against the Bengals; there's no way they beat a 14-point spread against an angry Saints' team coming off of a loss. Sean Payton's display of sideline toughness should give the Saints extra motivation that, in all likelihood, they don't even need.
Baltimore Ravens (-7.5) over Jacksonville Jaguars
 The Ravens are playing scary good football right now and aren't likely to slow down in Jacksonville on Monday night. Seeing Matt Schaub on his back as much as he was Sunday has me already feeling bad for rookie Blaine Gabbert. Besides, with only one Harbaugh on the ballot this week, it would be a sin to pick against him.