NFL Power Rankings Week 7: Defending Champs Only Undefeated Team Left
October 18, 2011
Dilip Vishwanat/Getty Images
Sunday was a good reminder to us all that there is far more to life than football. Unfortunately, that reminder came due to the tragic death of IndyCar racer Dan Wheldon.
Whether or not you think racing is a sport, this was a terrible tragedy to a wonderful human being. Let this be a reminder to us all that there is more to life then sports and to cherish every moment we have both on and off the field/court/track/ice, etc. RIP, Dan Wheldon. Our thoughts and prayers are with your family, friends and fans.
Oftentimes, sports are something that can take our minds off of tragedies and help us to move on. With that, we get back to football. Week 6 saw 11 out of 13 home teams win. The Lions were one of the two home teams to lose, ending their nine-game regular season winning streak, dating back to last season.
The Packers continued their dominance while the Patriots won their 20th consecutive home game. I fear Week 7 may be a week to forget. Six potential playoff teams are off, five of which are ranked in the Top 13, with the Eagles being the other. In fact, there is not one single game that features two teams with winning records.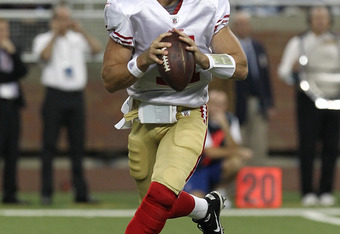 Dave Reginek/Getty Images
Thankfully, there are a few riveting games, including the Chargers at the Jets and Atlanta at Detroit. Otherwise, millions of fans across the country will be stuck watching games like Seattle at Cleveland or Denver at Miami.
Here are the Week 7 rankings. 
Teams' previous ranking in ( ).
1. Green Bay Packers (1): Packers fans must be thrilled that Aaron Rodgers was not selected to grace the cover of Madden this year. 
2. New England Patriots (4): Down by three, with under four minutes to go—what did you expect to happen? The offense struggled, but Tom Brady led the final charge to move New England to 5-1. They just don't lose at home.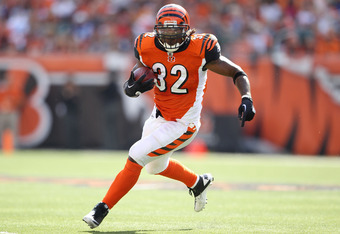 Andy Lyons/Getty Images
3. San Francisco 49ers (7): After six weeks, it appears the NFC West champion will not only have a winning record, but deserve to host a playoff game.
4. Detroit Lions (2): The Lions were exposed by the 49ers. They will need to be a threat in the running game to make noise in January.
5. Baltimore Ravens (5): Baltimore outscored Houston 13-0 in the final period and walked away with their third straight win. Baltimore had success in all three aspects: offense, defense and special teams.
6. New Orleans Saints (3): Winning three consecutive road games is just plain tough, regardless of whom you play. Having to face a good team, coming off of a 48-3 beatdown makes it even tougher.
7. New York Giants (11): I think the Giants have been the beneficiaries of a soft schedule thus far. Their victory over Buffalo was their first of the season against a team with a winning record. After their bye, they have one of the toughest schedules the rest of the way.
8. San Diego Chargers (8): San Diego's next five games are critical. Three tough road games against the Jets, Chiefs and Bears. The home games aren't any easier as they face Green Bay and Oakland.
9. Pittsburgh Steelers (9): A win is a win, but forcing zero turnovers and scoring zero second-half points against an inferior Jags team leaves Pittsburgh with plenty to work on.
10. Tampa Bay Buccaneers (12): Tampa has matched last year's total of wins against teams with winning records—one. However, this time it came in Week 6 with first place on the line, rather than in Week 17 when the Saints had nothing to play for.
11. Buffalo Bills (6): Buffalo lost the turnover battle, and ultimately the game. They have a bye this week, followed by two home games.
12. Oakland Raiders (14): With Jason Campbell done for a minimum of six weeks, Oakland must find a capable quarterback. Kyle Boller simply won't be the answer. Perhaps their punter, Shane Lechler, is an option (1-1, 35 yards, TD in Week 6 on a fake FG)?
13. Cincinnati Bengals (16): The Bengals have to be one of the biggest surprises of the season. I'm not sure anyone had them winning four games all season, let alone in the first six weeks.
14. Houston Texans (10): It's amazing how much of an impact Andre Johnson has on the Texans. His importance to Houston cannot be understated. 
15. Tennessee Titans (15): First place will be on the line in Week 7 as the Titans face the Texans. Even if Andre the Giant plays, Tennessee can win this game.
16. New York Jets (17): The Jets ended their three-game skid but a tough schedule remains. Am I the only one that still thinks Mark Sanchez is not the answer at quarterback?
17. Chicago Bears (18): Even if Chicago wins their final 10 games to finish 13-3, it still might not be enough to win the division.
18. Washington Redskins (13): Which Rex Grossman performance was more of a fluke? Week 6 or Weeks 1-5? Consecutive road games at Carolina and Buffalo will tell us a lot.
19. Atlanta Falcons (20): Atlanta simply didn't get it done through the first three quarters. Luckily for the Falcons, they get to play four quarters. Atlanta outscored the Panthers 17-0 in the final period to improve to 3-3.  
20. Dallas Cowboys (19): Don't let their No. 19 ranking fool you. They are a very good football team. All five games have been decided by four points or less, and they are the only team to have beaten the 49ers. If they could consistently play well in the fourth quarter, they'd be undefeated.
21. Seattle Seahawks (21): As little talent as this team has overall, they could be 4-3 come Halloween.
22. Philadelphia Eagles (24): I get the feeling that, in a few weeks, the Eagles' poor start will be forgotten. They have a bye this week, followed by three straight home games, starting with division rival Dallas.
23. Kansas City Chiefs (23): Coming off a bye, Kansas City has two huge divisional games. They must win both because their remaining schedule after is not kind.
24. Cleveland Browns (22): Unfortunately for Cleveland, they needed to start about 9-0 to have a shot at the playoffs. They must face Baltimore and Pittsburgh twice in their final five games. Ouch.
25. Jacksonville Jaguars (25): The Jags hung tough with the defending AFC champs, but once again came away with a loss. Up next, the Ravens.
26. Minnesota Vikings (26): The Christian Ponder era is approaching quickly. Do they dare start it this week against the defending champion Packers?
27. Carolina Panthers (27): The Panthers had the lead in the fourth quarter, and then it all went terribly wrong. Regardless, they continue to show there is plenty of reason for optimism in the near future.
28. Denver Broncos (28): Denver sits at 1-4 and is going nowhere fast. Tim Tebow is expected to start, but the Broncos aren't doing anything to help him—they just traded away his best receiver (Brandon Lloyd) to the Rams.
29. Arizona Cardinals (29): They are already three games behind San Fran in the loss column. Things are only going to get worse as they face Pittsburgh and Baltimore in their next two.
30. St. Louis Rams (30): They held the Packers to their lowest point total of the season, and pitched a shutout in the second half. They still lost by three touchdowns, but at least they have something to build on. And if all else fails, at least the St. Louis Cardinals are in the World Series.
31. Indianapolis Colts (31): Is there a rule that says you have to actually play any games to win MVP? It is clear that Peyton Manning is more valuable to his team than any other player is to his own team.
32. Miami Dolphins (32): The Dolphins hung tough in the first half, but their third-down conversion rate is downright pitiful at 24 percent.