World Series 2011: Breaking Down the Pitching Matchups for All 7 Games
October 18, 2011
Although the St. Louis Cardinals and Texas Rangers' paths to the Fall Classic were quite different, there are multiple similarities between these two clubs.  
Before the first pitch of the 2011 Major League Baseball season, each club had lost its ace. The Rangers' ace, Cliff Lee, was lost in a bizarre free agent battle that saw him go where no one would have predicted: Philadelphia.
For the Cardinals, it was 20-game winner Adam Wainwright, who was lost to a season-ending ligament reconstruction procedure, aka Tommy John surgery.
Both the Cardinals and the Rangers—although it's difficult to fathom today—each had serious questions about their bullpen as recently as the end of July.  The Cardinals had no closer, and the Rangers had nothing but a closer.  
Well, what a difference a few months make.
The Cardinals bullpen is 3-0 with a 1.88 ERA in 28 and two-thirds IP, with 21 strikeouts and seven walks in the postseason. The Texas Rangers' bullpen has been just as good, with a 2.23 ERA (1.15 ERA if Koji Uehara's ridiculous 33.75 ERA is taken out of the equation) with 37 strikeouts in 39 innings, just 12 walks and a 4-0 record.
It's pretty easy to say had it not been for their bullpens, neither the Rangers nor Cardinals would be four wins away from a World Series Championship.  
However, due to the amount of use each bullpen has had throughout the playoffs, it stands to reason that starting pitching should play an important part in the World Series.  That is to say whichever team has the most quality starts, in my opinion, has the best chance of winning it all. 
At least, that's the way it usually works, but as all can attest, this postseason has been anything but the "norm," especially in regards to starting pitching. Here's a breakdown of the starting pitching matchups for the 2011 World Series.
Note: The Cardinals announced Monday, following Sunday's Game 6 clincher, that Chris Carpenter would start Game 1 of the World Series. The Texas Rangers also announced their starter, C.J. Wilson, Monday afternoon. A report that Carpenter experienced "elbow soreness" after his last start surfaced on Monday as well. Thus, it's worth noting that these pitching matchups are certainly not set in stone, but in all likelihood this is how it will breakdown. 
2011 World Series game-by-game pitching matchups
Game 1 (Busch Stadium): Chris Carpenter (2-0, 3.71 ERA) vs. C.J. Wilson (0-2, 8.04 ERA)
Chris Carpenter (RH): Chris Carpenter undoubtedly fits the traditional role of "ace." He's big, (6' 6"), throws hard with excellent secondary pitches and has been the dominant presence the Cardinals needed to not only make it to the postseason, but to knock off everyone's pick, the Philadelphia Phillies.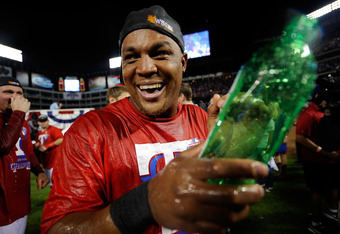 Kevork Djansezian/Getty Images
Carpenter was responsible for the Cardinals' only decision from their rotation in the NLCS and easily had the team's biggest start of the postseason in Game 5 against the Phillies in the NLDS, notching the complete game shutout.
However, if the aforementioned elbow soreness is an issue at all—the Cardinals seem to think it's not—Carpenter's effectiveness will be minimized.  Regardless, this news is scary, especially considering Carpenter has a history of shoulder and elbow ailments that have required surgery. 
C.J. Wilson (LH): C.J. Wilson has had a rough go of the postseason, as his 8+ ERA can easily attest.  He has gotten progressively better though in each start.  In Game 1 of the ALDS, he was at his worst, surrendering three home runs, and six earned runs over five IP.  
Game 1 of the ALCS was going smoothly for Wilson until the initial rain delay seemed to sap him of his command.  He surrendered no home runs, but was erratic with his control as he walked six, but only surrendered two earned runs.
Game 5 of the ALCS he was very sharp through his first five innings—allowing just two earned runs—then the top of the sixth inning happened, highlighted by the odd hop of a potential double play ball as it cascaded off of the third base corner.  The wheels came off after that incident, and he ended up surrendering six earned runs and dropping to 0-2 in the postseason.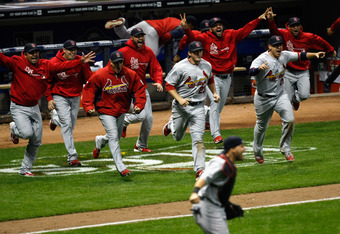 Scott Boehm/Getty Images
Wilson needs a solid start in Game 1 at Busch Stadium. Not only is he long overdue, but I feel it will happen this time.  
Edge: Cardinals—Although Wilson has pitched well throughout his career in the home run haven of the Rangers Ballpark in Arlington, it certainly isn't a bad thing he will get to start on the road in the more pitcher-friendly confines of Busch Stadium. 
In a World Series where the two participants' rotations have a combined ERA well over 5.00, with both clubs getting just one win combined from a starter (Carpenter) in the LCS, both teams (rather easily) made it to the Fall Classic, perhaps signifying that anything goes.  
Rather than go with Ron Washington's "gut," I'm going with my equally profound "beer belly" and saying that although Wilson will have his best start of the postseason, Carpenter—hurt or not, he's a gamer—will have a better onet. 
However, if this postseason has proven anything, it's that a quality start from a member of a team's rotation certainly doesn't guarantee a win, just as a poor start doesn't necessarily spell doom.  
Game 2 (Busch Stadium): Jaime Garcia (0-2, 5.74 ERA) vs. Colby Lewis (1-1, 3.86 ERA)
Jaime Garcia (LH): Garcia, who went to high school in Mission, Texas, took a loss in his only NLDS start against the Phillies.  He pitched well, going seven innings (no easy task this postseason) with an ERA of 3.86. He had a tough go against the Brewers in two starts, taking the loss in Game 1 of the NLCS and posting a 7.27 ERA, surrendering 13 hits over eight and two-thirds IP.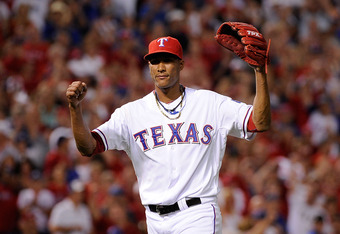 Kevork Djansezian/Getty Images
The only southpaw in the Cardinals' rotation, Garcia has only faced one Texas Ranger in his young career, Yorvit Torrealba, and Torrealba was 0-3 against him.  
Colby Lewis (RH): Lewis was 4-0 in postseason play dating back to 2010, until the Rangers traveled to the dreaded Comerica Park for Game 3 of this year's ALCS. Lewis lasted five and two-thirds IP but surrendered two home runs. For the ALCS he was 0-1 with a 6.35 ERA.
Look for a rebound in the World Series from Lewis, as his overall postseason record is still sharp, at 4-1 with a 2.37 ERA. "Colbyashi" is 1-0 with a 2.35 ERA as he earned the Rangers' only win in last year's World Series against the San Francisco Giants.
Edge: Rangers—C.J. Wilson, although technically still Texas' ace, hasn't pitched like a No. 1 this postseason. Lewis has been much sharper overall and seems to possess a real knack for winning big games in the postseason. Chances are, he'll have a solid outing against the Cardinals in Game 2. 
Game 3 (Rangers Ballpark in Arlington): Matt Harrison (1-0, 4.22 ERA ) vs. Kyle Lohse (0-2, 7.45 ERA)
Kyle Lohse (RH): Lohse had a very solid regular season, going 14-8 with a 3.39 ERA, but in the postseason he has been hit hard in both of his starts.  The Phillies hit two long balls off him in the NLDS, helping to give him a 8.44 ERA in five and one-thirds IP. The Brewers kept it in the yard against him but managed six hits over four and one-thirds IP.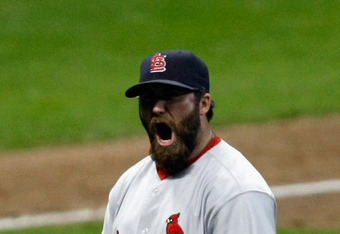 Scott Boehm/Getty Images
Fourth outfielder Endy Chavez has hit Lohse well over the years, posting a .364 batting average. Michael Young has hit three home runs in 30 at-bats against Lohse.
Matt Harrison (LH): After being left off last year's postseason roster, Harrison has more than earned his keep on this year's.  He's pitched in three games, starting two, and is the only member of the Rangers rotation that has yet to surrender a home run.  Harrison's pure stuff rates slightly below fellow southpaw Derek Holland's, but he gets the edge in command.
Edge: Rangers—Pitching Kyle Lohse in Game 3, due in part to the fact that Edwin Jackson got the start against the Brewers on Sunday and needs more rest, means he gets to pitch in the ballpark he has the highest ERA of his career in.  Rangers Ballpark in Arlington has been a horror for Lohse, as he has posted a 6.75 ERA there, surrendering eight home runs in just 28 IP.   
Game 4 (Rangers Ballpark in Arlington): Derek Holland (1-0, 5.27 ERA ) vs. Edwin Jackson (1-0, 5.84 ERA)
Edwin Jackson (RH): A well-traveled 28-year-old playing for his seventh team in eight big league seasons, Jackson has great stuff and was showcased during his no-hitter last season as a member of the Diamondbacks.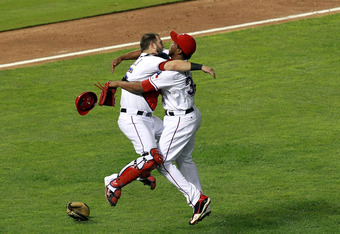 Ronald Martinez/Getty Images
However, as witnessed against the Brewers in the NLCS, he has a tendency to give up the long ball. The Brewers hit four home runs off him in his two starts. The Rangers are incredibly adept at waiting on "mistake" pitches and hitting them out of the park, so if he doesn't locate his power stuff, he might be up for another two inning outing as he was in Game 6 against Milwaukee.
Derek Holland (LH): Holland was touched up for a big three-run homer in Game 2 of the ALCS and surrendered three home runs in his four and two-thirds IP against the Tigers on Saturday, once again, at home.  Holland is a source of frustration because he has absolutely filthy stuff, but his poor command can lead to quality offenses teeing off of him.  
Edge: Cardinals
This one is close.  Edwin Jackson has excellent stuff.  If he can keep his fastball down in the zone, I feel he can be effective against the nuclear Rangers offense.  He's in some ways similar to Holland in terms of pure stuff.  Jackson is more polished, and in my opinion is more likely to have a quality start than the Dutch Oven.  
However, Holland is capable of shutting down teams, as is evidenced by his four regular season shutouts.  Perhaps all he needs to do is shave off the awkward "trash 'stache" to return the proper balance to the world and engineer a quality start.
Game 5 (Rangers Ballpark in Arlington)*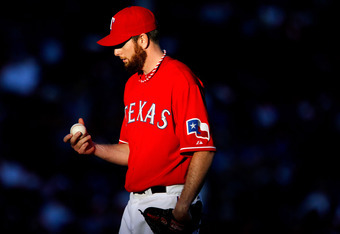 Tom Pennington/Getty Images
If everything goes according to plan—Carpenter is healthy and Wilson is effective—the two aces should face off once again, this time on the Rangers' home turf.
Edge: Cardinals
Once again, if Carpenter is healthy, I feel he's a better pitcher than Wilson. As odd as it may seem, Wilson has been very good at home over his career as a starting pitcher, so I wouldn't be shocked if he beats Carpenter, but to my mind, Carp's a better pitcher and has been especially dominant when his team has needed him most.
Game 6 (Busch Stadium)*
 Barring the unpredictable, Game 6 would be a rematch of Game 2, with Garcia and Lewis once again facing off in St. Louis. 
Edge: Rangers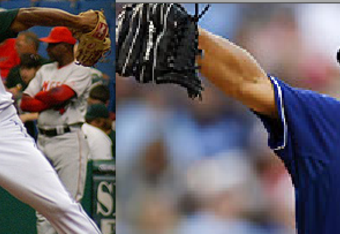 Game 7 (Busch Stadium)*
 In all likelihood, this would once again be Lohse vs. Harrison.  This time, however, it would be in St. Louis. Of course, Game 7 is an elimination contest, so that would mean that everything (and the kitchen sink) would be most likely be available. 
Final prediction
 Although it's hard to say the Rangers' starting pitching will improve over their pedestrian ALCS numbers, I do think that their rotation will figure into more than zero decisions.  I feel the rotation will get two wins, and the bullpen the other two.  
The Cardinals are a great hitting team, but the Rangers' bullpen is much deeper than the Brewers, and St. Louis' pitching is up against its biggest challenge of the postseason with a red-hot Rangers offense—one that is just now starting to hit like it did in the month of September. 
The Cardinals have a very deep bullpen as well, but they're bound to be a little tired.  Alexi Ogando and Scott Feldman have carried the brunt of the bullpen's innings and will have had a full three days of rest by the time Game 1 rolls around this Wednesday.
If the Rangers continue to hit the way they did in the ALCS, they'll have an outstanding shot at battering a beleaguered Cardinals bullpen.
Yes, the St. Louis Cardinals have been fantastic in the postseason and are very hot right now. So were the Tampa Bay Rays, and they had a much deeper rotation than St. Louis.    
Texas Rangers in six.
If you crave more on the Texas Rangers...
How the Texas Rangers Beat The Verlander
Complete Breakdown of the Tigers vs. Rangers ALCS Showdown of Extraordinary Magnitude, and You Have My Gratitude
Ten Best Power Hitting Seasons in Texas Rangers History
Follow Timothy on Twitter @TMurrayHowell—he follows back, but not in a creepy way. Or hit him up on Facebook—you know you have an account.