2011 ALCS: Complete Breakdown of Detroit Tigers vs. Texas Rangers
October 7, 2011
J. Meric/Getty Images
By sneaking past the Detroit Tigers for home field advantage on the final day of the 2011 Major League Baseball regular season, the Texas Rangers essentially sent the Tigers to New York to take care of their dirty work for them.
Mission accomplished, Detroit.  The Tigers dispatched the Yankees in New York to become the second team in this year's postseason to advance.  Now the Texas Rangers will be welcoming the Tigers to Arlington, TX this Saturday for game one of the American League Championship Series at Rangers Ballpark in Arlington.
I have let it be known in several previous articles, that I thought the New York Yankees would be a better matchup for the Texas Rangers, even though that would mean we wouldn't have home field advantage.  
However, I do like the Rangers chances against the Detroit Tigers, though I feel they are a vastly superior opponent when compared to the Bronx Bombers.  Regardless, now it's time to take a top-to-bottom, inside-out look at how these two teams stack  up against each other.
2011 REGULAR SEASON
The Detroit Tigers handled the Texas Rangers with ease in their nine games against each other this year, taking six of nine.  They were 4-2 at home, in Comerica Park, and were 2-1 in Texas, at the Rangers Ballpark in Arlington.
However, this is a very different Texas Rangers team since their last meeting on August 4th.  The bullpen has gone through some changes, and now every member of the team is healthy and playing at the peak of their abilities.  
STARTING PITCHING
Note: At this point, the rotations aren't set in stone, aside from game one starters.
Detroit Tigers
Justin Verlander (RH)—Verlander will be well rested by the time he takes the mound this Saturday for game one. Well played, Jim Leyland.  After going 24-5 with a 2.40 ERA and 250 strikeouts, Verlander is arguably the best starting pitcher in the Major Leagues.  The Texas Rangers are hitting a sub-par .188 against him this year.
Josh Hamilton hit Verlander well this year, with a .364 BA and 2 RBI. Beltre will be a factor, as he knocked in three and batted .281 against him. 
C.J. Wilson (LH)—The Texas Rangers counter Verlander with Wilson, the team's undisputed ace, but the only starting pitcher who didn't earn a win in the ALDS against the Rays.  Wilson—to put it mildly—was hammered at home last Saturday and he has the 10.80 ERA to prove it. However, Wilson generally pitches well at home, and his 16-7, 2.94 ERA was not compiled with luck. He's such a fierce competitor that he'll be anxious to prove that last Saturday was little more than a fluke.
The Tigers hit just .203 against him this year, and no player with more than 15 at bats hit higher than .200 while facing Wilson.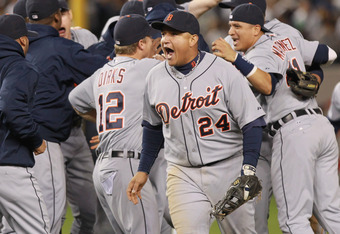 Nick Laham/Getty Images
Max Scherzer (RH)—When he's on, his stuff is absolutely filthy.  He was 15-9 with a 4.47 ERA and 174 K's in the regular season, and was 1-0 with a 9.00 ERA against the Rangers.  It's worth noting that he threw 32 pitches in game five of the ALDS against the Yankees.
Adrian Beltre hit .364 off of him this year, and Nelson Cruz had 4 RBI and one big fly against him.
Derek Holland (LH)—Derek Holland proved once again that his inconsistencies are behind him, as he was the key to the Rangers returning to their winning ways in the ALDS.  Holland aka "The Dutch Oven" quietly put together his best season so far, with a 16-5 record and 3.95 ERA.  
Delmon Young eats up Holland—he hit .500 against the twenty-four-year-old lefty with two homers. 
Doug Fister (RH)—Fister was an excellent acquisition as he was a key contributor to the Tigers staff, going 8-1 with a sparkling 1.79 ERA compiling 54 K's against just five BB's. He went 1-1 with a 3.68 ERA against the Rangers this year.
David Murphy sees the ball well off of Fister—he's batting .375 with two home runs and four RBI off of the towering right-hander.
Colby Lewis (RH)—One of the main reasons that the Rangers hadn't made their rotation past Wilson public is because they were waiting to see who they'd be playing.  Now that it is the Tigers, and they have home field advantage, in all likelihood, Colby Lewis, who pitches well away from home will go third, making Holland the number two for the second consecutive series.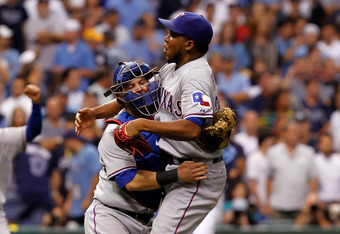 J. Meric/Getty Images
I'm not going to sugar coat this one at all. Against the Tigers this past year, Colby Lewis has straight-up sucked. He went 0-1 with a 15.95 ERA. However, Lewis was masterful against the Rays in his most important start since game six of last year's ALCS, the win that sent the Rangers to their first ever World Series.
Lewis, in the postseason, has been an absolute beast—4-0 with a 1.67 ERA. Sadly, I don't have enough space to list all of the current Tigers that blow Lewis' stuff up on a regular basis. I will say this, the Tigers hit .356 off of him during the regular season.
Rick Porcello (RH)—Went 14-9 with a 4.75 ERA, not bad for a 22-year-old. Against the Rangers this year, he's 1-0 with a sparkling 1.50 ERA. The Rangers knocked him around all right though, hitting .333 as a team with David Murphy leading the charge—batting .667 with a home run. 
Matt Harrison (LH)—After not making the Rangers' postseason roster last year, Harrison had a fine year in 2011 and was the winning pitcher in their game four clincher against the Rays.
Against the Tigers this year, it wasn't pretty for Harrison. He went 0-2 with a 6.30 ERA. He'd most certainly like to avoid Ryan Raburn, who hit .667 with 2 HR's, and 7 RBI off of him this year.
Starting Pitching Advantage: Texas Rangers
It's awfully close. You certainly have to think that Verlander is superior to Wilson.  I'll take Holland over Scherzer. With more playoff experience Fister might have the nod over Lewis, but for now I'll take Colbyashi, especially as he gets to pitch in spacious Comerica.  Harrison over Porcello, I just feel that Harrison is more polished with better command of his secondary pitches.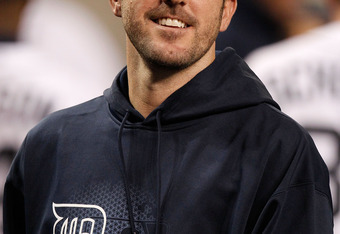 Gregory Shamus/Getty Images
BATTING
 Detroit and Texas both have some wrenches that can be thrown into the works to give a different look to their lineups. For the most part, however, they look like this:
Tigers
Austin Jackson—CF, .248, 11 3B, 10 HR, 22 SB, 180 Ks
Jackson is a leadoff hitter that strikes out like a cleanup hitter.  He's trouble when he gets on base, and plays a fine center field.  Jackson is from Denton, TX.
Ian Kinsler—2B, .255 32 HR 30 SB
Kinsler finally stayed healthy for an entire year and the results showed, as he notched his second 30/30 season.
Don Kelly—3B/OF, .245 7 HR
Kelly provides speed and some pop at the front of the order for the Tigers.
Elvis Andrus—SS, .279 37 SB.
Elvis can be at times frustrating to watch defensively, but his speed and knack for taking the extra bag make him a dangerous weapon.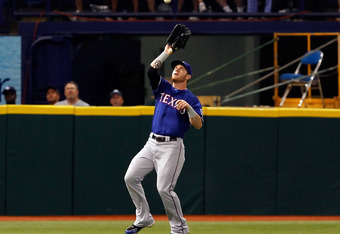 J. Meric/Getty Images
Delmon Young—LF, .274 8 HR
The big man has big pop (just ask New York) and hits especially well against the Rangers.
Josh Hamilton—CF, .298 25 HR 94 RBI
You know you're good when those numbers are considered an "off year."
Miguel Cabrera—1B, .344 30 HR, 115 RBI
Cabrera won the American League batting title this year, and is always clutch at the plate. His defense is underrated as well.
Michael Young—DH, .338 106 RBI
The "'Face of the Franchise" had a career year in many ways, the .338 average was his best ever, and the 106 RBI notched his second 100+ RBI year.
Victor Martinez—DH, .330 12 HR 103 RBI
Martinez can flat-out hit. Last I hear his 0-2 batting average was the best in baseball—in the neighborhood of .290 plus.
Adrian Beltre—3B, .296 32 HR 105 RBI
Hard to believe this dude missed nearly six weeks due to a hamstring injury.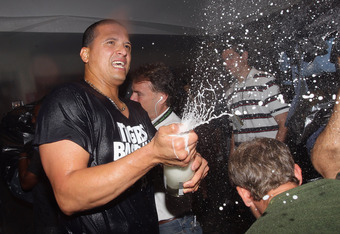 Nick Laham/Getty Images
Magglio Ordonez—RF, .255 5 HR
His big power days are well behind him, but he can still rake.
Mike Napoli—C, .320 30 HR 75 RBI
The fact that "Naps" bats six in this lineup really tells you all you need to know about this modern day murder's row.
Alex Avila—C, .295 19 HR 82 RBI
Avila is widely considered to be the American League's premiere backstop. I won't argue with that notion.
Nelson Cruz—RF, .263 29 HR 87 RBI
Seriously, how many number six hitter have the protection that Cruz's stats provide in the seven hole? It's kind of ridiculous.
Jhonny Peralta—SS, .299 21 HR 86 RBI
His name is straight out of Mortal Kombat, with the stats to back up its awesomeness.
David Murphy—LF, .275 11 HR 46 RBI
Murphy has had big games against several key Tigers pitchers.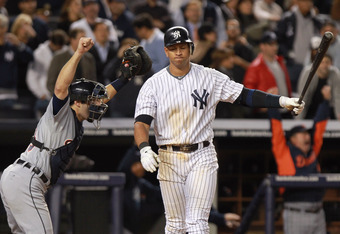 Nick Laham/Getty Images
Ramon Santiago—2B, .260 5 HR
Pretty typical of a nine hole hitter.
Mitch Moreland—1B, .259 16 HR 51 RBI
Silly pop for a ninth hitter. You'll go for a bathroom break and come back to find out that he just crushed one into the upper deck 430 feet away.
Batting Advantage: Texas Rangers
 I mean, it's close here. I know what Cabrera can do. I know what Victor Martinez is capable of. Verlander has stuff so nasty it should be banned.  But the Texas Rangers are a slightly more complete team. If there is such as a thing as an "X-factor" you've got to give the nod to the Rangers. They've been here more recently than the Tigers, and have some serious playoff savvy.
Final Prediction (unless I change it): Texas Rangers in six.
Follow Timothy on Twitter @TMurrayHowell—he follows back, but not in a creepy way. Or hit him up on Facebook—you know you have an account.