Aaron Rodgers, Cam Newton and Other Favorites to Win NFL Awards This Season
October 17, 2011
The Bills, the Raiders, the Lions.
The Jets, the Chiefs, the Eagles.
What a wild season it has been over the first six weeks. With the above teams holding records that most of us did not expect, the NFL and team performance has proven to be unpredictable.
Every team spends millions of dollars to try to make their squad the best in the league, so of course it's going to be disappointing for 31 teams when they don't reach their goal.
The unpredictability of the NFL has opened the door for players that we know and love to shine greater than ever before. And those who we haven't been very familiar with, or at least never thought of as being superstars, have broken out to be top players.
The NFL awards obviously won't be handed out until after the season, and so many things can happen between now and then, but I put forth my best effort in an attempt to predict the unpredictable.
NFL MVP: Aaron Rodgers (QB, Green Bay Packers)
Having now won a Super Bowl MVP, Aaron Rodgers hopes that his regular season performance will now be recognized.
He leads the NFL in touchdowns and passer rating, and is very smart with the ball. The Packers are the last undefeated team in the NFL, and should continue it for a while.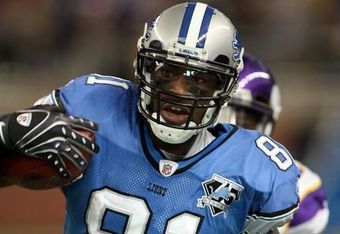 Stats: 17 pass TDs, 3 interceptions, 2,031 passing yards, 70.2 percent completion, 122.5 quarterback rating
Honorable mention: Tom Brady (QB, Patriots), Fred Jackson (RB, Bills), Drew Brees (QB, Saints)
Offensive Player of the Year: Calvin Johnson (WR, Detroit Lions)
The success of the Lions so far is because of many players, but Johnson is the standout on the team. He has already had four two-touchdown games, and is quickly being recognized as the top wide receiver in the NFC.
If Johnson and the Lions keep playing like they have been, they will be hard to beat come January.
Stats: 36 receptions, 564 receiving yards, 15.7 yards per catch average, 9 receiving touchdowns
Honorable mention: Aaron Rodgers, Tom Brady, Wes Welker (WR, Patriots)
Defensive Player of the Year: Jared Allen (DE, Minnesota Vikings)
Yes, the first three awards come out of the NFC North. Although Minnesota looks like they could be a top five draft pick team this year, Jared Allen still plays his heart out.
He leads the NFL in sacks, and with nobody putting up as crazy of stats as he has, he is the front runner so far.
Stats: 23 tackles, 9.5 sacks, 2 forced fumbles, 2 fumble recoveries, 3 pass deflections
Honorable mention: George Wilson (SS, Bills), DeMarcus Ware (OLB, Cowboys), Pat Angerer (MLB, Colts)
Offensive Rookie of the Year: Cam Newton (QB, Carolina Panthers)
So far, it looks like those who said Cam Newton was the next Jamarcus Russell really didn't know what they were talking about. Newton has showed all kinds of athleticism this year.
He still needs to improve on decision making, but that's how it is with basically any first year quarterback. Newton's team might not be doing the greatest, but he is putting together a rookie season to remember.
Stats: 7 pass TDs, 9 interceptions, 1,847 passing yards, 58.5 percent completion, 78.3 quarterback rating, 6 rushing TDs, 210 rushing yards
Honorable mention: A.J. Green (WR, Bengals), Julio Jones (WR, Falcons), Andy Dalton (QB, Bengals)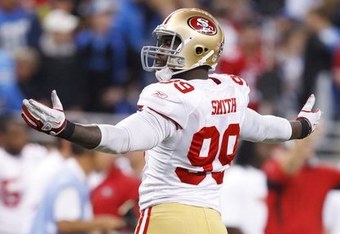 Defensive Rookie of the Year: Aldon Smith (OLB, San Francisco 49ers)
When the 49ers drafted Smith with the seventh overall pick in the draft, in surprised many, considering how little faith everyone had in the quarterback situation in San Francisco.
However, Aldon Smith is turning out to have one of the best rookie seasons in the league. He is a sack machine, and definitely found a comfortable fit in the 3-4.
Stats: 11 tackles, 5.5 sacks, 1 forced fumble, 1 safety, 3 pass deflections
Honorable mention: Von Miller (OLB, Broncos), Phil Taylor (NT, Browns), Ryan Kerrigan (OLB, Redskins)
Comeback Player of the Year: Matthew Stafford (QB, Detroit Lions)
Matthew Stafford has had health concerns for some time now. People have said that if he could actually stay healthy, Detroit might actually be a decent team. Well, guess what folks: He is healthy, and the Lions are better than just decent.
The 2009 No. 1 overall pick is putting up great stats in what is by far his best year yet.
Stats: 15 pass TDs, 4 interceptions, 1,729 passing yards, 62.0 percent completion, 98.2 quarterback rating
Honorable mention: Steve Smith (WR, Panthers), Beanie Wells (RB, Cardinals) Alex Smith (QB, 49ers)
Coach of the Year: Mike McCarthy, Green Bay Packers
Out of all of the coaches in the NFL, Mike McCarthy is probably the most undervalued, even after winning a Super Bowl. He's not a big talker, or someone who guarantees wins.
He just makes sure his team gets it done. It's hard to see who could stand in the way of another Packer Super Bowl berth, considering McCarthy's squad is still the best team in the league.
Honorable mention: Chan Gailey (Bills), Bill Bellichek (Patriots), Jim Schwartz (Lions) 
There is still a lot of the year left, but as of now, these are the best bets to win the awards. We will see what happens over the remainder of this wild and crazy NFL season.