NFL Trade Rumors: Brandon Lloyd Should Be Traded from Denver
October 14, 2011
Justin Edmonds/Getty Images
The Denver Broncos are clearly in a rebuilding season in 2011.
The starting quarterback has changed twice—if you count the idea that Tim Tebow was supposed to have the job coming into the preseason.
The majority of their front office has changed, including their head coach and vice president of football operations.
Now, the tough times are striking again as the Broncos find themselves shopping the player that's been the most consistent for the team over the last 12 months.
Star wide receiver and league leader in receiving yards in 2010, Brandon Lloyd is officially on the trading block.
Should this be a surprise to anyone?
Maybe, but the fact is the Broncos are rebuilding—and their change at quarterback from Kyle Orton to Tim Tebow signals a certain decline in Lloyd's effectiveness in the Broncos' offense.
Orton may not have been the most prolific gunslinger in the NFL, but he made his paycheck every week by throwing the ball up to the receiver most capable of bringing it down—and he did it well.
After seven years of less-than-spectacular play from Lloyd, he suddenly emerged as a serious threat for defenses and ran all over the league for an entire season in 2010.
A year later, Lloyd has lost the most important factor in his success—and it wasn't his circus-catching ability.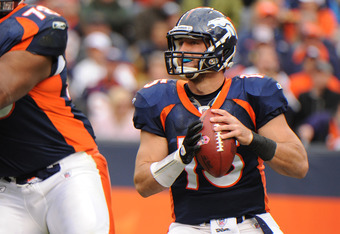 Bart Young/Getty Images
Orton's out, Tebow's in and it's time to adjust the roster accordingly.
Where could Lloyd end up?
And what could the Broncos seek in return for such an impact player?
The San Francisco 49ers, Houston Texans and Tennessee Titans are all in need of a receiver after suffering injuries to their best.
Tennessee could definitely use a replacement for Kenny Britt.
The 49ers are stuck relying solely on Michael Crabtree after Josh Morgan left the field.
And fantasy owners have been reeling from the loss of Andre Johnson from the Texans lineup. Matt Schaub would love to have the skills of Lloyd on his side as the Texans attempt to recover from a heartbreaking loss to the up-and-coming Oakland Raiders.
Here's an idea, if you don't consider the ridiculous impacts of the contracts: Bring Chris Johnson to Denver.
He's absolutely ineffective for the Titans this year and has steadily declined since his 2,000-yard season.
The Broncos line has managed to turn an aging Willis McGahee into a star again, at least compared to what the Broncos have been used to. Just think what they could do with a runner at Johnson's age.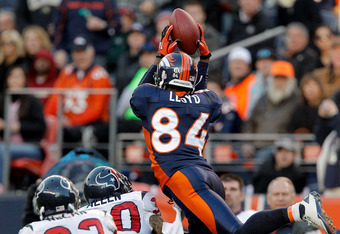 Justin Edmonds/Getty Images
Obviously, this won't happen, considering the humongous contract that Johnson just scored from the Titans after a ridiculously long and blown-out-of-proportion holdout. But it's still fun to think about.
Honestly, in a league where the trade deadline hardly ever lives up to the excitement that Major League Baseball's or the NBA's does, it's tough to believe that Lloyd will fetch too much worth.
Maybe a couple draft picks to help the Broncos continue their process of rebuilding in 2012 will be enough to let him off the roster.
Eric Decker has already proved he has what it takes to step into Lloyd's place, and Eddie Royal and Demaryius Thomas make their comebacks in Week 7 to play pass-and-catch with Tebow.
I love ya, Lloyd, but I think it makes perfect sense to part ways with you this week. Happy Trails.