Fantasy Football 2011: Musts, Trusts and Busts (Week 6)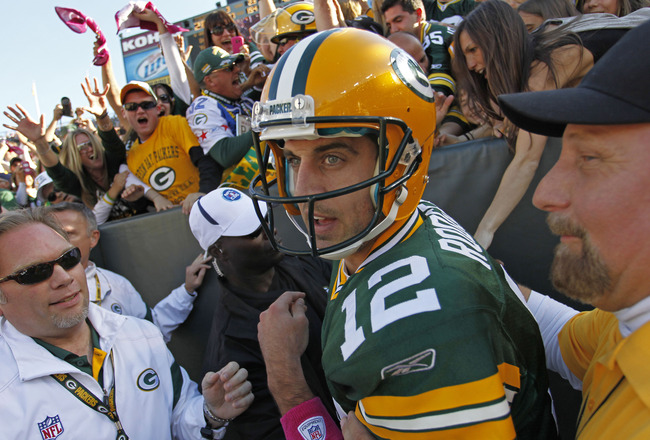 Matt Ludtke/Getty Images
On Sept. 30 , I traded Hakeem Nicks, Darren McFadden and Philip Rivers for Andre Johnson, Peyton Hillis and Aaron Rodgers.
Two days later, in a game between the Broncos and Packers, Rodgers went absolutely silly.
Finishing with a quarterback rating of 134.5, Rodgers threw for 400 yards and four touchdowns, while rushing for two more on the ground.
In hindsight, the acquisition of Rodgers came at a steep price considering Texans WR Andre Johnson injured his hamstring in the following game. But with a team boasting a receiving corps of Larry Fitzgerald, Calvin Johnson and Dez Bryant, I'm not too concerned.
Andre Johnson is projected to return to the Houston Texans lineup Week 8 against the Jacksonville Jaguars.
Aaron Rodgers is the best QB in fantasy football, the road through the league championship goes through me.
This installment of Musts, Trusts and Busts features bye-week fill-ins as well as big name byes.
Version 7.0
Quarterback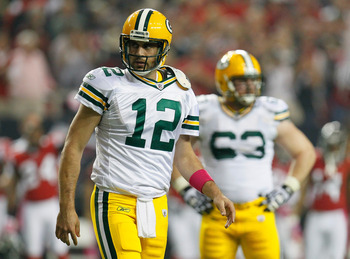 Kevin C. Cox/Getty Images
Musts:
1. Aaron Rodgers
2. Cam Newton
3. Michael Vick
4. Tom Brady
Trusts: Drew Brees, Ben Roethlisberger
Value Depth: Matt Ryan, Ryan Fitzpatrick, Joe Flacco, Jay Cutler
Busts: Josh Freeman, Matt Schaub, Rex Grossman
Big Name Bye's: Philip Rivers, Kevin Kolb
Bye Week Fill-In: Andy Dalton, Curtis Painter
Through five games Green Bay Packers QB Aaron Rodgers has just one game with fewer than 300 passing yards.
Running Back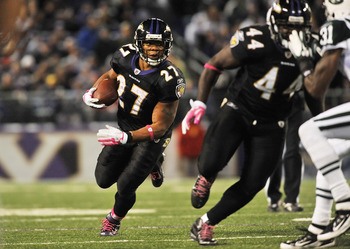 Larry French/Getty Images
Musts:
1. Ray Rice
2. Darren McFadden
3. Matt Forte
4. Fred Jackson
5. LeSean McCoy
Trusts: Michael Turner, Maurice Jones-Drew, Frank Gore, Arian Foster, Cedric Benson
Value Depth: Peyton Hillis, Steven Jackson, Rashard Mendenhall, Ahmad Bradshaw
Busts: Jahvid Best, BenJarvus Green-Ellis, Ryan Torain
Big Name Bye's: Ryan Mathews, Chris Johnson
Bye Week Fill-In: James Starks, Shonn Greene, Darren Sproles
In Week 4, Rice led the Ravens in both rushing and receiving. If you don't have Rice on your team, make an attempt to go get him, especially with Baltimore's bye-week out of the way.
Wide Receiver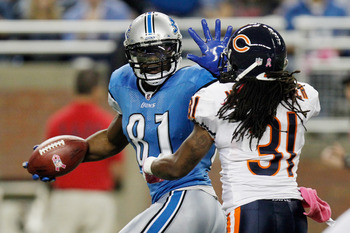 Gregory Shamus/Getty Images
Musts:
1. Calvin Johnson
2. Mike Wallace
3. Roddy White
4. Wes Welker
5. Hakeem Nicks
Trusts: Steve Smith, Greg Jennings, DeSean Jackson, Dez Bryant
Value Depth: Miles Austin, Jeremy Maclin, Stevie Johnson, A.J. Green
Busts: Santana Moss, Austin Collie, Mike Williams, Percy Harvin, Denarius Moore
Big Name Bye's: Larry Fitzgerald, Vincent Jackson, Dwayne Bowe, Sidney Rice
Bye Week Fill-In: Michael Crabtree, Deion Branch, Jordy Nelson
No other receiver in NFL history has compiled nine touchdowns through five games as has Detroit Lions WR Calvin Johnson.
Keep Reading