NFL Week 6: Tony Romo vs. Tom Brady and the Top 5 Quarterback Shootouts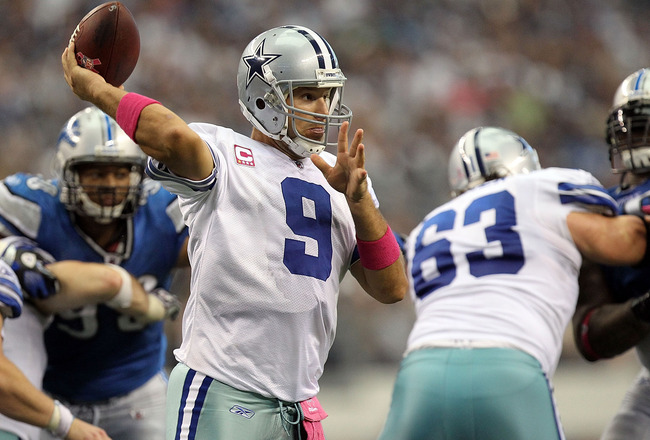 Ronald Martinez/Getty Images
Starting this week in the NFL, we will begin to learn volumes about who is a legitimate playoff contender and who is not. Teams will separate themselves from the rest of the pack and playoff pretenders will show their true colors.
Week 6 of the NFL Season brings some remarkable quarterback shootouts as some teams look to assert their dominance over the rest of the field and others hope to rejoin the playoff hunt.
5. Drew Brees vs. Josh Freeman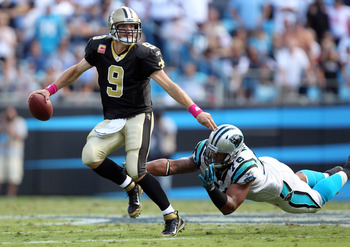 Streeter Lecka/Getty Images
In our first NFC South matchup, Drew Brees and the New Orleans Saints are riding the momentum of four straight victories into Tampa Bay. The Saints' aerial assault is amazing; week to week, Brees drops more bombs than a prop comic. He is passing for 336.6 yards per game and completing 69.4 percent of his throws, both second in the NFL. His 12 touchdowns rank fourth in the League, and his 1,769 yards are also good for fourth best. He also ranks first in the NFL in likability.
Over the course of the Saints' four game winning streak, Brees has been the model of consistency. In Week 2 against the Chicago Bears, Brees completed 70.3 percent of his passes. In Weeks 3 and 4 of the 2011 season against the Texans and the Jacksonville Jaguars respectively, he had nearly identical numbers. In each of those games, Brees went 31-for-44, completing 70.5 percent of his passes.
The Tampa Bay Buccaneers are second in the NFC South and come into the game against the Saints looking to leave tied for first in the division. Despite winning two of their last three games, the Bucs offense has been underwhelming. Quarterback Josh Freeman is throwing for 225.8 yards per game, 20th in the NFL. The team ranks 28th in points scored, and is coming off an embarrassing 48-3 road loss to the San Francisco 49ers.
Freeman enters the game with a 64 percent completion percentage, placing him just inside the top 10 in the NFL. However, he has thrown six interceptions thus far in 2011; four of those interceptions came in his last two games. His three touchdowns are tied with Sam Bradford and Blaine Gabbert for second least in the league, ahead of only Kerry Collins.
KEY STAT: Freeman is one of few quarterbacks in the NFL whose performance improves in the second half of games. He has yet to throw a first half touchdown, and four of his six interceptions have come in the first two quarters. If the Buccaneers can stem the Saints offensive tide in the first half, the second half could be filled with fireworks. That will be a tall order, as Tampa Bay's pass defense is 20th in the NFL.
4. Ryan Fitzpatrick vs. Eli Manning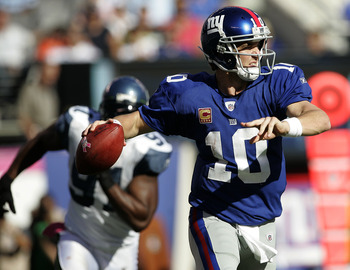 Rich Schultz/Getty Images
The Buffalo Bills are off to a surprising 4-1 start to the 2011 NFL Season, and quarterback Ryan Fitzpatrick's mastery of the League's third best scoring offense is a major key to their success.
So far, Fitzpatrick has thrown 10 touchdowns against four interceptions, but his real gift is his leadership which was on full display when he led the Bills to comeback victories against the Oakland Raiders and New England Patriots in consecutive weeks. In Week 5 against the Philadelphia Eagles, Fitzpatrick went an efficient 21-for-27 for 193 yards and a touchdown.
Eli Manning and the New York Giants are second in the NFC East with a record of 3-2. At 275.4 passing yards per game, Manning is engineering the 11th best passing offense in the NFL. The knock on Manning is that he throws interceptions in bunches, and he is doing little to reverse this trend, as he threw three interceptions last Sunday in a surprising loss to the Seattle Seahawks. On the season, Manning has thrown for 11 touchdowns (fifth in the NFL) and five picks.
KEY STAT: Ryan Fitzpatrick and Eli Manning are slow starters. Fitzpatrick's first quarter completion percentage is 56.1; Manning's is an abysmal 47.5 percent. Both quarterbacks get hot in the fourth quarters of games, each completing over 70 percent of their passes. If either of them can get hot, their team will have the decieded advatnage in the game.
3. Cam Newton vs. Matt Ryan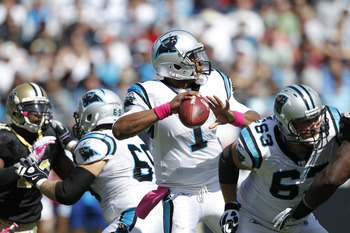 Joe Robbins/Getty Images
Cam Newton and the Carolina Panthers are perhaps the best 1-4 team in the history of the NFL. They rank fifth in total yards per game with 428.2, and Newton is passing for 322 yards per game, fourth in the NFL. While Carolina's record is not much of a surprise, Newton's ability to run the offense has been.
Last year's Heisman Trophy Winner has thrown for 1,610 yards and seven touchdowns this season and run for 160 yards and five touchdowns. A threat on the ground and through the air, Newton is a nightmare for defensive coordinators to scheme for. However, defenses have had some success, as Newton has been picked off six times and at 58.2 percent, his completion percentage is below average.
After finishing 13-3 in the regular season in 2010, Matt Ryan and the young and talented Atlanta Falcons became darlings of the NFL. They earned a first round bye and a home game against the Green Bay Packers in the postseason, but were trounced by the eventual Super Bowl Champions. Since that game, the team hasn't been the same. The Falcons are off to a 2-3 start this season, and in his fourth season out of Boston College, Ryan has underperformed.
With seven touchdowns, six interceptions and just over 1,300 passing yards in 2011, Ryan's numbers are comparable to Newton's. A team cannot contend for a Super Bowl if their quarterback plays like a rookie. Desperate for a win, Ryan and the Falcons are looking to take advantage of a struggling Panthers team and reestablish themselves in the NFC South, but right now Newton and Ryan appear to be two ships passing in the night.
KEY STAT: Newton's numbers on the road are better than Ryan's numbers at home in 2011, including passes of 20 yards or more. Expect the Panthers to stretch the field early and take advantage of the Falcons' 28th ranked pass defense.
2. Matt Schaub vs. Joe Flacco
Bob Levey/Getty Images
Entering the 2011 NFL Season, the Houston Texans were expected to be an offensive juggernaut. With running back Arian Foster's explosive running-style, the freakishly gifted wide receiver Andre Johnson and the steady pass-catcher Jacoby Jones opposite Johnson, quarterback Matt Schaub has more ways to attack an opponent than Georges St. Pierre.
Although their record stands at 3-2 in a season, the Texans offense is as exciting as advertised. They rank ninth in the NFL in scoring (25.4 points per game), eighth in yards per game (398.6) and 11th in passing yards (265.8 yards per game). The team's numbers are stellar, and Schaub ranks in the top 10 in passing yards and touchdowns.
At 3-1, the Baltimore Ravens have been winning ugly. The Ravens offense plays with as much flair as cinderblock, but their violent style has them in first place in the AFC North. NFL fans have been waiting for Joe Flacco to play his way into elite status since Baltimore drafted him four years ago, and they are still waiting.
In 2011, Flacco is completing less than 50 percent of his passes and is 18th in the NFL with 243.2 passing yards per game. He is in the middle of the quarterback pack with seven touchdowns. In fairness to Flacco, the Ravens' offensive attack doesn't start at the quarterback position, but with dynamic running back Ray Rice.
KEY STAT: Matt Schaub can throttle an opponent when the Texans have the lead, but his numbers tumble when they are playing catch-up. Schaub's completion percentage when the team is losing is just 47.5 percent compared to 60.9 percent when the Texans are ahead. If the Baltimore D can keep the Texans out of the end zone and Flacco and the Ravens strike first, Flacco will get the best of this showdown.
1. Tony Romo vs. Tom Brady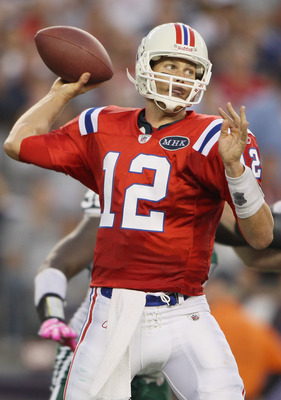 Elsa/Getty Images
Coming off a bye week, Tony Romo leads the Dallas Cowboys into New England looking for a statement win against the Patriots. At 2-2 and third in the NFC East, a win against the powerhouse Pats could turn the Cowboys' season around.
Romo is fifth in the NFL in passing yards per game, averaging 318.2; he is also in the top five in yards per completion and his 65.1 completion percentage is eighth in the League. With top-flight receiver Austin Miles, talented wide out Dez Bryant and tremendous tight end Jason Witten at his disposal, Romo and the Cowboys are third in the league in passing yards per game.
The knock on Romo since he assumed the role of Dallas' starting quarterback is he throws interceptions at the most inopportune times. 2011 has been no different. Two of his five interceptions this season have come in the fourth quarter, most notoriously a confounding pick during a tight Week 1 battle with the New York Jets.
After early exits in their last two postseason appearances, the New England Patriots entered the 2011 NFL campaign with something to prove. They play as if they want revenge on the rest of the league for burying the dynasty quarterback Tom Brady and head coach Bill Belichick built in the last decade. The Pats do not want to win every game, they want to dominate. Their bloodthirsty appetite for touchdowns is intimidating and awe-inspiring.
Tom Brady ranks in the top five of every relevant passing statistic. He is first in passing yards per game with 374.8, and first in total yards with 1,874. Drew Brees is over 100 yards behind him in the latter category. He is tied with Aaron Rodgers for first in touchdowns. He is third in completion percentage at 67.9 percent. He ranks first in completions of 20 yards or more with 30. Brady is even tops in the NFL in yards per completion at 9.6.
Brady put the NFL on notice in Week 1 with a four touchdown, 517 yard performance against the Miami Dolphins. He followed that victory with a three touchdown, 423 yard game against the AFC West-leading San Diego Chargers. Even in New England's lone loss to Buffalo, Brady threw for nearly 400 yards. Defenses cannot stop Tom Brady; they can only hope the offense outscores him.
KEY STAT: Look for this contest to get off to a blazing start as both quarterbacks are at their respective bests in the first quarter. Romo completes just fewer than 69 percent of his passes in the first quarter, while Brady completes a whopping 84.2 percent of his opening quarter passes. Neither QB has thrown a first quarter interception. If you like clean, explosive offense, tune into this game at kickoff and enjoy the show.
Keep Reading