Detroit Lions Are 5-0: Thoughts on Week 6 San Francisco Game
October 12, 2011
Ezra Shaw/Getty Images
"We'll start preparing for a hot San Fran team in about an hour and a half."
—Detroit Lions head coach Jim Schwartz's post MNF presser
It was well past midnight, after the Detroit Lions (5-0) dispatched the Chicago Bears (2-3) by a score of 24-13. Schwartz reminded us all that this will be a short week and that every minute of preparation would be precious.
Initially, I looked at this 49ers matchup with some trepidation. Could this be the first game that will go in the loss column for the Lions? Are the 49ers the real deal? Will the Lions be flat after their blazing start and a big divisional win on Monday night?
It was high time for me to do some homework. Get lost in stats. Consult oracles of wisdom. Crunch numbers. Here's what I found.
Another Week—Another Test
Here come the 49ers, who are 4-1 and sitting atop the NFC West standings. If San Francisco fails to win the NFC West, there should be an investigation.
49ers head coach Jim Harbaugh is the right coach for the right situation for a San Francisco franchise that has been wallowing since the hiring of Mike Singletary.
Harbaugh and the 49ers went about the task of finding an identity that the players could buy into.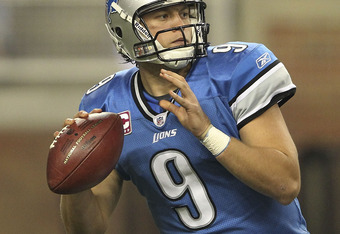 Leon Halip/Getty Images
First, they had a pretty sound 3-4 defense to work with. The questionable secondary was upgraded with the free-agent signing of Redskins CB Carlos Rogers.
Carlos Rogers, along with Derrelle Revis, are the only two CBs that have successfully contained Detroit's WR, Calvin Johnson.
Harbaugh somehow convinced QB Alex Smith that he is a franchise QB. Smith ranks third in the NFL with a dandy 104.1 QB rating. Meanwhile, the 49ers drafted Nevada's QB Colin Kaepernick 36th overall as a developmental hobby for Harbaugh, who is a Jedi master at developing QBs.
Offensively, RB Frank Gore is the 49ers most potent weapon. Gore has already had rushing performances of 127 and 125 yards.
Frank Gore Will Not Run Wild in Detroit
RB Frank Gore has carried 94 times out of the 240 snaps he's played. By contrast, Jahvid Best has carried only 72 times out of 250 snaps he's played for los Leos.
Gore rushing plays account for 33 percent of the 49ers total plays from scrimmage. Get where I'm going with this?
Stop or contain Gore, and the 49ers look very beatable.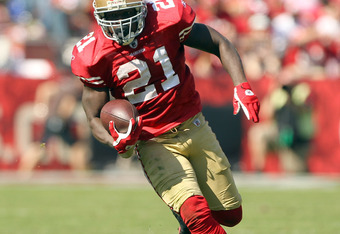 Ezra Shaw/Getty Images
Look—the Lions have faced a steady diet of Adrian Peterson, Felix Jones and Matt Forte. Is Frank Gore scarier? I didn't think so.
QB Alex Smith Will Be Exposed
Let's look at Smith's numbers—83 of 126 attempts for 965 yards. Smith has seven TDs and only one INT.
Smith's QB rating is 104.1.
Not bad, and Smith's stats are largely due to the tutelage of 49ers head coach Jim Harbaugh, who seems to work miracles with quarterbacks at every level.
The truth, however, is that Smith has been sacked 14 times, hit 14 times and hurried 45 times. Of 147 drop-backs, Smith was effectively passing only 50 percent of the time.
Compare that with Matt Stafford, who was sacked six times, hit 16 times and hurried 38 times. Of 195 drop-backs, Stafford effectively got the pass off 61 percent of the time.
Detroit's D-line will give Smith a reality check. Smith hasn't faced a defensive front seven like this yet.
Chicago's Jay Cutler was actually lights-out under tremendous pressure on MNF. Is Alex Smith as elusive as Cutler? I didn't think so.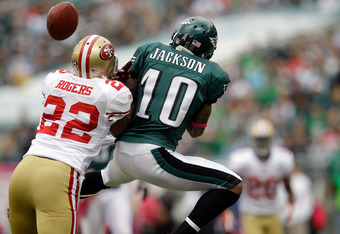 Rob Carr/Getty Images
Smith has passed for seven TDs, but five of those have gone to TEs Vernon Davis and Delanie Walker. The wide receivers have been unproductive as a group. Braylon Edwards, Michael Crabtree and Ted Ginn Jr. are doing nothing.
The 49ers lost their most productive WR, Josh Morgan, who suffered a broken ankle during garbage time in the 48-3 blowout of the Buccaneers last week.
It's so bad that the 49ers held a "Gong Show" audition to find a WR this week.
San Francisco's Defense is Good—Not Great
The 49ers' 3-4 defense has allowed only seven TDs, all against the pass. This is equal to the Lions, who have allowed six passing and one rushing TD.
These nice numbers came at the hands of the Seahawks, Bengals, Cowboys, Eagles and Bucs.
The 49ers are 13th in total defense—right behind No. 12 Detroit.
49ers fans think that their 23rd-ranked pass defense can bottle up Detroit's seventh-ranked passing attack. Good luck with that.
San Francisco ranks a lofty fifth against the rush. This trumps the Lions' 24th-ranked running game. But Detroit is a pass-first offense that creates space by stretching the field more so than any other offense that the 49ers have faced.
The 49ers do turn the ball over at a prolific rate. Six forced fumbles and eight interceptions. San Francisco also leads the NFL in passes defended (46).
The powerful Detroit passing offense will provide the biggest test for the 49ers by far.
Some Intangibles to Consider
The Lions are coming off a big divisional win on Monday Night Football. Will they come out flat after the 5-0 run? This has to be the biggest concern of the coaching staff and fans on a short week's preparation.
The 49ers have a bye week after visiting the Motor City. They are coming into town with a surge of confidence after last week's blowout win. Is a road letdown in the cards?
The head coaches, in what is being touted as the "Game of the Week" by many in the national media, are both early candidates for NFL coach of the year.
Both have done a great job in putting the right schemes and personnel in place in order to succeed. Which head coach will have his team better prepared?
Prediction
Two up-and-coming teams on a collision course in Motown. This will be a relatively low scoring game, so book the "under."
If this game is to be won on defense, Detroit should get the nod here, as defensive line depth might be the difference.
Detroit wins 24-17.