Al Davis: No Tears for the Ruler of the Raider Nation, Just a Smile
October 11, 2011
Bob Levey/Getty Images
Many people within the writing community did not respect Al Davis.
Many poked fun at Mister Davis, whether it be through the use of derogatory terms regarding the state of his physical well-being, or calling him 'an old fool' due to his stubbornness in not giving up control of the Oakland Raiders.
HIS team.
A few short days have gone by since Coach Davis' passing; a moment that will live in infamy through the ranks of the Raider Nation forever.
This piece of writing is not going to be a suck-up, brown-nosing attempt.
Al Davis probably would not have appreciated that.
Instead, this piece of writing goes out to the detractors and haters. This article is dedicated to each and everyone of you that sat behind a desk and laughed or made ridiculous comments over Al Davis and how he lived. This is a shot to each and everyone that said Coach Davis "lost it."
Oakland - 25, Houston - 20.
The "juggernaut" known as the Houston Texans lead by Gary Kubiak, a man that worked under Mike Shanahan for all the years that the Denver Broncos utilized that specific running scheme which did some serious damage over the years, lost.
The men that were responsible for the most part of that victory were men that YOU, the certified Al Davis hater said "was done," or "is a bust" or "did not deserve the first round status."
Jason Campbell- nobody believed in Jason Campbell, including some within the Raider Nation. Al Davis saw something in Jason Campbell that drew comparisons to the great Jim Plunkett, two years later. Jason Campbell is sitting at 3-2 on the season, which should have been 4-1 at the moment.
Darrius Heyward-Bey -  bust, right? This year alone, Heyward-Bey's work ethic and confidence is at an all-time high. After hearing being labelled a 'bust' so many times, DHB probably had enough of it, and proved two weeks in a row that he has what it takes to be the man Al Davis thought he could be.
Richard Seymour - the Patriots thought he was finished. Traded for a draft pick, Richard Seymour walked into Oakland with the leadership chip on his shoulder and he made an impact. Who outside of Al Davis saw that Seymour needed a new lease on his career?
Michael Huff - another 'bust' labelled by many. Michael Huff has undergone a major transformation within the last two years and against the Houston Texans put a nail in the coffin of the game with arguably the biggest interception of his Raider career.
Then of course, comes the man who Al Davis was under fire for drafting until the whole debacle with JaMarcus Russell.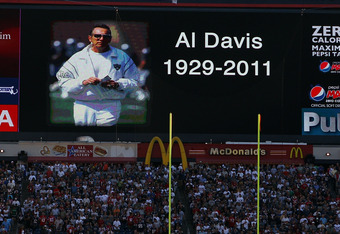 Elsa/Getty Images
Sebastian Janikowski.
Every argument included, "kickers aren't first round draft pick choices! Al Davis is an idiot!"
Look at Janikowski's stats.  Al proved you wrong.
The major contributions that mister Davis gave to the NFL will never be forgotten nor appreciated by new, "Facebook" generation of people in the future. Sure, a fan of NFL history will be able to tell you the significant impact Al Davis had in football, but most will probably not.
Al Davis may have passed on, but the work he put in over the past few years is beginning to come together and gel. The days where the Oakland Raider organization is looked at laughed at is over. Al Davis will no longer be ridiculed by a hypocritical media that did nothing besides bash him in the last years of his life.
No longer will The Raider Nation be known as 'losers."
That's why Hue Jackson was brought in and Tom Cable was sent out.
In the wake of Al Davis' passing, the Oakland Raiders march for glory is upon us. 
The Oakland Raiders are back on the stride to reclaim greatness, all due to the time and effort of the one and the only..
Allen "Al" Davis.
Born; Independence Day, 1929. Passed October 8th, 2011.
Gone but NEVER forgotten. Commitment to Excellence.