Raiders Plunder Texan Booty, and Other AFC West Predictions for Week 5
October 8, 2011
Ezra Shaw/Getty Images
Win. Lose. Win. Lose.
The Oakland Raiders are going to give a lot of people gray hair if they play hot-and-cold like this for three more months. Fans with gray hair are most likely going to go bald. All the bald fans will probably not be impacted much, having already taken the time to go out and buy a hat for game day, and every other day.
Predicting the Raiders to win this week in Houston—a matchup that the history books would say favors the Texans—feels risky at best, but it is hard to ignore the storybook appeal of Oakland rising up in the wake of Darth Davis' death and clobbering the Texans.
Oakland folded last week against a better New England team, and now sit somewhere between contender and pretender, whatever that means after four games. These Raiders have got some moves, and will put a hurting on the the posers (Denver), the dorks (Cleveland), the substitute biology teacher (Kansas City) in the weeks to come. A winning season seems plausible.
But can the Raiders beat up another bully?
Without wide receiver Andre Johnson, who will be sidelined for two weeks after undergoing an operation to repair an injured right hamstring, the 3-1 Texans seem a tad more bark than bite. Matt Schaub is a good quarterback, and the Raiders secondary is an optical illusion, so if he can see straight for more than like two seconds he will probably complete a few passes.
Still, odds are that without a deep threat not named Kevin Walter, Houston will be giving running back Arian Foster those, "can you hook a brother up?" eyes. Be extra nice to him in the locker room. He's recovering from his own hamstring injury, but put up 155 yards in a win against the Pittsburgh Steelers last week and is needed now more than ever.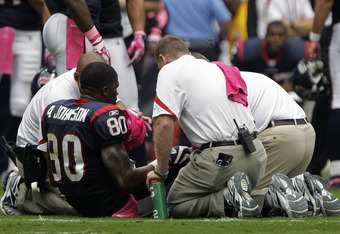 Thomas B. Shea/Getty Images
Look for Foster to get at least 30 touches on Sunday.
This also means that Sunday will be a big test for the Oakland Raiders' front lines.
Defensively, defensive tackle Richard Seymour needs to keep his cool and set a good example for Jarvis Moss, who will be replacing injured defensive end Matt Shaughnessy. Both must pressure the ever-efficient Schaub, and disrupt Foster in the backfield if Oakland's coverage is to stand half a chance of not falling in an early hole.
The offensive line must contend with right offensive linebacker Mario Williams, who is thriving under Wade Phillips' revamped 3-4 defensive scheme and has four sacks on the season, good for fifth in the league. QB Jason Campbell has faced mediocre defenses this season, so the 10th-ranked Texans pass defense should give Campbell fits if second year left tackle Jared Veldheer cannot slow down Super Mario, or Campbell feels like throwing it right at the safeties.
Oakland's offense needs to do two things: give the ball to running back Darren McFadden, and try to get the ball to tight end Kevin Boss. These two are what the dictionary define as sure things. The Raiders' swift receiving core may be best put to use drawing coverage away from the run.
Ideally: Oakland goes into Reliant Stadium, and leaves with a solid 21-10 win, highlighted by stifling defense and a McFadden parade all afternoon from end zone to end zone. Campbell plays it safe, and the team finally understands why it is a good thing to limit penalties and turnovers.
Realistically: Oakland goes into Reliant Stadium, and barely escapes with a 20-17 victory. There are still questions about the defense, but the win buys the team another week before being forced to hold open auditions for Who Wants to Be a Raiders Cornerback?
Elsewhere in the AFC West
Defending AFC West champs the Kansas City Chiefs go up against the Colts in Indianapolis in the Meineke Car Care What the Hell Happened Bowl. Do either of these teams really have a chance at a winning season? Well, the good news is that at some point this game will be over.
Ideally: Colts QB Curtis Painter sneaks up on an unsuspecting Chiefs team, and leads Indy to a big 31-3 win in what amounts to the high point of a dreadful season for the Colts. KC starts unbuckling its belt in preparation for next week's spanking by the Raiders.
Ideally (2): We scrap this game, and pay Detroit and Chicago everyone's salary for that day to play on Monday night and on Tuesday night. One clause would stipulate that the Lions would have to make its demise looking convincing enough to fool millions two nights in a row as it rallies to beat the Bears twice.
Realistically: Who cares? Uh, Chiefs win, 10-7.
Current AFC West leader San Diego takes its win streak into Denver for a showdown with the Broncos. Its sixth-ranked defense has been its catalyst all season, holding opponents to under 300 yards per game. Denver enters the contest ranked 67th in offense. Not even sure how they managed to pull that off, but my guess is it has something to do with QB Kyle Orton.
Ideally: The Broncos pull off an upset, beating San Diego 14-13 on a last-second touchdown run by Mr. Fan Favorite Tim Tebow, sending all of Denver into a riot.
Realistically: Chargers win big, 28-13. Denver doesn't really talk much for a few days.