NFL Week 5 Picks: Lazy Observations from a Casual Fan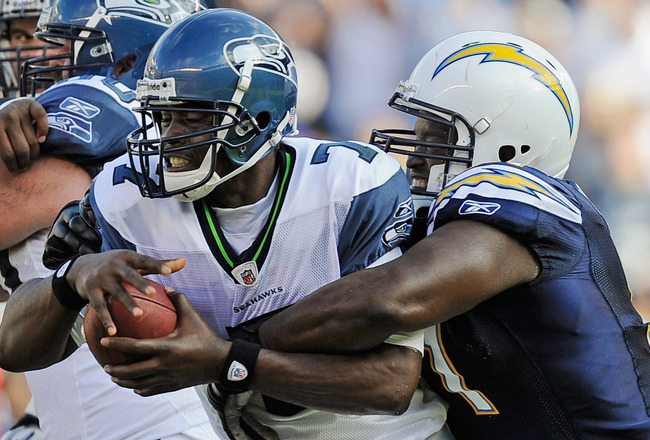 Kevork Djansezian/Getty Images
Greetings fellow sports fans, and welcome to the first of what I hope will be a weekly occurrence here at Bleacher Report: you reading my article.
Each week I'll be writing about my uninformed and hastily assembled picks, hopefully for your enjoyment.
I don't claim any insider info or vast knowledge of stats; I rely on a delicate balance of common sense, gut instinct and sheer dumb luck.
It's going to be a great ride: We'll laugh together. We'll cry together. We'll make fun of the less fortunate teams along the way.
I can't wait, let's get started.
Oh and one more thing: if you like (or hate) what you read, please don't forget to leave me a comment and check back in for Week 6!
New Orleans Saints vs. Carolina Panthers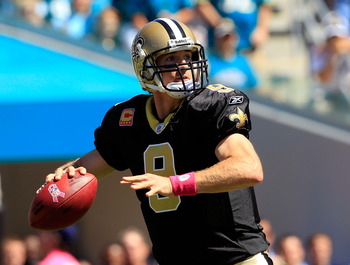 Sam Greenwood/Getty Images
NO 3-1
CAR 1-3
I'll be the first to admit I was wrong about Cam Newton—I took him for an over-hyped Tim Tebow 2.0, sensationalized by ESPN to give us a reason to tune in and watch the draft. Well, I heard he's been playing pretty well lately, and that's good for the Panthers. I'm glad their strategy of drafting 12 quarterbacks per year has finally paid off for them.
You know who else is pretty good? The Saints. New Orleans, unlike Carolina as of late, is used to winning. They are a deep team with playoff experience, who will be able to keep up with Carolina's high-powered offense point for point. New Orleans is tied for the lead in the division for a reason.
That reason being, they are a better team than the Panthers.
THE PICK: New Orleans
Kansas City Chiefs vs. Indianapolis Colts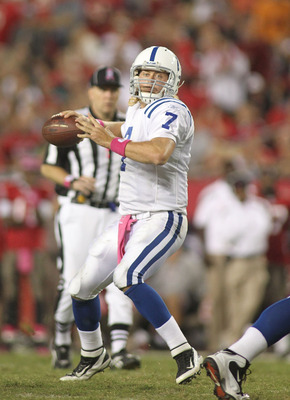 Marc Serota/Getty Images
KC 1-3
IND 0-4
I'm going to let you in on a little secret: The home team usually wins. If I picked every home team to win every week this season, I'd probably end up about 60 percent accurate. Seriously, try it. Amaze your friends.
My point is, there's no compelling reason NOT to pick the home team here, with both teams playing so poorly—neither of them looks likely to win an away game anytime soon. Furthermore, there's no compelling reason to WATCH this game either.
I jest... sort of.
All kidding aside, the Colts' starting wide receivers average out to 1.75 inches taller than the Chiefs' starting cornerbacks, which should give them an advantage to come down with the ball as Curtis Painter wildly flings passes across the field. For this reason, I am going with the Colts on Sunday.
THE PICK: The Home Team
Philadelphia Eagles vs. Buffalo Bills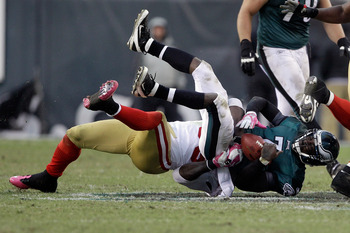 Rob Carr/Getty Images
PHI 1-3
BUF 3-1
The Eagles. The Dream Team. Preseason Super Bowl Champions.
Unfortunately for the Eagles, they have forgotten two key things: other teams are allowed to run the ball against them, and they are only allowed three timeouts in the second half.
The Bills will exploit this by giving the ball to Mr. Fred Jackson, who will rack up a ton of yards, keep the Eagles offense off the field, prevent the Eagles' expensive cornerbacks from actually doing anything, and literally run the clock out, which will force Eagles head coach Andy Reid to make a laughable attempt at clock management.
Seriously, all the Bills need to do is be up by three with under two minutes to play and Reid will win the game for them.
THE PICK: Bills by 3
Seattle Seahawks vs. New York Giants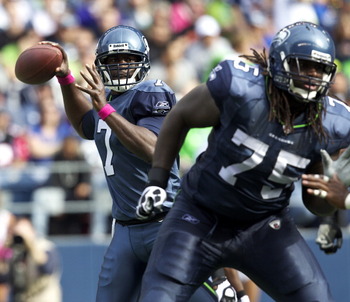 Stephen Brashear/Getty Images
Seattle 1-3
New York 3-1
Tarvaris Jackson. The man. The legend. Wooed from the frigid North with promises of victory and plunder, he now leads his troops to lay siege to the fair city of New York.
Unfortunately for my man T-Jack, Seattle can't run, New York's pass rush is getting better and cross-continental flights are brutal.
THE PICK: New York
Cincinnati Bengals vs. Jacksonville Jaguars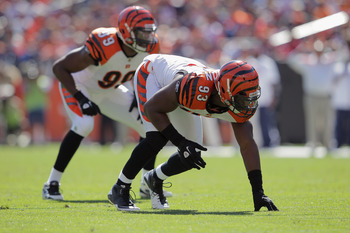 Doug Pensinger/Getty Images
CIN 2-2
JAC 1-3
Believe it or not, the Bengals are the top defense in the land at this point in the season and have actually been playing like a decent football team.
Seriously, see for yourself.
The Jaguars, on the other hand, are on their third quarterback in two months and haven't scored more than 10 points in any of their last three games. Despite Maurice Jones-Drew's best efforts, I see this trend continuing on Sunday.
THE PICK: Bengals
Oakland Raiders vs. Houston Texans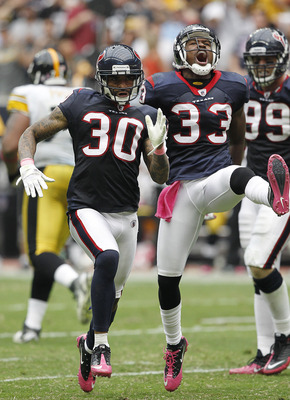 Bob Levey/Getty Images
Oakland 2-2
Houston 3-1
Houston is making the most of Peyton Manning's absence and having a heck of a season. Even without Andre "Slayer of Titans" Johnson, they still present a formidable matchup for any team.
Oakland, meanwhile, has surprised everyone by acting like a functional franchise. Darren McFadden is running well, the defense is taking care of business, and Jason Campbell is (sometimes) taking good enough care of the ball for them to win a few games.
While I think Oakland definitely has a good enough defense to slow Houston down a bit, I just can't see them keeping up with the Texans at home for four quarters.
THE PICK: Houston
Arizona Cardinals vs. Minnesota Vikings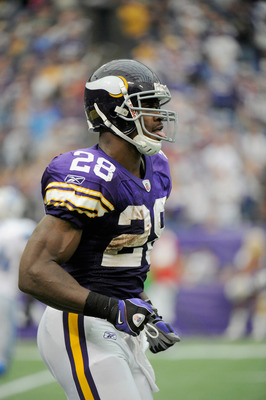 Hannah Foslien/Getty Images
ARI 1-3
MIN 0-4
THIS week will be Minnesota's week, mark my words—a traveling NFC West team is as close to a free win as it gets. Adrian Peterson will go wild, the Vikings' pass rush will finally come alive, and the Cardinals will still miraculously be in the race for a division title.
THE PICK: Minnesota
Tennessee Titans vs. Pittsburgh Steelers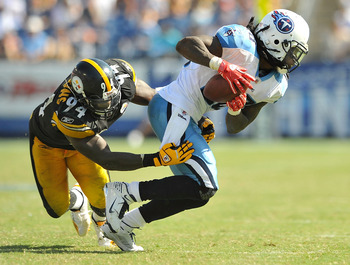 Grant Halverson/Getty Images
TEN 3-1
PIT 2-2
The Steelers, so used to seeing defenders bounce off of their quarterback, have decided to stop protecting Ben Roethlisberger entirely. An interesting strategy, but I don't think it's going to pay off for them against Tennessee on Sunday.
The Steelers' run defense, meanwhile, is allowing a mind boggling 119.5 yards per game. Chris Johnson, after a slow start, is starting to regain his Pro Bowl form, and I see him having a big day against the reeling Steelers D.
No one seems to be talking about the Titans just yet, but after a close win in Heinz field, they will be.
THE PICK: Tennessee
Tampa Bay Buccaneers vs. San Francisco 49ers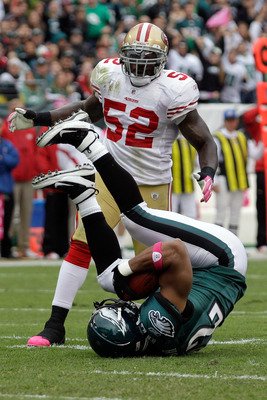 Rob Carr/Getty Images
TB 3-1
SF 3-1
As a resident of the San Francisco bay area, I've had front-row seats for the Alex Smith Show for the past 15 seasons (feels that long, at least). As such, I don't think I'll ever completely be able to trust the man. What I do trust, though, is Patrick Willis and the 49ers defense.
I see the Niners turning this one into a brawl, bullying the Bucs offense while pounding the ball with Frank Gore to win a close, low-scoring game.
THE PICK: Niners
San Diego Chargers vs. Denver Broncos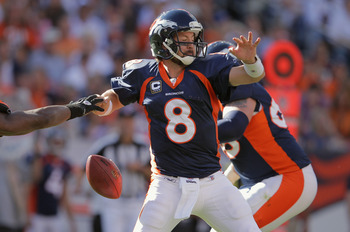 Doug Pensinger/Getty Images
SD 3-1
DEN 1-3
In the interest of full disclosure, I must admit that I'm one of the few supporters Kyle Orton has left; I appreciate his underrated scrappiness.
Unfortunately for Denver, my appreciation for their embattled quarterback isn't going to help them on the field. They are going to be buried by San Diego, who are the schoolyard bullies of the AFC (whose dominance will only last until they pick on someone their own size during the postseason, only to run home crying, again).
THE PICK: Chargers
New York Jets vs. New England Patriots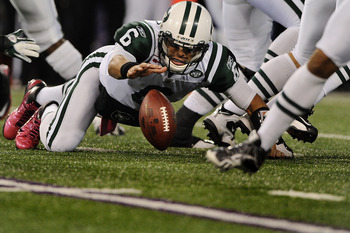 Patrick Smith/Getty Images
NY 2-2
NE 3-1
The Jets should just have their defensive players play both ways—they seem to be the only ones actually showing up to games. Actually, the Patriots should have their offense play both ways too, for the same reason.
Given 60 minutes, I'm reasonably confident the Patriots offense will score more points than the Jets defense, just as I'm reasonably confident that the Jets defensive backs will see more catchable balls than any of their teammates on offense. And I mean that in the worst way possible.
THE PICK: New England
Green Bay Packers vs. Atlanta Falcons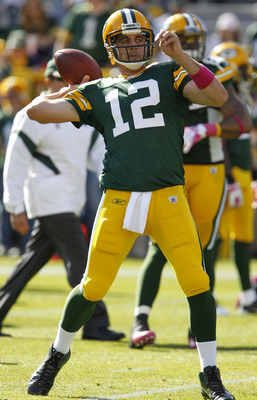 Matt Ludtke/Getty Images
GB 4-0
ATL 2-2
I've seen a lot of people calling for the upset in this one, and while I respect rooting for the underdog, I really, really don't think it's going to happen.
While I'm not completely sold on the Pack's defense this year, they're 4-0 and are playing like... well, like world champions.
The Falcons, on the other hand, are playing worse than their 2010 squad, who lost to the Packers at home in the playoffs. Something is amiss with Atlanta this year; expect the Pack to take full advantage of it.
THE PICK: Green Bay
Chicago Bears vs. Detroit Lions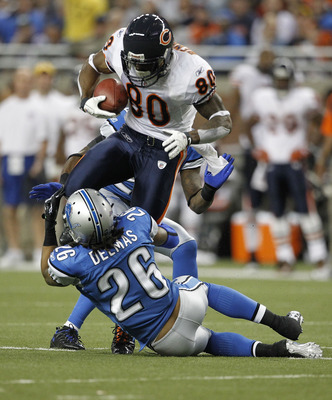 Leon Halip/Getty Images
CHI 2-2
DET 4-0
I think this game will be a lot closer than people are claiming, because A) this is the NFC North, and B) the Bears find some pretty ridiculous ways to stay in games.
That being said, the Lions (I still can't believe I'm saying this) are the better, more consistent team this year. They will have the full support of their fans, who I'd imagine are totally freaking out about having a winning NFL team.
Matt Forte won't be able to do it all for the Bears, and I'm honestly worried for Jay Cutler's life.
THE PICK: Detroit
Keep Reading