Sleepers/Creepers- Fantasy Football Waiver Wire Advice for Week 5
October 5, 2011
Whitney Curtis/Getty Images
Sleepers
Ryan Torain/Roy Helu,RB WAS
- As a gratuitous gesture for fantasy managers across the country, this is probably the week when the NFL should release its commemorative three-sided coin, featuring the likenesses of Tim Hightower, Ryan Torain and Roy Helu.  Unfortunately, flipping this collectible coin will probably be the only true way to choose among Hightower, Torain and Helu for your fantasy lineup over the next few weeks. Ryan Torain asserted his claim to the starting role this past Sunday, with 135 yards and a touchdown.  However, remember that Roy Helu also has upside, and Tim Hightower will probably still get at least the scraps.

Mark Sanchez/Santonio Holmes,QB/WR NYJ
- While the NYPD was busy busting Wall Street protesters on the Brooklyn Bridge this past week, they should have focused their attention on the real villains of the metropolitan area: They should have arrested the entire Jets offense as they got off the plane from Baltimore.  Maybe having a Ravens defensive lineman on your lap exactly one second after every snap is not conducive to completing passes. Whatever the excuse, Mark Sanchez was just plain awful Sunday night, completing just 11 of 35 passes for 119 yards, one INT, and zero TDs. The good news is that New England and Miami are coming up on the Jets schedule, so don't give up on Sanchez and Santonio Holmes just yet.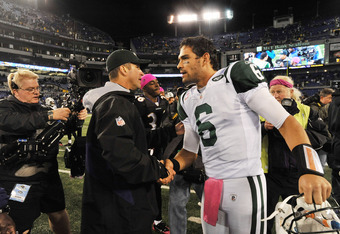 Larry French/Getty Images
Ed Dickson,TE BAL
- Joe Flacco had a tough time hitting anything that wasn't grass this past week against the Jets, completing 10 passes to Baltimore receivers, and denting the turf at M&T Bank Stadium with 21 other passes.  One interesting development, however, was the attention that TE Ed Dickson was given in the passing game, finishing with 12 targets, compared to two targets for Anquan Boldin and five each to Torrey Smith and Ray Rice.  Dickson now leads the Ravens with 32 targets on the season, and makes a great bye week replacement if you need TE help.
Antonio Brown, WR PIT
- Hines Ward's performance on the football field hasn't been quite as embarrassing as his appearance on "Dancing with the Stars'" last season. But it is looking like he is unceremoniously being surpassed on the Steelers unstated passing target pecking order by second year receiver Antonio Brown.  Brown led all Steelers receivers with 10 targets last week, and now surprisingly has more season targets than both Mike Wallace (30) and Ward (24).
Damian Williams,QB/WR TEN
- Damian Williams is not going to make anyone forget about Kenny Britt, especially after this past week when he caught only one pass for four yards.  Of course, it helps that the catch was a touchdown. Williams is probably still available on your waiver wire if you are interested in a Tennessee receiver who should be at least slightly more consistent than Nate Washington and Lavelle Hawkins.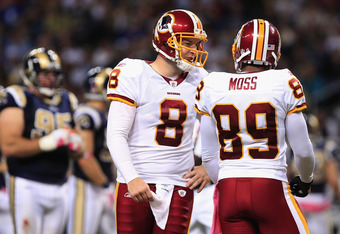 Whitney Curtis/Getty Images
---
Creepers
Rex Grossman,QB WAS
- Rex Grossman must have been a comet in a former life, because every once in a while he is capable of coming out of nowhere and putting on a spectacular show.  The problem is after he does have this unexpected 275 yards and four TD game, he goes back to doing nothing, or sometimes worse than nothing. Take his infamous 34 yard, three INT game versus the Vikings in 2006. After compiling 143 yards, a couple more INTs and a 48.5 QB rating this past week, Grossman is now officially begging for John Beck to replace him as the Redskins starter.
Devery Henderson,WR NOR
- If you were surprised that Devery Henderson was targeted just one time and  didn't record a catch this past week against Jacksonville, you shouldn't have been.  After all, we are talking about the guy who deserves his own statistic.  In fact, let's invent one right now and call it the "Dubious Devery." A "Dubious Devery" will hereby be defined as any time a wide receiver starts a game, assumingly running around on the field for the entire afternoon making an earnest attempt at catching passes, yet finishes the day with 35 yards or less.  If you have started Devery Henderson anytime since 2005, you have had a 43 percent chance of experiencing a "Dubious Devery." With Marques Colston back in the Saints lineup for at least until he hurts himself again, the odds that you will be seeing more "Dubious Deverys" have probably just increased.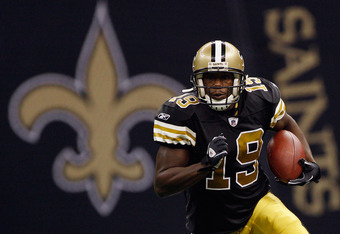 Chris Graythen/Getty Images
Willis McGahee,RB DEN
- It would have been nice if Knowshon Moreno had shown some enthusiasm in his return to the field this week, but it seems like the only guy who was truly motivated by Moreno's return was Willis McGahee. He was so excited to see his backfield friend again that he ran for over 100 yards on 15 carries for a very uncharacteristic 6.9 YPC.  McGahee has no doubt earned a significant role with the Broncos, but it's doubtful that Moreno will stay gimpy and ineffective for the entire season.
Tavaris Jackson/Mike Williams,QB/WR SEA
- Believe it or not, after six years in the league, Sunday was the very first time that Tavaris Jackson threw for over 300 yards, ending the day with 319 yards and three TDs.  Even slothful Mike Williams somehow snuck into the end zone and came away with a touchdown on Jackson's career day.  Notwithstanding this recent solid performance, this is just a reminder that as soon as you start Jackson and/or Williams, they will likely betray you, and then call you at home to let you know what a schmuck you were for actually believing that anyone involved in the Seattle offense can help your fantasy team in any way whatsoever.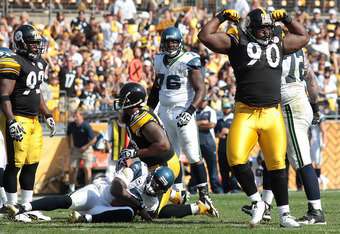 Jared Wickerham/Getty Images
Laurent Robinson,WR DAL
- It's easy to be dazzled by the seven catches for 116 yards that Laurent Robinson accumulated this past week, but we have been fooled by Robinson's gaudy height, flashy speed, moderately likable potential, rugged good looks and (probably) fancy sports car before.  With Miles Austin expected back after the Cowboys week 5 bye week, you should have ample time to pick Laurent Robinson up, and then attempt to immediately trade him to the nearest Cowboy fan.
---