NFL Week 5 Picks: Can Anyone Cover the Spread?
October 5, 2011
Al Messerschmidt/Getty Images
The first quarter of the NFL season is over, and parity reigns supreme. Consistent bottom-dwellers the Detroit Lions, Buffalo Bills and Washington Redskins are 4-0, 3-1 and 3-1, respectively. Playoff teams from a year ago like the Atlanta Falcons and the Kansas City Chiefs have both started 1-3 and Vince Young's self-proclaimed "dream team" seems to have slept through their alarm.
In certain aspects, what we thought we knew about professional football has been spit back in our faces, reminding us that with the right leadership and direction, the NFL is a league built for quick turnaround. 
In other instances, however, this 2011 season feels a lot like last year.  The Packers are clicking on all cylinders and, somehow, Aaron Rodgers is still evolving. The NFC West is pathetic and will once again be forgotten until we realize a sub-.500 team is about to make the playoffs.  Josh Freeman is still leading fourth quarter comebacks. And, in a matter of just four weeks, Tony Romo has gone from choke artist to hero, and right back to choke artist.
So, without further ado, and in case you don't already have enough to get aggressively over-joyous or over-upset about (more likely the latter), let's talk gambling. It's safe to say that after four weeks of doing nothing but watch football I have somewhat of a handle on the 32 teams this year's NFL has to offer.  It's also safe to say that I'm probably wrong about most of it.
If, for some reason, you take my advice and place your bets accordingly, I don't want to hear it when you lose. Maybe you should stop gambling and consider a productive alternative, like investing in your children's futures.  What am I saying?  Gambling IS the best way to invest in your children's futures.  If you win per my professional guidance, however, feel free to shower me with compliments, and lavish gifts are always appreciated.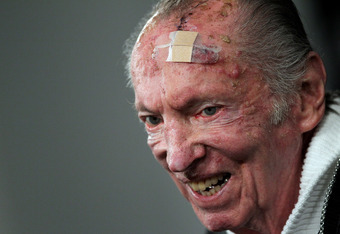 Justin Sullivan/Getty Images
And now, your Week 5 NFL lines (via Sportsbook.ag):
Kansas City Chiefs (+2.5) over Indianapolis Colts
Well, this one should be a doozey. I'd rather watch Matt Cassel scream at Todd Haley for three hours while Joe Buck does play by play.  I'd rather watch a cage match between Curtis Painter and Pat McAfee (they play for the Colts, by the way) over who has the better hairdo.  Then again, who wouldn't?  
For the most part, I would steer clear of this game, watching or betting.  If for some odd reason you have to bet on it, take the Chiefs.  Not only is Vegas giving them 2.5, but they're the better team.  Two wide-receiver screen passes turned into touchdowns by Pierre Garcon and Tampa Bay's inability to blow out candles on a birthday cake effectively disguised just how horrible Painter and the Colts really are.
Arizona Cardinals (+3) over Minnesota Vikings
 I know, I know, another great game.  As if there weren't enough reasons to be fired up for this game, it features an explosive reunion between former Eagles' quarterbacks Donovan McNabb and Kevin Kolb; the two guys Andy Reid realized Michael Vick was better than. 
I actually like Minnesota to win the game because they finally seem committed to handing the ball off to Adrian Peterson and Arizona's rush defense is laughable.  That said, the Cardinals haven't lost a game by more than four points and, at 2-2 against-the-spread for the year, surely they can beat it versus the Vikings.
Tom Pennington/Getty Images
Philadelphia Eagles (-3) over Buffalo Bills
 This was a tough call.  For one, I despise the Eagles.  Also, who doesn't feel good for the Bills?  I don't want to rain on their parade, I mean even if the make it to the Super Bowl you know they're going to lose, so what's the harm in rooting for them now?  Fred Jackson against Philly's rush defense scares me, but a feeling inside my gut (somewhere between having to vomit and an ulcer) tells me the Eagles' offense is going to explode.  Desperate measures and lots of weapons spell disaster for the opposition (in any aspect of life, really).
Oakland Raiders (+6) over Houston Texans
I can't believe I'm saying this about a game featuring Houston, but I expect this to be a hard-nosed, smash-mouth football contest.  Whoever's in the Raiders owner's box better hope Al Davis leaves his Viagra at home because that's just the sort of the thing to excite the old school owner. 
Much to Davis' chagrin, however, I think the Raiders will lose a close one.  To be honest, I was surprised the line was so high after it was confirmed Andre Johnson will be out 2-3 weeks.  Both teams will rely heavily on the rushing capabilities of Arian Foster and Darren McFadden and both should eat up a ton of clock, preventing the score from getting too lopsided.
Carolina Panthers (+6) over New Orleans Saints
 Yes, you read that right.  While I'm not ready to say the Panthers will upset the Saints, I do think that Carolina refuses to go away in games and, conversely, the New Orleans refuses to put anyone away.  I expect a high-scoring, exciting game with lots of big plays.  This is one worth watching.
Cincinnati Bengals (+2.5) over Jacksonville Jaguars
 In case you're not paying any attention, I've only picked one team (Philadelphia) to cover thus far.  That either makes me a gambling pioneer, or someone who enjoys losing money.  The only reason I mention this now is because there is absolutely nothing worth mentioning about this matchup.  Cincinnati will win; I think their defense is underrated.  Everything else on either side, however, is accurately rated—as incredibly mediocre.
Tennessee Titans (+3.5) over Pittsburgh Steelers
 The trend continues, but this one was easy.  The Steelers will have no James Harrison, a hobbled Big Ben and an already atrocious offensive line.  Even if they survive the Hasselbeck-led Titans both teams will lean heavily on the run, ending in a low-scoring affair.  That is, as long as Chris Johnson, coming off his first 100-yard game, doesn't run wild against a Pittsburgh defense that forgot how to tackle over night.
New York Giants (-9.5) over Seattle Seahawks
Just so you know, I am disgusted with myself for picking two NFC East nemeses as the only teams to cover the spread so far (I'm a Redskins' fan so, yes, my gambling addiction has been the only thing keeping me sane the last decade).  At least you know I'm not being biased.  Unfortunately, I think the Seahawks are horrible and Tavaris Jackson will have no answer to the New York defensive line.  I hope I'm wrong and, based on the large spread and Giants' inconsistencies, I'd probably stay away from this game.
Tampa Bay Buccaneers (+3) over San Francisco 49ers
It is my belief that no one in the NFC West should be favored over anyone in any other division, especially if their opponent has the same record as them.  This should remain true until the second-place team in the division has at least two wins.  Besides that, Tampa Bay just gets it done.  They're young, hungry and intense and I like the way they go about their business.  Tampa Bay will win this game straight up. 
New York Jets (+9) over New England Patriots
 I wanted to pick the Pats to cover, but I just couldn't do it.  Mark Sanchez struggles most against a good pass rush (see Sunday night's game against the Ravens), and New England's is non-existent.  New York will be desperate to get their running game going this week and Rex Ryan should get his guys jacked up just enough to keep it close.  New England wins, but the Jets keep it close.
[Side note: I've never been as riveted during a cliché ESPN round-table show as I was during today's NFL 32 featuring Tedy Bruschi and Eric Mangini.  I just kept wondering how Bruschi could rip Chad Ochocinco so hard for so little and somehow restrain from choking Mangini out on the spot.  Being no real fan of the Patriots, I had no prior animosity toward the coach, but his voice alone had me trying to crawl through my television screen.  Tedy's head might have been nodding along assuredly, but his eyes said, "Eric, as soon as these cameras go off, I'm going to kill you."]
San Diego Chargers (-4) over Denver Broncos
 It's flown under the radar, but Phillip Rivers has been quietly suffering from a rib injury so far this season.  The surprise word there should be quietly, as rib injuries are apparently all the rage in today's NFL.  Look for Rivers to feel better this week.  I also honestly believe that Norv Turner thinks there are eight preseason games.  With September now over, look for the Chargers to start playing for real.  Add to that the fact that the Broncos are horrible, and San Diego should cover easily.
Green Bay Packers (-6) over Atlanta Falcons
 I refuse to bet against the Green Bay Packers.  That is all.
Detroit Lions (-6) over Chicago Bears
This goes against my better judgment, but I really like the Detroit Lions.  I liked them last year before Stafford went down, and I like them even more this year.  Under normal circumstances I would expect the Bears to keep this one close, but these are not normal circumstances.  The 4-0 Detroit Lions are playing on Monday Night Football, at home, in their first primetime game in five years and as long as they don't get too over-amped (a word I stole, appropriately, from Jim Leyland last night) I expect them to give the fans what they want.
So there you have it, my Week 5 NFL picks.  We'll see you next week, and remember, if you win, my fee is 10 percent.