Fantasy Football Week 5 Waiver Wire: 3 Must-Adds for This Week
October 3, 2011
Andy Lyons/Getty Images
Now that we have completed four full weeks of the NFL season and in turn, your fantasy season, it's not too early to consider making wholesale changes to your fantasy team.
It can be tempting to hang on to those players you drafted with high expectations, but sometimes it's better just to cut ties. When you cut ties, you have to have someone in mind to take the place of that player.
Many leagues, particularly deeper leagues, are pretty picked over at this point, but there are still good fantasy options to be had. The following are three of those players.
Andy Dalton- Cincinnati Bengals
If you are in need of a stop-gap measure at quarterback, Andy Dalton might be just what the doctor ordered. He is not without flaws, but he gives you many things you like to have in a fantasy quarterback.
Dalton is the starter in Cincinnati, no questions asked. They are willing to live and die with Dalton at quarterback and that's a good thing for fantasy owners. You know that you are going to get something out of him each week.
He is also throwing the ball more than I would have expected. He has thrown 32 or more passes in all but one game so far.
If you are going to take a chance on Dalton, though, you are going to have to be ready for some ups and downs. Dalton has thrown four interceptions in his last two games after throwing none in his first two games. Dalton is a classic high risk/high reward player.
Stevan Ridley- New England Patriots
Predicting the output of Patriots running backs can be a frustrating exercise. Laurence Maroney was a viable fantasy option at one point for them, after all.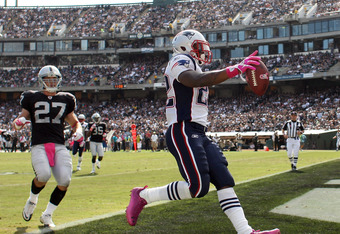 Ezra Shaw/Getty Images
Stevan Ridley is the new kid on the block for the Pats, but I think he's here to stay. More so than Danny Woodhead or BenJarvus Green-Ellis, Ridley is the total package running back. He has the elusiveness to get yardage between the 20 yard lines and he has the bulk to punch the ball into the end zone at the goal line.
If you do take a shot at Ridley, monitor the situation carefully. Like Mike Shanahan was in Denver (and still is in Washington), Bill Belichick is fickle about his running backs. You never know when last week's star will be this week's bench warmer.
Victor Cruz- New York Giants
I was a big fan of Victor Cruz coming into Week 4 and I'm an even bigger fan of Cruz headed into Week 5. I was a little concerned that Cruz's role would be diminished once Mario Manningham made his way back into the lineup, but that wasn't the case.
Cruz put up six catches for 98 yards. When the Giants needed a big play, it was Cruz they were looking for. It's clear that he is not going away as a big part of this offense.
If nothing else, Cruz is a great guy to have on your roster because of the injury concerns with Hakeem Nicks and Mario Manningham. Nicks is still dealing with swelling in his knee and the concussion symptoms Manningham has will be a lingering concern.