Chargers vs. Dolphins NFL Week 4: Is This the Start of Something Big?
October 3, 2011
Donald Miralle/Getty Images
The San Diego Chargers saved their best performance of the season for Week 4, defeating the Miami Dolphins 26-16 before a hometown crowd. Not everything was peaches and cream, but there was enough frosting to indicate this game was a piece of cake.
Slow Starts of a Different Kind
For the first time ever under head coach Norv Turner, the Chargers are off to a fast start with a 3-1 record. Despite the winning record and holding on to sole possession of first place atop the AFC West after four weeks, the Chargers' reputation as slow starters is not completely buried.
This year, the demigods of football have waved their wands and morphed the Chargers' slow starts from the beginning of seasons to the beginning of games.
The Chargers have punted on their first possession in all four games and have gone three-and-out twice. They have given up an opening touchdown to the opposition in three of those games and twice on the opening possession.
In all but the Kansas City game, the Chargers have started slowly and started from behind, yet they lead their division.
Vincent Jackson Connection
The Chargers spotted the Dolphins—who were without starting quarterback Chad Henne and starting running back Daniel Thomas—an early touchdown. The naysayers must have been thinking, "Here we go again."
Then something magical happened, Philip Rivers connected on his longest pass completion of the year, a 55-yard bomb to Vincent Jackson. Until that point, Rivers longest completion was only 37 yards.
He bested that number twice on this day; the second was another 42-yarder to Jackson on the Chargers very next possession. Jackson made three catches for 108 yards and a touchdown within the first 20 minutes of play.
Maybe the Rivers-to-Jackson connection would have led to a 400 or 500 yard passing day, but the star wide receiver left the field with an injury in the second quarter, and even though he returned late, he wasn't targeted again.
The Kids are Alright
As any Chargers fan knows, Jackson isn't the only injured player. With nine starters either out of the lineup or banged up enough to limit their effectiveness, the backups have had an opportunity to shine.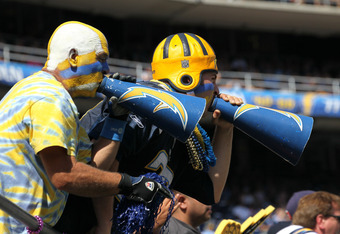 Stephen Dunn/Getty Images
And shine they did.
Rookie Marcus Gilchrist had an exceptional game in his first ever start at cornerback. Six solo tackles, two passes defended and an interception more than made up for one unlucky pass interference call against him.
Another rookie, Vincent Brown, made two catches spelling the injured Jackson. Even the much maligned linebacker, Larry English, did his best to spell the "bust" rumors by recording two sacks on the day.
Donald Butler had a fine performance as well with five tackles (two for a loss) and a hit on Dolphin backup quarterback, Matt Moore.
Raspberries and Rhubarb
Bolts fans can't get too hyped up just yet, even with a 3-1 record. There is still plenty wrong with this team.
The injuries keep piling up and it begs the question: Do the Chargers do enough full-contact practice in the preseason, or does Turner coddle his starter too much?
Miscues still plague the Chargers, though they committed no turnovers this week and forced two from Miami. Going 1-4 in the red zone, settling for field goals when touchdowns are within reach and costly, stupid penalties at the worst possible times will haunt this team if a solution is not found soon.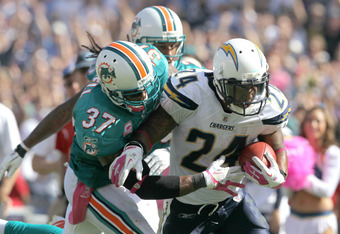 Stephen Dunn/Getty Images
With Ryan Mathews picking up huge yards on almost every play, one has to wonder why Turner was swapping him for Mike Tolbert near the goal line. I know Tolbert scored on a dive play, but I can't help feel that there is a correlation between substituting a player with a 5.1 yards-per-carry average for a player with a 2.8 yards-per-carry average and the Chargers inability to score touchdown in the red zone.
Also, eight penalties for 80 yards is totally unacceptable. The Chargers continue to be their own worst enemy with lack of discipline, lack of focus and lack of cohesion. Starting from here on in, the competition becomes less and less forgiving with such matters.
The Chargers are good enough to make a statement in this league, but only if they can play all four quarters without shooting themselves in the foot.