Frank Gore Injury: Updates on 49ers Star's Week 4 Status and Fantasy Value
September 26, 2011
Thearon W. Henderson/Getty Images
Frank Gore let it slip to reporters that he's unsure of his availability in Week 4 against the Philadelphia Eagles.
The veteran running back and supreme playmaker for the San Francisco 49ers tweaked his ankle in the second quarter of play on Sunday and was used sparingly down the stretch.
UPDATE: Sunday, Oct. 2 at 10:25 p.m. EDT
Gore came into Sunday's contest against the Eagles with a bum ankle, and he didn't start. All the fixings were there for him to have another subpar game.
Instead, Gore ran for 127 yards and a touchdown on 15 carries, an average rush of 8.5 yards.
Clearly, Gore's ankle must have felt pretty good. Moreover, there hasn't been any indication that the ankle was bothering Gore after the game.
If you're a fantasy owner, you should be happy you got anything out of Gore, much less a top performance. My advice is to not get too excited, though, as Gore capitalized on a very bad Eagles rush defense.
UPDATE: Sunday, Oct. 2 at 11:47 a.m. EDT
Contrary to previous reports, Gore will not start in today's game against the Eagles.
He will, however, play in the game. NFL Network's Albert Breer reports: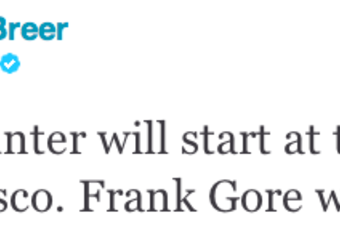 Gore will get a share of what is expected to be a heavy rushing load against the Eagles along with Hunter and Anthony Dixon.
If you handcuffed yourself with Hunter, he would be the smarter play over Gore at this point. Even though he's expected to play, there is no telling how long Gore will be on the field for.
UPDATE: Sunday, Oct. 2 at 11:10 a.m. EDT
Here is a look at Gore warming up on the field this morning courtesy of NFL Network's Albert Breer: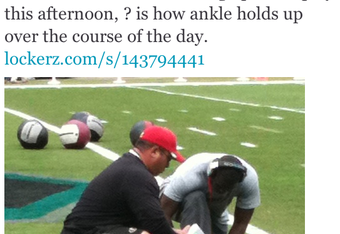 As Breer points out, the biggest issue with putting Gore in a fantasy lineup today is how much of the game he'll be relevant for.
The running back himself has already shown a reluctance about playing today, and just how much of his body he is willing to give is a problem.
The 49ers plan on using Kendall Hunter and Anthony Dixon in addition to Gore today, and of the three players Hunter is arguably the best fantasy option.
Philadelphia's 31st-ranked rush defense knows that the 49ers have trouble moving the ball. There is no receiver in a San Francisco uniform that worries the Eagles at all, so expect them to gear up against the run.
UPDATE: Sunday, Oct. 2 at 10:31 a.m. EDT
According to ESPN's Sal Paolantonio on NFL Countdown, Gore will start against the Eagles today at Lincoln Financial Field.
The star running back has been hampered by a bum ankle and was unsure of whether he'd be able to play at all this week.
The Eagles' 31st-ranked rushing defense is a matchup the 49ers would love to exploit.
Gore has gotten off to a bad start so far this season, and he needs anything to help get it started.
Don't expect him to be the only back carrying the ball though. Even with Gore in the lineup, the 49ers will use Kendall Hunter and Anthony Dixon a lot.
The 49ers' offense has been terrible altogether though, so Gore is still worth a start since they don't have many other options to rely on.
UPDATE: Sunday, Oct. 2 at 9:38 a.m.  EDT
After a week rife with speculation, it looks like Gore's availability will come down to a game-time decision. There are conflicting reports that say he may play, and others that say he is expected to be inactive.
Fox Sports' John Czarnecki wrote up his column this week and reiterated the "inactive" role for Gore:
It sounds like Gore will be inactive due to a bad ankle, meaning that rookie Kendall Hunter better step up.
The 49ers have maintained that they do expect him to play though.
Even if Gore does step on the field he is a risky fantasy play. The Eagles might have the league's 31st-ranked rush defense, but San Francisco plans on using Kendall Hunter and Anthony Dixon as well.
A trio of running backs is never a good thing for fantasy owners.
Gore's lack of confidence is also troubling. Whenever a player questions his own health the way Gore has this week it brings up questions of how tough he'll be on game day. 
UPDATE: Friday, Sept. 30 at 12:45 p.m. EDT
Matt Barrows of the Sacramento Bee tweeted today what Jim Harbaugh expected for Sunday.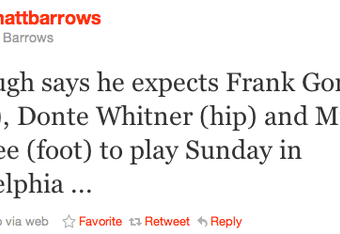 The 49ers really need all of those guys on Sunday, but Gore is needed more than all of those. San Francisco has a good shot at beating the Eagles on Sunday, but if Gore isn't good to go then they will struggle a lot.
Stay tuned for the official yes, but right now it appears Gore is good to start in your league this week, especially since the Eagles have a hard time stopping the run.  
UPDATE: Thursday, Sept 29 at 1:43 p.m. EDT
Jim Harbaugh remains a bit confident as he believes both Michael Crabtree and Frank Gore should be able to go, according to the Sacramento Bee.
Coach Jim Harbaugh said he thought Gore would play but called that an "educated guess."

"I just said that I'm not in his body, nor am I in  Michael Crabtree's body or anybody else's body but my own," he said. "It would be my educated guess that knowing Frank and knowing how tough Frank is and Crab (is), that they'll play Sunday."
On the other hand, Gore doesn't seem as confident, but he is confident in the team's run game, according to Comcast SportsNet.
"I don't know, man," Gore said. "I really don't know. If I can't go, I can't go."

Regardless of his status for the game, Gore said he expects the 49ers to break out against the Eagles.

"I think it'll happen this week," Gore said. "Me, Kendall or Anthony Dixon, I think whoever's in there should have a pretty good game. Philly loves to get up the field. They're real fast. I just hope I'm in there. But if I'm not, I hope the next guy in there will do the job."
UPDATE: Wednesday, Sept. 28 at 3:00 p.m. EDT
Head coach Jim Harbaugh backed off his statement that Gore would be "good to go" this week and things seem to be a little less certain at this point.
As for the 49ers' own injury situations, Harbaugh had less to offer. When asked if running back Frank Gore was still "good to go" after sustaining a right ankle sprain, Harbaugh answered, "We'll see."
UPDATE: Wednesday, Sept. 28 at 2:55 p.m. EDT
Despite Jim Harbaugh's insistence that Frank Gore would be able to play on Sunday, Gore was reportedly favoring his ankle today and did not participate in individual drills.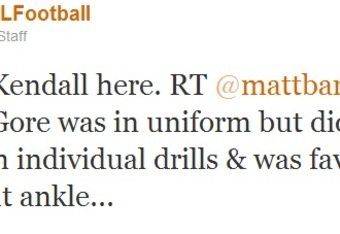 UPDATE: Wednesday, Sept. 28 at 11:06 p.m. EDT
Little has changed regarding Gore's status as he is expected to play Sunday against Philadelphia. Niners coach Jim Harbaugh did shine some light on backup running back Kendall Hunter's role in the offense, however, according to Eric Branch of the San Francisco Chronicle.
Harbaugh said rookie Kendall Hunter "graded out very well" in relief of Gore, but he felt no reason to make a commitment regarding how much Hunter would play in the future. Hunter, who had nine carries for 26 yards Sunday, had two carries in the season's first two games.
Another source now confirms that Frank Gore is expected to play this week against the Eagles.
"The Professor", a.k.a John Clayton of ESPN, confirmed earlier reports saying that Gore should start this week (via @evansilva):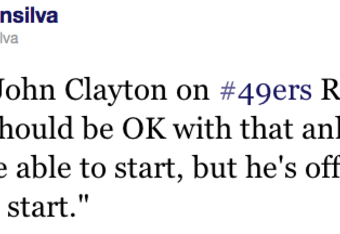 Gore and the 49ers will a great chance to jump-start his season against an Eagles defense that has been terrible against the run this year.
But, he'll also likely see some of his carries go to rookie Kendall Hunter in attempt to keep him fresh.
Monitor the practice reports, but Gore should be a must-start this week.
UPDATE: Tuesday, Sept. 27 at 10:10 A.M. EST
While Frank Gore himself was a bit skeptical on his availability for next week's game with the Eagles, his coach was confident.
According to 49ers' Twitter feed: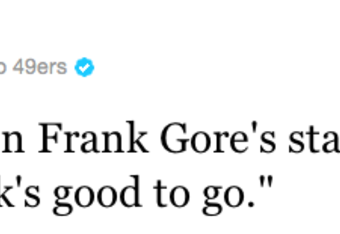 Gore has been far from productive at to this point in the season. The Eagles are the third-worst rush defense in the league though. An opportunity to get after them may be exactly what he needs.
If his coach says he is going to be on the field, then we should expect to see him.
The veteran running back will be considered a must-play in all leagues.
UPDATE: Monday, Sept. 26
Gore was quoted by Comcast Sports Bay Area (via Rotoworld) as saying:
I kind of tweaked it and I couldn't go the way I wanted to. I couldn't be myself. Some of the runs, I couldn't make the cut I wanted to make. Hopefully, I get better this week. ... I can't tell until tomorrow. See how I'm feeling.
It hasn't been a good year for Gore so far. The 49er running back is averaging a dismal 2.5 yards per carry on the season and has found the end zone only once.
He's also been sparingly used out of the backfield—a phase of the game he's used to heavily being a part of—recording only six catches for 36 yards on the year.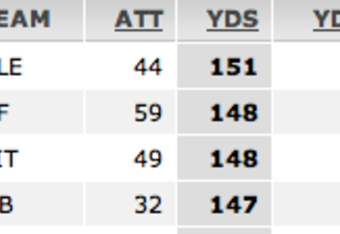 San Francisco is lucky to be winning at all with production like that from their most important player.
Fans have grown impatient as well, and many have grown fond of rookie running back Kendall Hunter.
The former Oklahoma State Cowboy has all the talent in the world, but is a bit undersized. That said, he's been a solid contributor when given the chance and fans have rewarded him for that.
Hunter will not only get more action this week with the injury to Gore, but also might even get the start if Gore can't play. The 49ers travel to Philadelphia in Week 4 to play the Eagles.
So far this season, the Eagles are giving up 131.3 yards per game on the ground to opponents. For Gore's fantasy owners, it would have been a matchup they could only dream of.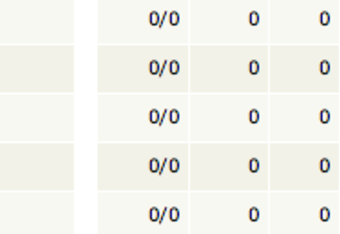 If he doesn't get on the field this week, picking up Hunter is the safest play. He'll be the one with the chance to hurt the Eagles.
San Francisco's offense has been terrible so far this season, though. They rank in the bottom four of the league in both passing and rushing, and they haven't flashed very often either.
We'll keep updating Gore's status as more is known.