NFL Scores Week 3: Which Teams Have Recorded Most Impressive Performances?
September 25, 2011
Rick Stewart/Getty Images
The most impressive performances through three weeks of the 2011 NFL season aren't what you'd expect. The teams listed below certainly wouldn't fill out the top five of anyone's set of power rankings, and there's a good chance that most of them won't sniff the playoffs.
But, despite a few head-scratching losses, these five clubs have either defied conventional wisdom with hot starts and signature wins or at least regained balance against top competition after slow starts.
Buffalo Bills (3-0)
The New England Patriots were supposed to be unbeatable again. No one told Buffalo. Well, at least no one told Buffalo again in the second half.
The Bills went into the locker room for the break down 21-10 and looking at a 16th straight loss to the Patriots, but four interceptions from Tom Brady and an amazing 30 minutes from Ryan Fitzpatrick changed all that.
The Bills are now 3-0, while the Patriots are set for a long week of wondering how in the world last year's third-worst team managed that comeback.
Meanwhile, the Bills are suddenly a legitimate division-title hopeful with their hottest start since 2008. They aren't perfect, and this defense has an uphill battle ahead of them, but if the Patriots offense can't outscore Buffalo, then isn't it time to start thinking about who can?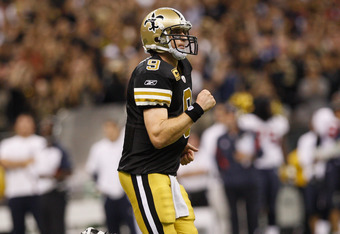 Chris Graythen/Getty Images
New York Giants (2-1)
You can call it a dirty win if you want, and with Michael Vick forced to sit late with a broken right hand, you certainly won't be alone in doing so. However, the Giants are on a modest two-game win streak after knocking off the Philadelphia Eagles 29-16.
Eli Manning managed not to throw the ball to the other team for the first time this season, and he amplified his performance by tossing four touchdowns instead.
Ahmad Bradshaw and Brandon Jacobs combined for 200 total yards and a pair of scores, and Victor Cruz finally realized the potential he flashed in the 2010 preseason by catching three balls for 110 yards and a TD.
Don't look now, but the NFC East could come down to a Giants-Redskins rematch on December 18th.
New Orleans Saints (2-1)
Last season, the Saints were surprisingly let down by their offense more often than not. The defense, on the other hand, forced turnovers and held opponents in check, something New Orleans wasn't entirely used to.
That hasn't been the case in 2011, with the Saints giving up an average of 29.3 points per game through three weeks. Of course, they're also scoring 34.7 of their own every Sunday, which is why they're now the proud owners of a 2-1 record despite playing one of the NFL's toughest schedules to date.
Wins over the Chicago Bears and Houston Texans are nothing to laugh at. An eight-point loss to the Green Bay Packers in Wisconsin isn't either.
Detroit Lions (3-0)
It wasn't as pretty as their first two wins, and it came against a team that many felt the Lions would easily dismantle, but 3-0 is 3-0, and the Lions are perfect this late in the season for the first time in 31 years.
Matthew Stafford's perfect overtime pass to Calvin Johnson, who made an amazing over-the-shoulder catch, clinched this one for Detroit.  
The defense found their footing, too. After allowing Adrian Peterson to help the Vikes to a 20-0 halftime lead, the Lions stepped up and held Minnesota to only three second-half points. Peterson finished with just 78 yards on 17 carries.
Tennessee Titans (2-1)
This was supposed to be a rebuilding year, and after an opening loss to the Jacksonville Jaguars, that theory looked to be the right one. However, the Titans have reeled off two straight wins, including a beat-down of the Baltimore Ravens, and are now tied for the lead in the AFC South. 
Knocking off the Denver Broncos at home ins't exactly a milestone victory, but this team is getting excellent play from Matt Hasselbeck. Even more impressive is the fact that they've managed to mine two wins with Chris Johnson averaging less than 33 rushing yards per game.