Denver Broncos' Tim Tebow or Andrew Luck: Is It Worth It to "Suck for Luck"?
October 13, 2011
Doug Pensinger/Getty Images
With the benching of Kyle Orton, and the naming of Tim Tebow as starter, the Denver Broncos now find themselves in an awkward position and with a plethora of questions.  Do they keep Orton, or trade him?  How long does Tebow get the start?  Do Elway and Fox even believe in Tebow or is this just a ruse to save a mutiny? 
Amongst these questions, one much more prevalent question still remains—even if the Tebow flock does not want to acknowledge its existence.  What are the Broncos plans for the future at QB? 
Rumor has it that John Elway is quite enamored with his fellow Cardinal alum, Stanford's Andrew Luck.  Of course, Elway is not alone in this adulation, but the premise is still empirically true.  Moreover, other teams such as Miami, Kansas City and even the Colts have been rumored to be interested in the "Suck for Luck" sweepstakes. 
Who's Gonna Save the Franchise?
The fabled story of the "Man Who Saved the Franchise" is common verbiage in sports.  Baseball's version could be Stephen Strasburg of the Washington Nationals, while the NBA lends their savior tag to Kevin Durant in OKC or Derrick Rose in Chicago.  These men have the charge—and the pressure that comes with it—of saving the franchise. 
The NFL is no different in this arena. 
For years, NFL franchises have attempted to coalesce the hopes of a city, as well as a franchise, to the drafting of that one guy they believe will lead them to glory.  This year's top candidate appears to be Andrew Luck.  After a very strong college campaign, which has continued this season, Luck is the next player who will presumably be called upon to save a franchise.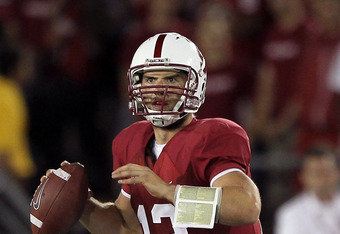 Ezra Shaw/Getty Images
There are talks around the league that Luck is a guaranteed No. 1 overall pick.  Other talks presume that teams may even position themselves in a way that may make it a little easier for them to draft Luck. 
Will they tank it for Luck? 
More importantly, is it worth it to "Suck for Luck"? 
History is Not on His Side
The NFL has seen its fair share of busts—particularly at the quarterback position.  The teams that drafted these busts all had that same dream in mind: "this guy is going to save the franchise". 
Unfortunately, that was not the case. 
In order to gain a better understanding of this veritable truth, it becomes important to take a closer look at what has transpired over the years in regard to busts. 
Here are a bevy of names just to prove a point: Akili Smith (Cincinnati), Cade McNown (Chicago), Tim Couch (Cleveland), Andre Ware (Detroit), David Klingler (Cincinnati—again, ouch), Todd Marinovich (Oakland/LA), Danny Wuerffel (New Orleans), Heath Shuler (Washington), Rick Mirer (Seattle), Matt Leinart (Arizona), and Jeff George (Indianapolis).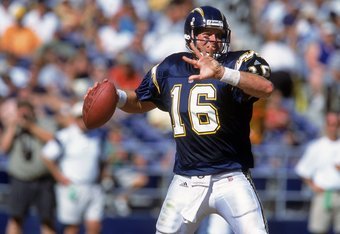 Stephen Dunn/Getty Images
Even in that list—which could easily be longer—I purposely left out two of the biggest QB draft busts in NFL History.
JaMarcus Russell and San Diego's favorite son, Ryan Leaf. 
Every single one of these quarterbacks was perspicaciously labeled by prognosticators as the next men "who will save the franchise." 
This did not happen. 
Some of the teams on the list above are still looking for a "franchise savior" almost two decades after they attempted to save their franchise the first time through.
In taking this list into consideration, is it really worth it to "Suck for Luck"?
The Flip Side
Supposedly, Andrew Luck is the biggest "sure thing" anyone has seen in years—probably since Peyton Manning. 
Yet, in light of the aforementioned list, should there not be some cause for concern?  Is the QB a safe bet anymore? 
I mean, wasn't Ryan Leaf a sure thing? 
In recent years, guys like Matt Ryan, Joe Flacco and Mark Sanchez have all performed admirably, but envision for a moment how Flacco would look in Cleveland, or Sanchez in Seattle? 
Not good.
I mention this merely to point out that those QB's have benefited from arguably two of the three best defenses in the league—and Sanchez still stinks.
When drafting rookie QB's, the talk always surrounds the QB as if he is going to be able to make all the difference on his own.  Moreover, he will be able to do this in spite of the fact that he may not be surrounded by the best level of talent. 
Oh, wait.  That only applies to Tebow. 
Never mind.
In truth, this is not always the case.  Just look at Blaine Gabbert this season. 
Touted by Todd McShay to be the "next sure thing" Gabbert looks, well, like the NFL is hard work. 
Granted, Cam Newton has performed well above expectations, but one could easily surmise he is the exception, not the rule.  Moreover, his performance could be indicative of an overall lack of defensive efficacy. 
If Luck would happen to find good fortune, and land in a situation like Indy, it could completely alter his future. 
But if he happens to end up in a place where a lot of help is needed, will he be able to make a difference or any type of profound impact? 
Could he be a bust?
Should that deter a team from drafting him?
Shouldn't Denver just stick with Tebow? 
It is Worth It
Even if every reservation a team had were true, they would still draft Andrew Luck. 
They have to. 
The Broncos have Tim Tebow.  He is their "savior of the franchise"—well sort of, by default.  Yet, if Elway is even remotely close to the top pick, he will sell his proverbial soul to draft Luck. 
He has to.
In spite of the glaring needs at other positions, Elway would eschew Tebow, Quinn, Orton and the entire draft class of 2012 for Luck—he might even throw in John Fox.
It will be interesting to see how Luck addresses his future.  Will he go to a team he may not want to play for?  Will he demand a trade from said team?  Will he play at all? 
In January, will a team, which is on the cusp of finishing with the worst record, pull a New York Yankees in the final game of the regular season and play their practice squad players just for a little insurance?  
Absolutely.
They have to.
With the number of busts at QB, and the veritable truth that the great ones literally come by "once in a lifetime," teams still hold out hope every year that they will find that savior of the franchise. 
It is the NFL's biggest crapshoot. 
Unfortunately, you just never know when you are going to get lucky.  
Daniel writes for TheFanManifesto. He can be followed on twitter @bogie711.  The entire FanMan team can be followed on twitter at  @TheFanManifesto.