NFL
NFL Review Week 2: Top 5 Teams Ranked
Buffalo Bills fans have something to cheer for this year with their team 2-0 and their quarterback Ryan Fitzpatrick lighting up the score board.
Rick Stewart/Getty Images
September 22, 2011
Last week was filled with parity. It was back to life, back to reality for some teams. 
Going into Sunday we all wondered about the Buffalo Bills.  Are they for real, or are they the same old Buffalo Bills that we know from the past 10 years? 
We wondered, "Are the Kansas City Chiefs really that weak of a team?" 
Lastly, we wondered, "Is Cam Newton really that good?" 
What did we learn? Buffalo has a solid, young team led by Harvard grad Ryan Fitzpatrick at quarterback, who has been referred to by Hall of Famer Kurt Warner as a "gunslinger" on The NFL Network (h/t FoxSports.com).  Fitzpatrick has many weapons around him, and with a high football IQ and a strong arm, Fitzpatrick has been lighting it up, leading his Bills to a 2-0 record.  They look to be real contenders so far. 
The Kansas City Chiefs looked like they were ready to turn the corner and build on a positive year.  However, for the second week in a row, the young team has lost leaders on both sides of the ball.  In Week 1 they lost star safety Eric Berry; last week they lost their game breaker and No. 1 offensive weapon Jamaal Charles—both out for the season.  The Chiefs are clearly in big trouble this year, and they could possibly be the league's second 0-16 team.
The elite teams in the league continued to dominate.  The Patriots and the Packers are 2-0 and have looked strong so far this season.  The Patriots have outscored their opponents 73-45, and Green Bay has outscored its opponents 72-57.  The Detroit Lions, Houston Texans, Buffalo Bills, New York Jets, and surprisingly, the Washington Redskins are all 2-0 to start the season.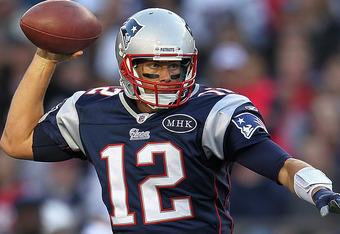 Quarterback Tom Brady has showed no signs of lockout rust so far this season racking up 900+ passing yards so far this season.
Jim Rogash/Getty Images
Last Sunday night I had the privilege of attending the Falcons vs. Eagles game at the Georgia Dome.  The game was touted as a homecoming of sorts for Michael Vick.  As a lifelong Falcons fan I was torn in regards to my loyalty.  I am and will always be a Michael Vick fan because of what he did for the city of Atlanta and making attending Falcons games fun again.  But at the same time, the new Falcons regime have built a solid contending team, led by budding superstar QB Matt Ryan.
The game was good, and the Eagles are clearly the most explosive offense this year.  With Michael Vick, DeSean Jackson, Jeremy Maclin and running back LeSean McCoy, the Eagles can score almost whenever they want to. 
The Falcons were on their heels for most of the night until the Eagles' gameplan changed due to the Michael Vick concussion.  The Falcons attacked the Eagles' weaknesses on defense—that being the linebackers and safeties in the middle of the field—by throwing to Tony Gonzalez and hitting the wide receivers on crossing patterns. 
They also had success running the ball and attacking inexperienced middle linebacker Casey Mathews (who has been moved to weakside backer for this week's game).  The Falcons pulled out a victory but still have yet to show the explosive potential that they have with Roddy White and Julio Jones at wideout. 
Week 2 Top Five Rankings:
Green Bay Packers—To be the champ you must beat the champs.
New England Patriots—Tom Brady is on fire.
New York Jets—Rex Ryan has rallied the troops, and they have responded.
New Orleans Saints—Despite being 1-1, they embarrassed a solid Bears team last week.
Detroit Lions—Surprise, surprise. As long as Matt Stafford is healthy, they will win.
Like the new article format? Send us feedback!