Firing Kevin Gilbride Won't Magically Change the New York Giants
September 21, 2011
Jamie Squire/Getty Images
I'm no fan of Giants offensive coordinator Kevin Gilbride. But I'm also not a fan of the mob reaction to poor play. It's a reaction that targets the easiest, most vulnerable parts. You can punch up any Giants article thread on the Internet and "Killdrive," an overused, un-witty play on the Giants offensive coordinator's last name will be splashed about. If you didn't know any better, you might think he's the cause of the Giants' woes.
Those calling for his ouster will cite his previous stops as a coordinator—mostly riddled with below-average offensive output—to help illustrate why he should be let go. They'll also point to his questionable play-calling—specifically in the first two games this year—and clamor even louder. And you know what? They're right.
Gilbride's retention as offensive boss by Tom Coughlin was likely born out of consistency and loyalty—not out of performance or reputation. That itself is a problem that management must rectify.
But let's take this a step further. What does this accomplish? According to the countless articles, columns and their respective comments hurling invective at the Giants assistant coach, if we just get rid of Gilbride, the offense will be unfettered! Eli will throw downfield! The running game will be a staple again! Yay!
Grow up.
Will firing Gilbride improve Eli Manning's accuracy? Will firing him make Eli's passes more tight and straight? Will firing Gilbride cause the Giants receivers to catch good passes that they inexplicably drop? Will they suddenly get sticky fingers? Will firing him magically repair the torn ACLs and other assorted wet-paper-towel-ligaments afflicting the Giants across their entire roster?
Will firing Gilbride undo the idiocy of the front office that was shut out of free agency and managed to allow two key players—Steve Smith and Kevin Boss—to stun them and leave for better offers from the Eagles and Raiders?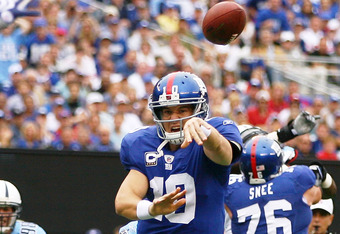 Andrew Burton/Getty Images
If you didn't answer with an emphatic no to all of the above, then may the force be with you.
I'm not defending Kevin Gilbride so much as calling to a disillusioned fanbase from Earth telling them to "come back." His seemingly eventual firing doesn't repair that which ails the New York Giants. It's a band-aid over a gash. It solves nothing.
Some of you will note that the front office should have let Steve Smith and Kevin Boss leave anyway. Hey—Smith had microfracture surgery and Boss had concussions. Both were overpaid. All true. But if that was the Giants' strategy all along, you can't then explain how they have no experienced tight ends on the roster nor any depth at the wide receiver position.
If the plan all along was to cut dead weight, then why did the team act shocked (and hurt) when they left for greener pastures?
If we're going to point fingers, let's be fair. Point them at ownership for being inactive in free agency. Point at GM Jerry Reese for failing to build depth. Point at Tom Coughlin for his loyalty to a fault. Point at players like Eli Manning who aren't living up to their perceived worth.
Just because you can't replace the front office or franchise players doesn't mean you heap all of the blame onto a vulnerable target. Spread the blame where it's deserved. Then maybe you'll be on to something.