Colts QB Peyton Manning: Looking Back on the Career of an NFL Legend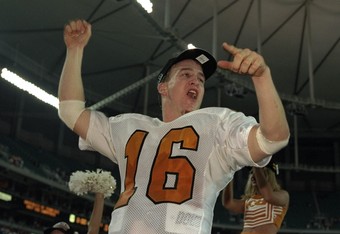 Andy Lyons/Getty Images
How lucky are we?
How lucky am I?
I didn't get to see John Unitas. I've only heard stories about Bart Starr.
I can't tell you what it was like in Three Rivers Stadium, watching Terry Bradshaw lead the legendary Steelers to four Super Bowls.
I wasn't even alive.
I was two weeks old when Joe Montana threw "The Catch," and I was only a few years old when John Elway led "The Drive."
I don't remember a game from Dan Marino's 1984 season, but don't feel sorry for me.
I haven't missed out on a thing.
Since 1998, Peyton Manning has dazzled us with his brilliance. He has awed us with with his intellect, his insight, and his dogged preparedness.
No one has been more prepared, more professional or more scientific in a game with such brutality.
I grew up watching him grow up. He, of the fresh face and legendary last name.
Ezra Shaw/Getty Images
He, of the aw-shucks nature and bayou drawl.
When I first remember hearing about Peyton Manning, I was in middle school just outside of Nashville, Tennessee.
He was the 18-year old recruit and son of a former NFL great who spurned his dad's alma mater to start his own legacy at the University of Tennessee.
I've never seen someone achieve God status so quickly.
The Tennessee Volunteers were a struggling program early in the 1994 season. Coming off of a bowl game beat-down at the hands of Penn State, many in Vol Nation were calling for Phillip Fulmer's job after a 1-3 start was punctuated by a 31-0 home loss to rival Florida and a road loss at unranked Mississippi State.
Starters Todd Helton and Jerry Colquitt were out with injury, and Fulmer had a choice to make between two true freshmen to lead his team. Brandon Stewart and Peyton Manning.
He chose Manning. The rest, as they say, was history.
Manning and the Vols upset No. 17 Washington State 10-9, which sparked a 7-1 record down the stretch, including the Volunteers' upset of No. 17 Virginia Tech in the Gator Bowl.
The legend was off and running.
Peter J. Taylor/Getty Images
Over the next three seasons, Manning led a resurgent program. Tennessee finished 3rd, 9th and 7th over the next three years under Manning.
But, it wasn't enough.
Manning couldn't beat Florida, and couldn't win a National Championship.
Three straight years Tennessee entered the season as National Championship favorites, only to watch Tennessee Orange fade in the Florida heat on the fourth Saturday of September.
Despite winning the SEC title in 1997, Manning again lost the "big game" against Nebraska in the Orange Bowl 42-17.
Despite the records, despite the wins, Manning hadn't lived up to the expectations of the rabid Volunteer fans. He was a big-game choke artist with an impressive stats sheet. A nice kid, with a big arm who lacked the toughness to win when it mattered most.
The loss to Charles Woodson in the Heisman Trophy race didn't help.
So, the label stuck as Manning was selected first by the Indianapolis Colts in the 1998 NFL Draft.
The choice was Manning or Washington State's Ryan Leaf. The mechanical quarterback or the gunslinger? At the time, it was a worthwhile question.
Sam Greenwood/Getty Images
Now, it just sounds foolish.
Manning shattered rookie records in 1998, although the Colts went 3-13, and gained recognition as the next "great" quarterback to enter the league.
Meanwhile, the Vols won the National Championship with the team that Manning made it possible for them to build.
How ironic.
His play improved in 1999, but the old label came back. Despite a 13-3 record, the best single-season turnaround in NFL history, Manning's Colts lost at home to the upstart Tennessee Titans.
It's as if his old college state just wanted to remind him, "you still can't win the big one."
Years, records and consecutive starts accumulated as Manning threw for more than 12,000 yards in his first three seasons. He was the NFL's hot, young star. He was the next Marino. What a compliment for such a young man.
What a curse.
Manning's Colts returned to the playoffs in 2000, only to lose to Miami in a game where he only completed 53 percent of his passes.
Who is the greatest QB of all-time?
It didn't matter that he was the leader on the NFL's best team, it didn't matter that it began to seem he was shattering records every Sunday.
Peyton Manning was rewriting record books, but Tom Brady was winning rings.That was the perception.
But, what did we really want from him?
Tom Brady had Bill Belichick. Manning had Jim Mora. Brady had a top-rated defense, while Manning had to score 30 to have any chance at winning.
Manning disappointed again in 2002. Somehow, the quarterback who threw for 4,200 yards in the regular season threw for 137 yards and 2 interceptions in a playoff loss to the Jets. How bad was it?
41-0.
Yet, Manning worked. He was the first in the gym and the last out of the gym. He was the first on the practice field and the last off the practice field, the first in the meeting room and the last out of it.
The first to accept criticism, and the last to take credit.
Manning was the good guy. The familiar face of countless commercials and the face of the NFL.
Elsa/Getty Images
He was absent from the tabloids, did his work, worked some more, dominated opposing defenses and was the NFL's best quarterback.
But, did we really appreciate him?
4,000-yard seasons were on auto-pilot by January 2004, when Manning finally won his first playoff game.
But, did the criticism end when Manning backed-up his 5 touchdown performance against the Broncos in the wild-card round with 304 yards and 3 touchdowns against the Chiefs in the next round?
It wasn't the big one, so it didn't matter.
It turned out the nay-sayers were right again, as Manning threw 4 interceptions in a 10 point Colts loss in New England.
When Indianapolis returned the next season, Manning may as well have been General Custer coming into New England.
20-3 loss. 69.3 quarterback rating. Choke-artist.
But, was it ever really Manning's fault? Was it Manning's fault the Patriots had the superior team, with the superior coach, playing in the comfortable confines of snowy Foxboro.
A. Messerschmidt/Getty Images
Foxboro may as well have been Little Bighorn.
Was it Manning's fault that Mike Vanderjagt shanked a chip shot against the Steelers in 2005 that sent the Colts packing yet again and dropped Manning's career playoffs record to 3-6?
All the records, all the yards, 49 touchdown passes in a season, a 21-point come-from-behind victory against the Buccaneers on Monday Night Football, just didn't matter.
458 yards against the Broncos in the playoffs didn't matter.
6 touchdowns against the Lions on Thanksgiving Day didn't matter.
He wanted The Ring.
Manning, now playing the part of Marino to Tom Brady's Montana, finally got his chance in the 2006 season.
But, what is redemption without having to overcome that which overcomes you? What is redemption without beating that which has beaten you.
He had to go through Brady.
The Colts had been embarrassed by New England, and were shocked as the Patriots held a 21-3 2nd-quarter lead in Indianapolis.
Will Peyton Manning ever play again?
Here we were, another collapse by Peyton Manning. Except for one thing.
He wasn't done.
38 minutes and 34 Indianapolis points later, Manning reigned supreme.
The demons weren't dead until the Colts defeated the Bears in Miami for the world championship two weeks later, and it felt like a win for more than just the Colts.
I won. You won.
We all were fortunate to watch the greatest of his generation battle turmoil, handle the criticism, rewrite the record books, overcome his greatest foes, silence everyone and hoist the Lombardi Trophy.
This is how they all should end, isn't it?
Nothing could take away from having Manning in the pantheon of great championship quarterbacks. Not playoff losses in 2007 and 2008. Not a Super Bowl loss to New Orleans in 2009. Certainly not another playoff loss in 2010.
We've learned something since then.
While it's been all about Manning, it's been too much about Manning. He has shouldered the load and responsibility of every team for which he has played since 1994.
Jed Jacobsohn/Getty Images
He never complained. He never shied away from the pressure. He stepped up and took responsibility. He worked endlessly. He perfected everything that could be perfected.
We realized those losses never really mattered to us, did they? They made Manning a Hero. They made Manning real.
While Tom Brady married supermodels and collected rings, Manning looks like us.
He struggled, he fought, he overcame and he became the greatest quarterback in the history of the greatest game in the world
Which is why I didn't see all the greats, but I saw the greatest.
I saw Peyton Manning every step of the way. And, that's all I need to see.
This article is
What is the duplicate article?
Why is this article offensive?
Where is this article plagiarized from?
Why is this article poorly edited?

Indianapolis Colts: Like this team?