Week 3 NFL Rookie Report Card: Ranking the 25 Most Impressive Rookies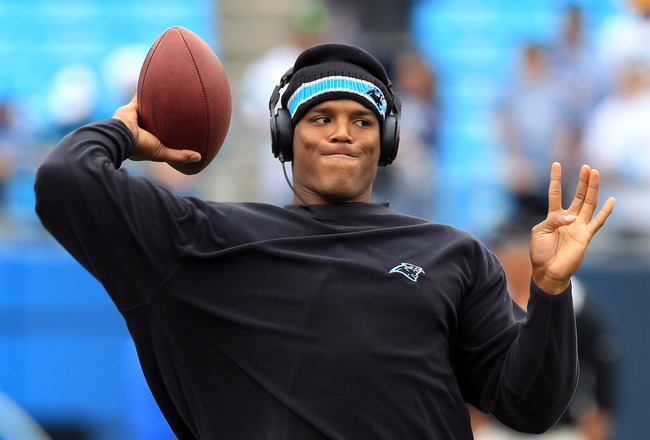 Streeter Lecka/Getty Images
With Week 3 of the NFL season rapidly approaching, all eyes will be on a rookie class that is slowly stealing the show from the rest of the league.
Whether it is Cam Newton throwing for another 400 yards or Patrick Peterson returning another punt for a touchdown, one thing we can be certain of are some jaw dropping performances from a number of different rookies.
I've put together our Week 3 NFL rookie report card, and today, we will be ranking the 25 most impressive rookies of this young season.
25. Nate Solder, New England Patriots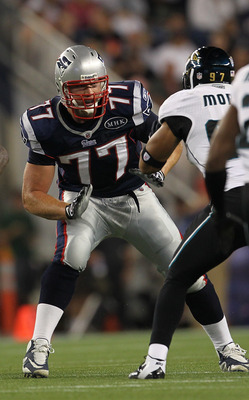 Jim Rogash/Getty Images
Season Statistics: N/A
Protecting Tom Brady is quite the responsibility, especially for a rookie offensive tackle.
However, in the face of this type of pressure, Nate Solder has done a fantastic job so far this season. He only allowed one sack, going up against Cameron Wake of the Miami Dolphins.
It is sometimes difficult to gauge just how good an offensive lineman is playing, but one look at Tom Brady's statistics will tell you how much time Solder and this offensive line is giving him.
24. Greg Jones, New York Giants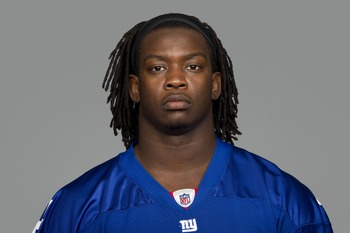 Handout/Getty Images
Season Statistics: Six tackles
Greg Jones was a tackle machine coming out of Michigan State. Even though we haven't seen him dominate any games yet, we can already tell that he is going to be a very good player.
Playing middle linebacker in the NFL is a difficult thing for a rookie, but Jones has handled his position very well. He hasn't allowed any big plays and has kept the New York Giants defense competitive, even with so many injuries.
23. Jacquian Williams, New York Giants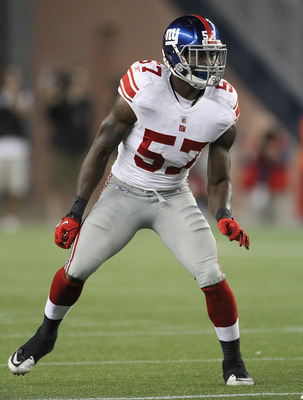 Jim Rogash/Getty Images
Season Statistics: Nine tackles
Even though Jacquian Williams isn't as well known as his rookie counterpart Greg Jones, Williams has been a little more impressive so far this year.
In the long run, he probably won't be as good as Jones, but right now, his versatility is what ranks him higher on this list. He's been able to do a little more than Jones at this stage of the season.
22. Casey Matthews, Philadelphia Eagles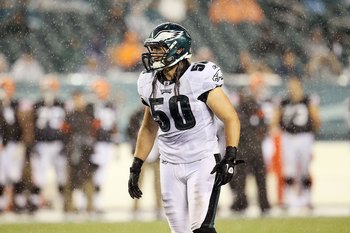 Jim McIsaac/Getty Images
Season Statistics: 11 tackles
Very few expected Casey Matthews to be the opening day middle linebacker for the Philadelphia Eagles, but he had a very good preseason and has locked up the spot for the foreseeable future.
The big problem with Matthews is that he doesn't excel at any one thing of the field. He isn't a great pass rusher and he isn't great in coverage. However, he does play with great intensity and passion.
I guess with the talent already on Philadelphia's defense, they don't really need a superstar middle linebacker; they just need a quality player like Matthews.
21. Stefen Wisniewski, Oakland Raiders
Al Messerschmidt/Getty Images
Season Statistics: N/A
The Oakland Raiders surprised nearly everyone when they drafted Stefen Wisniewski with their second-round draft pick.
However, Wisniewski has surprised everyone else back by looking like a crafty veteran for the Raiders' offensive line. He has been a key component to Oakland's improving offense, and he should only get better as the year goes on.
20. Akeem Ayers, Tennessee Titans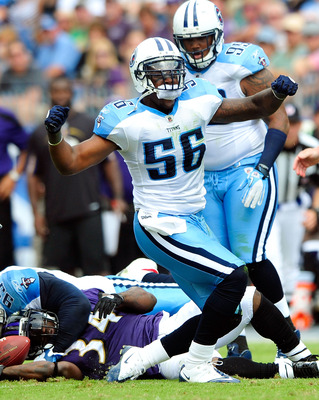 Grant Halverson/Getty Images
Season Statistics: Nine tackles
The statistics for Akeem Ayers aren't overwhelming, but don't let that fool you. He has gotten better in each game, and the Tennessee Titans really haven't used him as a weapon in the blitz yet.
Ayers has a ton of potential, and when he finally taps into it all, he might rank out as one of the top rookies of this draft class.
19. Denarius Moore, Oakland Raiders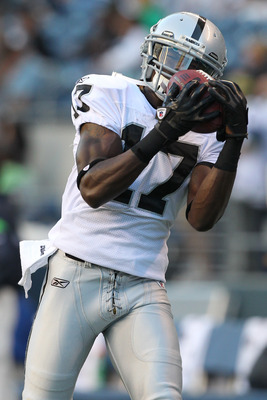 Otto Greule Jr/Getty Images
Season Statistics: Five receptions, 146 yards, one TD
How good was Denarius Moore last week against the Buffalo Bills?
Since Moore didn't play in the Oakland Raiders' first game, his impressive statistics are the result of one game. He looks to be the best receiver in Oakland and will continue to see more passes thrown his way as the season progresses.
Moore will absolutely be rising up this list.
18. Patrick Peterson, Arizona Cardinals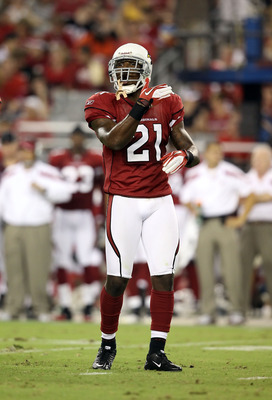 Christian Petersen/Getty Images
Season Statistics: 13 tackles, one punt return, TD
Some may cry that this is way too low for Patrick Peterson, but the truth is that other than his punt return for a touchdown, he hasn't been very impressive.
His 13 tackles look nice, but the reason he has such a high tally is because he keeps on getting beat by opposing wide receivers. I don't doubt that Peterson will become a very good NFL player, but he just isn't there yet.
17. Karl Klug, Tennessee Titans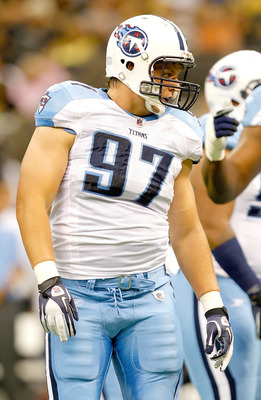 Sean Gardner/Getty Images
Season Statistics: Four tackles, one sack, two forced fumbles
Karl Klug has been a very pleasant surprise for the Tennessee Titans. The former Iowa Hawkeye was often overshadowed by Adrian Clayborn, but Klug is actually outplaying him so far this year.
He has given the Titans a very good pass rusher on the defensive line to replace Jason Babin. His two forced fumbles show that he also has the ability to make plays.
People in Tennessee will soon forget who Babin even was as Klug takes his place as the next great defensive lineman for the Titans.
16. Jabaal Sheard, Cleveland Browns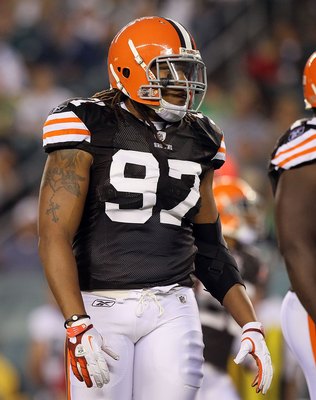 Jim McIsaac/Getty Images
Season Statistics: Eight tackles, one sack, one forced fumble
Once Jabaal Sheard switched positions on the defensive line, we really got to see how good of a player he could become.
Last week, Sheard had five tackles, one sack and a forced fumble as he helped the Cleveland Browns defeat the Indianapolis Colts. Sheard and rookie teammate Phil Taylor will give Browns' fans plenty to be excited about for this year and the future.
15. Tyron Smith, Dallas Cowboys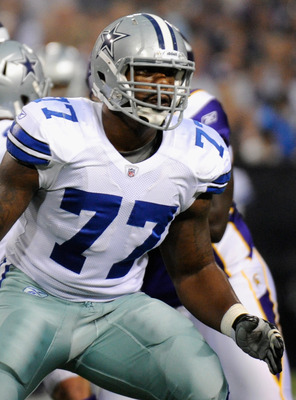 Hannah Foslien/Getty Images
Season Statistics: N/A
Everyone pegged Tyron Smith as a major project, but here we are two weeks into the season, and Smith already looks like the best offensive lineman for the Dallas Cowboys.
He is using his size and speed to his advantage and has been rarely beaten off the edge by defensive lineman. There is no doubt that Smith looks like a franchise left tackle already.
14. Chris Neild, Washington Redskins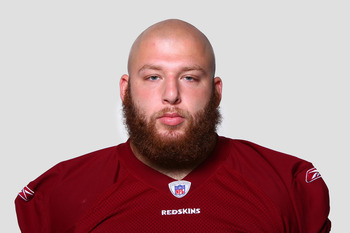 Handout/Getty Images
Season Statistics: Four tackles, two sacks, one forced fumble
Here is a fun fact for you: Chris Neild was one draft pick away from being Mr. Irrelevant for the 2011 NFL draft.
This seventh-round draft pick has played very well at the start of the season and has been a huge contributor to the Washington Redskins quick 2-0 start to the season. With Neild, Ryan Kerrigan and Brian Orakpo, the Redskins' defense makes this team a real threat in the NFC East.
13. Daniel Thomas, Miami Dolphins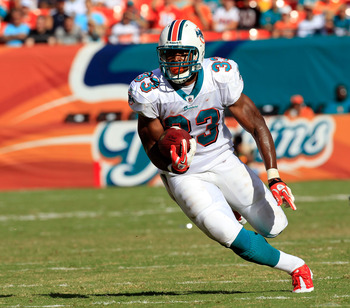 Sam Greenwood/Getty Images
Season Statistics: 107 rushing yards, 10 receiving yards, one fumble lost
How angry do you think Reggie Bush is at Daniel Thomas right now?
It only took one game for Thomas to officially send Bush to the bench, and it appears as if he will be staying on that bench for the majority of the season. Not only is Thomas a better runner than Bush, but he also looks like a competent receiver out of the backfield.
Thomas looks the part of an every down back in the NFL and should continue to get the majority of carries for the Miami Dolphins.
12. Gabe Carimi, Chicago Bears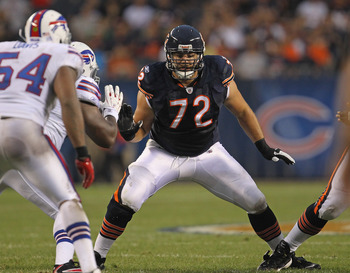 Jonathan Daniel/Getty Images
Season Statistics: N/A
Gabe Carimi is without a doubt the best offensive lineman that the Chicago Bears have. I know that on the surface that might not seem like much, but just because the rest of the offensive line is horrible doesn't mean we should regard Carimi's play any less.
It's unfortunate that Carimi was injured in last week's game against the New Orleans Saints, and hopefully, he will return soon to save Jay Cutler's life.
11. Von Miller, Denver Broncos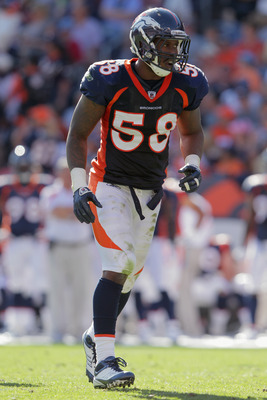 Doug Pensinger/Getty Images
Season Statistics: Eight tackles, one sack, one forced fumble
Von Miller barely misses out on being one of the Top 10 rookies at the start of the season, but don't worry; he will likely end the season near the very top of this list.
As hard as it may be to believe, Miller actually looks better in the NFL than he did in college. He has shown his great pass rushing ability, but we've also seen him make plays all over the field.
We might be looking at the next great sack artist in the NFL in Miller.
10. Julio Jones, Atlanta Falcons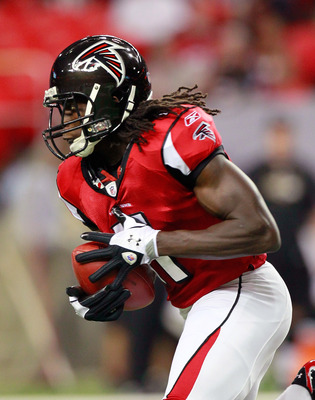 Kevin C. Cox/Getty Images
Season Statistics: Seven receptions, 100 yards
After two weeks, it is easy to see why the Atlanta Falcons traded so much to be able to draft Julio Jones. While the numbers aren't eye popping, he has still had a very solid start to his NFL career.
Jones is every bit as talented as advertised, and he may actually be one of the most athletically gifted receivers in the NFL. As he becomes more familiar with his role in Atlanta, his statistics should get better.
9. Randall Cobb, Green Bay Packers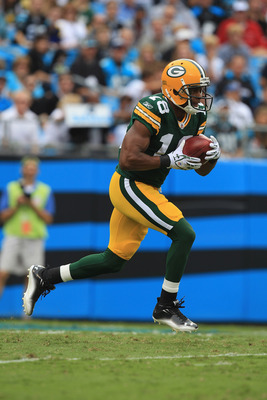 Streeter Lecka/Getty Images
Season Statistics: Four receptions, 60 yards, one TD, one kick return TD
After starting his professional career with a bang, Randall Cobb came back to Earth against the Carolina Panthers.
Even with an early fumble, Cobb was still able to reel in two receptions for 25 yards. The biggest advantage to his game is the fact that he is a pure playmaker on offense. Whenever he has the ball in his hands, opposing defenses need to be ready.
8. Marcell Dareus, Buffalo Bills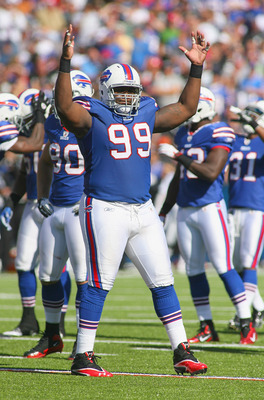 Rick Stewart/Getty Images
Season Statistics: Six tackles
Once again, the statistics don't really paint the picture here.
Marcell Dareus has been a force of nature in his first two games. He has been able to pressure quarterbacks and play a vital role in helping to stop the run.
It will be interesting to see if Dareus is able to have the same type of success against the New England Patriots this week. If he is able to pester Tom Brady all game long, we may have an early front-runner for Defensive Rookie of the Year.
7. J.J. Watt, Houston Texans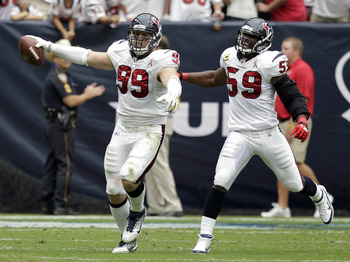 Bob Levey/Getty Images
Season Statistics: Nine tackles
People weren't sure how J.J. Watt would be able to adapt to the 3-4 defense under Wade Phillips. Well, I think it is clear now that Watt will have no problem adapting.
He hasn't recorded a sack yet, but he has been able to put plenty of pressure on opposing quarterbacks. Through two games, we've seen his relentless drive and his ability to play with such a high motor for extended periods of time.
Watt's a big reason why the Houston Texans' defense actually looks respectable so far this year.
6. Phil Taylor, Cleveland Browns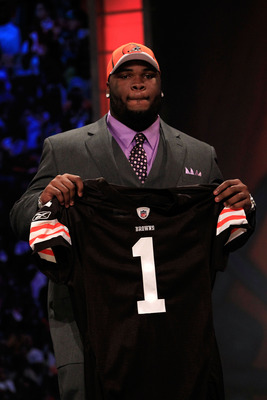 Chris Trotman/Getty Images
Season Statistics: 11 tackles
This is a rare example of where the statistics tell the whole story.
Having 11 tackles through two games for a defensive tackle is extremely impressive. Not only is Phil Taylor taking up space and getting penetration, but he is also making plays and tackles.
Taylor is on pace for nearly 90 tackles by the end of the season, and if he can add some sacks to his resume, he could be a Pro Bowl candidate.
5. Mason Foster, Tampa Bay Buccaneers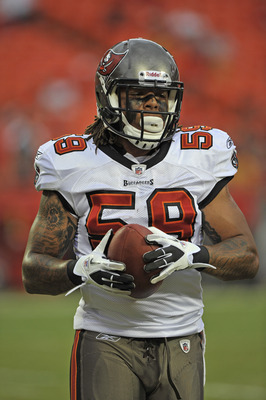 Peter Aiken/Getty Images
Season Statistics: 17 tackles, one sack, one forced fumble
Mason Foster is easily the biggest surprise on this list. Losing Barrett Ruud to free agency gave Foster an opportunity to start as a rookie for the Tampa Bay Buccaneers, and he has taken full advantage of it.
Last week against the Minnesota Vikings, Foster recorded 10 tackles, one sack and a forced fumble. He was a huge reason why Tampa Bay was able to slow down Adrian Peterson and make a great comeback on the road.
If Foster can keep this up, he could join the ranks of Patrick Willis and Jerod Mayo as the best young middle linebackers in the NFL.
4. A.J. Green, Cincinnati Bengals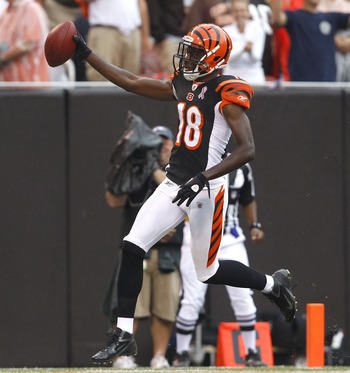 Matt Sullivan/Getty Images
Season Statistics: 11 receptions, 165 yards, two TDs
During the preseason, I kept hearing how A.J. Green wasn't going to be the playmaker that everyone expected him to be coming out of college.
I think it is safe to say that Green has proved any doubters wrong. Green is every bit as good as advertised, and he has shown good chemistry with Andy Dalton.
Ten or more touchdown receptions seems very possible for Green to achieve this year.
3. Andy Dalton, Cincinnati Bengals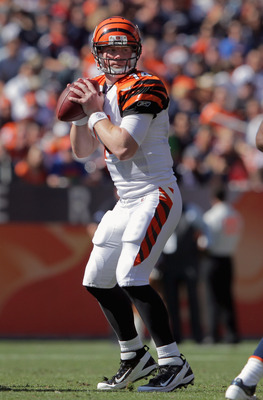 Doug Pensinger/Getty Images
Season Statistics: 413 passing yards, three TDs, zero INTs
The key number I like here is the zero interceptions that Andy Dalton has thrown. Don't let the yards fool you, because he only had 81 passing yards during the first game of the season.
Last week against the Denver Broncos, Dalton threw for over 300 yards and two touchdowns. Anyone who doubted his ability to lead an offense has been proven wrong.
Dalton will continue to limit his mistakes and play quality football.
2. Ryan Kerrigan, Washington Redskins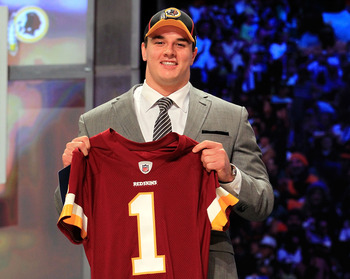 Chris Trotman/Getty Images
Season Statistics: Eight tackles, one sack, one interception, one defensive touchdown
Here is your early leader for Defensive Rookie of the Year, Mr. Ryan Kerrigan.
Through two games, Kerrigan has been a force of nature, and at times, has looked straight up unstoppable. His interception that he returned for a touchdown was a pleasant surprise, as it proved that he has the ability to be a major factor in games.
Right now, Kerrigan is the second best rookie performer in the league.
1. Cam Newton, Carolina Panthers
Streeter Lecka/Getty Images
Season Statistics: 854 passing yards, three TDs, four INTs, 71 rushing yards, two rushing TDs
Were you really surprised to see Cam Newton as the top rookie so far?
Even a three interception game against the Green Bay Packers wasn't able to wrestle the top spot away from Newton. I don't fully believe all the hype surrounding him quite yet, but there is no doubt that he is going to be a special player.
He still has plenty to learn, but Offensive Rookie of the Year is his award to lose. If there was an award for overall Rookie of the Year, he would win that too.
Keep Reading