San Francisco 49ers Loss to Cowboys: The Fleeting, the Notable, the Flags
September 19, 2011
Jed Jacobsohn/Getty Images
Well, that game was fun for about 54 minutes. And then The Inevitable started to creep in.
You knew it was happening. We've seen this for 10 years. That's probably the worst part of cheering for a perpetually bad team—you can feel in your bones when The Inevitable has seeped into the game.
I was watching at my grandmothers house (84th birthday!) and everyone else was milling in and out, noting "Oh, the Niners are winning! Great!" and I just nodded solemnly. You knew after Harbaugh's decision to "leave points on the board" that it was going to end badly.
Overtime felt like a formality.
Anyway, on to the Fleeting, the Notable and the Flags.
The Fleeting
This will be the last time I put a bad decision by Harbaugh in the Fleeting. Last week, he dumbly challenged the Leon Washington's almost-fumble and we chalked it up to first-game jitters.
This week? I dunno.
Here are my three takes on the penalty-versus-field-goal debacle.
To all the people who say "You don't take points off the board," let me ask you, would you be okay with the 49ers kicking a field goal on first down from the five? The three points are pretty much guaranteed. You're putting them on the board. OF COURSE YOU WOULDN'T.
Kill the clock. This can't be overstated. Assume Gore gets stuffed three times (more on that in a second) and the Niners only advance the ball two yards. Then you've killed two minutes and can still bring in a kicker who is a lifetime 88 percent from 30-39 yards out on a windless day.
For an offensive-minded coach, this is the reverse of "showing no faith in your defense by going for it on fourth down." With Harbaugh, keeping the points and not moving 15 yards closer to the end zone, he was essentially saying, "I don't trust this offense." Not a good confidence injection. In addition, this was a missed opportunity to let his guys get fired up over a second chance and pick up more momentum in the 49ers favor.
It's always 20-20 hindsight—I get that. But I yelled at the TV when he "kept points on the board," and I'm still unhappy about it now. I even wrote in my notes, "This is important, even if the Niners win."
Harbaugh killed a chance for a team to come together and score a much-needed touchdown. That's the most important part.
The over-snap, Smith's recovery and his deep bomb to Gore was amazing. The ball took a friendly bounce, but Smith immediately looked composed.
The only problem was that he was looking deep to Frank Gore and not a receiver. The pass interference call was a nice save.
I also really like having Brian Billick announcing. He's a bit pompous, but you always want a coach as your commentator.
This is my new rule—players tend to over-compensate their lack of insight with too much (annoying) enthusiasm. Coach announcers speak with an evaluating confidence that you need in your commentator.
Final note: Gorgeous touchdown pass to Delany Walker. Not impressive. Just a pretty little rainbow.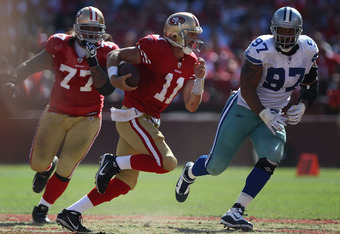 Jed Jacobsohn/Getty Images
The Notable
The offensive line looks better even since Week 1.
I avoided saying much about them last week, because offensive lines take a while to come together, but I like the direction they're heading in.
They had a few terrible plays and a handful of missed blitzes. But they are giving Smith time to set his feet—so important for this guy.

Also, Smith is setting his feet. You can almost feel the coach-former-quarterback influence.
Sacks Smith Avenue (Aldon and Justin) were quiet for the most part. But I still love watching Aldon. I thought he was a little thin coming out of college, but he's making up for it with smooth moves and power.
Romo was getting pounded (though not sacked that much).
I don't really understand what the Cowboys were doing with DeMarcus Ware in the first half. He was all over the place and, I guess, it was supposed to be some sort of creative "Where's he gonna get you?" strategy.
On a few plays, he was starting from strong safety territory. It wouldn't have surprised me to see him in a field judge jersey.
And it made him look like a guy playing his first game of football, unsure where to stand or how to act before the snap.
Rob Ryan has a TV—he should know that you simply need to get Smith rattled to put him off. Why not keep Ware as a terror on the line? Isn't that, like, what he does?
It was a free pass in the first half. In the second half, Ryan either figured this out or lost interest in whatever weird strategy he was trying. Ware stayed on the D-line and became an absolute terror.
I'm ripping this analogy off from somewhere—my "it's not your joke" alarm is going off. Regardless, Dallas is starting to resemble the Kardashian twins.
You're not sure why they're famous, why they're impressive, but each year they're supposed to be something—and they're not.
The reason I bring this up is—again—I want to temper 49er expectations. I don't think this Dallas team was actually very good.

Frank Gore averaged 2.4 yards per carry. I love Frank and his fearless running, but I wouldn't be disappointed to see Kendall Hunter getting three or four carries a game.
The Flags
Green Flag: Love all the shifting. Feels right for Alex Smith. Keep things moving and academic—don't let him get too much in his own head about the play at hand.

Red Flag: Why are there so many people cheering for Dallas at Candlestick? It almost sounded like a home game when they won. Keep the games peaceful, but come on—that was just embarrassing.

Super Red Flag: Our secondary is not good. I said last week that it felt more like chasing than covering. This week, all three Austin touchdowns were because of blown assignments.
Even the slip touchdown—which happens—was infuriating because there was no help over the top. It's not like he caught that streaking down the sidelines. He was in the middle of the field.
Where was everyone? And then what was Whittier doing on the third touchdown? That's a basic Cover Two, Austin made no juke move and there was no safety help until it was too late.
This was a good passing offense, but it's not like Romo was dissecting the Niners. The Niners were just blowing big plays. I hope that's a rusty offseason still talking—but I'm not so sure.
I like our matchup against the Bengals. Sacks Smith Avenue will terrorize Dalton, and there is very little by way of offense to fear.
I'll take our defense versus Cincy's defense all day. Until then…
[Caleb writes for Wired and says other stuff at www.twitter.com/calebgarling]