Why Philip Rivers Will Follow Peyton Manning as a Playoff Underachiever
September 17, 2011
Donald Miralle/Getty Images
"When your skills are so superior, people think everything else about you is suspect" – Iron Mike Tyson on the Max and Marcellus Show 710ESPN LA
To say a player underachieved, one must first have a clear understanding of what the prescribed level of achievement is. In the NFL, this level is Super Bowl wins. The bar has not changed and regardless of the player or his fanatic following it will never change. The goal has always been to win Super Bowls.
Using this measure, Peyton Manning has underachieved magnificently and Philip Rivers is following his road to failure.
There is a gaping hole that separates a great player from a champion.
Charles Barkley, Elgin Baylor and Karl Malone were great players; however, Michael Jordan, Bill Russell and Hakeem Olajuwon are champions. Warren Moon, Dan Fouts and Dan Marino were great players, but John Elway, Joe Montana and Tom Brady are champions. They have sustained legacies that will never be broken. Unlike records that so many players seem to attain—records that will surely some day be broken—a champion can never lose his rings.
Champions come with no excuses and no regrets; they have accomplished the ultimate goal and maximized their potential. Their results are indisputable and irreversible.
Conversely, losers come with excuses and rhetoric to "explain" their failures.
So, for those of you prepared to defend your maligned hero, please spare us the rhetoric for each player's reason for failing. Regardless of your reason, the consequence of their failures is to eventually be an afterthought when separating great players and champions.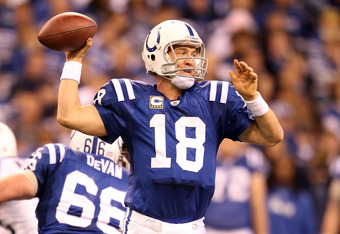 Andy Lyons/Getty Images
Few players have ever possessed the natural talent of Peyton Manning. His regular-season performances should have raised the standard of what is acceptable for his postseason performances. 
Manning's playoff completion percentage is 63 and his quarterback rating is 88.4. He has 29 touchdown passes and has thrown 19 interceptions. These are good numbers for perhaps Bubby Brister, but this is Peyton Manning we are talking about. This is laser-arm and "cut that meat" Peyton Manning. This is the man who has thrown for over 4,000 passing yards in 11 out of 13 seasons.
Peyton Manning is able to remain unscathed by some because of his isolated moment of triumph in Super Bowl XLI. Manning's numbers in that game were decent: 25-38 for 247 yards, one touchdown and one interception.
However, his performance in that game did not elevate him to legendary status. Rather, it displayed his propensity for looking pedestrian in career-defining moments—a propensity he displays like Groundhog Day whenever a championship game begins.
In conference championship games and Super Bowls, he has a completion percentage of 62 and has thrown seven touchdown passes and seven interceptions. By Peyton "Freaking" Manning standards, that is underachieving.
The overwhelming factor with Manning is the talent he has played with. Beginning with Marvin Harrison and ending with Reggie Wayne, Manning has had the weapons to win the war more than once. Before the comments commence on my intelligence level, please remember this: It took Manning six years to win a playoff game. Yes, he has won one championship, but so has Trent Dilfer—and would anyone confuse Dilfer for a champion?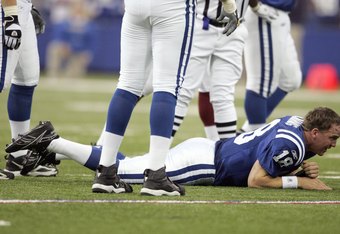 Andy Lyons/Getty Images
The playoffs are where greatness becomes legendary. The playoffs are where Havlicek steals the ball and where Jordan saves his most spectacular moves. The second season is where Montana spots John Candy as he claims his third ring and Elway goes helicopter at the age of 76.
These are the moments that isolate you from your current peers and place you in the company of timeless champions. Sadly, these moments are absent from Peyton Manning's career—a career that may be over—and are nonexistent in Philip Rivers' career.
Rivers, like Manning, has breathtaking ability. The quarterback's resume is impeccable. He has thrown for over 4,000 yards in three of his five years as a starter. Rivers has two seasons where he has not thrown double-digit interceptions. The kid has amassed a portfolio of regular-season numbers that are reminiscent of only Dan Marino and Peyton Manning.
Therein lies the problem.
His allure is made up of regular-season conquests and he is voided of that championship glow. There is no doubt that he, along with Manning, will go down as one of the game's all-time greats, but their names will be asked to leave the room when the champions enter.
The playoffs are where his counterparts distance themselves from the North Carolina State product. The playoffs are where Rivers has accumulated more interceptions (nine) than touchdowns (eight). In seven postseason contests, the vivacious quarterback has thrown for over 300 hundred yards once. You combine that with a completion percentage of 58 and it is fair to state that Rivers' future is Manning's past.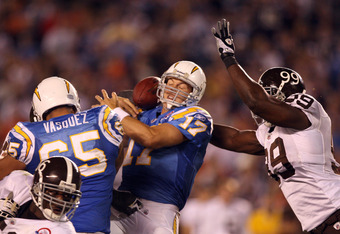 Donald Miralle/Getty Images
True, both players have faced formidable opponents, but champions win no matter who is across from them. Frazier was no cake walk for Ali. Goliath did not lay down for David and Larry never handed the trophy to Magic.
Champions earn their credibility by snatching victory rather than politely asking for it.    
Rivers has also taken the field with Hall of Fame players. He, again like Manning, has played with some of the best talent in NFL history. Therefore, he has never showed up with knives to these gunfights. He has been privileged to take the field with LaDainian Tomlinson, Darren Sproles, Michael Turner, Antonio Gates and Vincent Jackson, not to mention one of the best offensive lines in football.
There is no plausible logic for Rivers not winning a Super Bowl at this point in his career and there is no plausible reason why Manning has only hoisted uno Super Bowl trophies.
Both players are immensely talented and are equipped with little-to-no flaws in their games. To a man, their peers have the ultimate respect for their games, but they still cannot consistently take the field on the last Sunday of the season. Why?  
The answer is simple: They are not cut from the same cloth that champions rock. It is that indescribable quality that allows them to complete that pass one more time. It is that perfect blend of preparation and opportunity (that so many of us charge to luck) that provides champions with these moments to seize.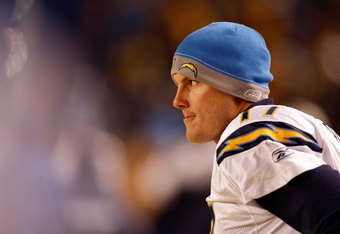 Chris Graythen/Getty Images
Manning and Rivers are just great enough to show you the difference between them and champions.
Every sport has them and we as fans want to believe our hero is different because he wears our country's garb. Yet, champions are easily identifiable and their results do not need to be defended. Perennial losers come with disclaimers and explanations, when in fact the truth needs no explanation. One never has to explain the speed of a Lamborghini or the flyness of Jayne Kennedy. You know it and if you are so lucky enough to drive one or be with her, you relish in it.    
Rivers is discussed by those who have played in the NFL or covered the NFL as if it is a forgone conclusion that he will win multiple Super Bowls. Manning is revered by those same individuals as if his greatness did not demand more of him. The truth is, both players have underachieved and denied their talent of the pedestal it most certainly deserves.
Now, is each player responsible for their respective team's playoffs failures? Yes, because they are celebrated for each of their team's successes.
Again, their fans will come up with more excuses than a virgin on prom night for why Rivers and Manning did not get it done. No matter the excuse, just like on prom night, it did not get done—and the end result is all that matters.