Fantasy WR Top 30 Rankings: With Injuries Abound, Who Else Should You Start?
September 16, 2011
Week 2 WR Player Rankings
brought to you by pyromaniac.com
Click here for WRs ranked 31-60
30. Mike Sims-Walker (@ NYG)
 With Danny Amendola out this weekend and RB Steven Jackson riding the sideline as well, someone will have to step up for the Rams this Monday night.  My call is Mike Sims-Walker.  The Giants secondary is basically patchwork at this point so someone on the Rams is going to exploit the problem area.  It could be Brandon Gibson, but my money is on the guy with all the talent and size in the world.
29. Johnny Knox (@ NO)
 It never should have taken this long for Knox to get into the starting lineup, but a whole week of the season has passed, and he's just now getting the chance.  I, of course, say this with a touch of sarcasm, but not much.  Roy E. Williams (groin) came up lame towards the end of the Bears' win last weekend and might not be able to play this weekend, so Knox will get the chance to prove to Martz and Co. that he should have started for the Bears all along.  Indoors in New Orleans, Knox should be able to use his all-world speed to do some fantasy damage in Week 2.  Take a chance with him as a WR3 with major upside.
28. A.J. Green (@ Den)
 A.J. was pretty well blanketed by the Browns Joe Haden last weekend and didn't make a single catch until a 41-yard TD in the fourth quarter.  Even then, the catch was made with nobody guarding him as the Browns weren't even ready for the snap.  Despite the poor debut, Green still has more talent than most in the league and could bust out at any moment.  It might not be against Champ Bailey and the Broncos this weekend, but if Bailey doesn't play or Denver takes Champ off him at any time, watch out folks.
27. Mario Manningham (vs. StL)
 I still believe Manningham will be a nice starting fantasy receiver this year, but he didn't show me all that much in Week 1.  Scratch that; Eli Manning and the Giants offense in general didn't show me that much last weekend.  I DO, however, believe they will turn it around, and it could start this weekend against the Rams.  St. Louis has a beaten up secondary at the moment and with the Giants playing at home in New York on Monday night, you can bet the sparks will be flying everywhere.  Also, if Hakeem Nicks ends up sitting this one out, Mario will be Eli's clear-cut WR1 for the week.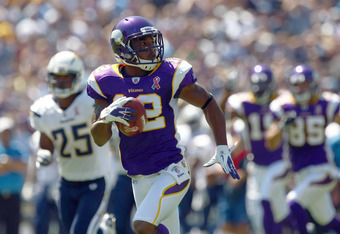 Donald Miralle/Getty Images
26. Percy Harvin (vs. TB)
 Harvin is clearly one of the most electric players in the game, as he showed by taking the opening kickoff 100-plus yards to the house last weekend.  However, Donovan McNabb has to do a better job at getting him the ball, and I don't mean by handing it off to him four times as opposed to completing just two passes to him.  My guess is that Harvin's poor outing had more to do with the Chargers stifling pass D than anything else, so give him another shot at home in the dome as a WR3 against a much lesser Bucs D this weekend.
25. Jordy Nelson (@ Car)
 Wow, is it fun watching a kid break out in the NFL, which is exactly what I was doing last Thursday night when Nelson put up six catches for 77 yards and a TD against the Saints.  It's not the numbers, though, that impressed me.  It was the ease with which it seemed he was beating coverage, and the consistency he displayed throughout the night.  If he really is as good as he looks, then opposing No. 2 cornerbacks don't stand a chance against him going forward.  Nelson looks like he will be Aaron Rodgers' go-to WR2 from here on out starting this weekend in Carolina, so pick him up or get him in there if you can.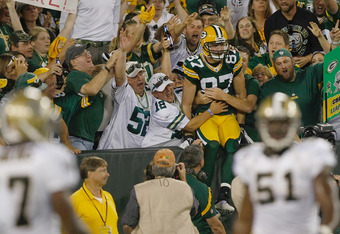 Scott Boehm/Getty Images
24. Plaxico Burress (vs.Jax)
 Plaxico actually looks like he may be okay this year as a starting WR3 for fantasy teams.  His height is untouchable, obviously, but what's more important is that Mark Sanchez seems unafraid to throw it to him targeting him nine times last Sunday night.  Against a porous Jaguars D, he might be able to repeat his four-catch, 72-yard and one-TD performance.
23. Jeremy Maclin (@ Atl)
 Maclin says he's fine, and to be honest, he looked fine last Sunday.  However, he only saw three targets to DeSean Jackson's 12 while making just one grab for 20 yards against the Rams.  That said, the Eagles coaching staff said they plan to get him the ball more this Sunday, and I believe them.  He's one of the more gifted receivers in the game and should start to be used as such, especially indoors against a suspect Falcons pass D.
22. Roddy White (vs. Phi)
 I feel for ya Roddy.  Last weekend, White had to play on possibly the worst surface in the NFL against one of the stingier pass D's in the league in Chicago.  This week, he gets to face off against the team with possibly the greatest group of cornerbacks ever assembled in Philadelphia.  Well, at least he's at home this time where he'll be able to use his speed…just don't expect too much.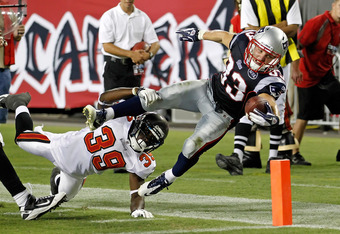 J. Meric/Getty Images
21. Wes Welker (vs. SD)
 Wes Welker, you are disgusting!  Unreal how a man of your size, with the injuries you've had to go through, can still do what you did last Monday night against the Dolphins.  Simply unreal.  The Chargers, however, own possibly the best pass defense in the game, so I don't expect you to repeat those numbers.  Then again, with Brady leading the way, I guess it's possible.
20. Reggie Wayne (vs. Cle)
 The Colts may be awful this season, but it won't be because of Reggie Wayne.  Last week, with Kerry Collins fumbling and bumbling around all day long, Reggie was still able to put up 106 yards and a TD on seven catches.  That's how good he is.  Hopefully, another week of practice gets this offense going, but even if it doesn't (which it won't), Wayne will still be Collins' favorite target and have a chance to do some damage.
19. Dwayne Bowe (@ Det)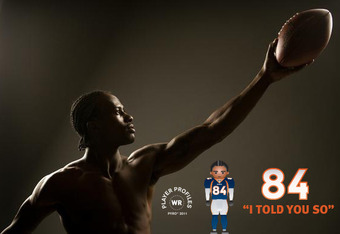 Ignore what happened to the Chiefs both on offense and defense last weekend—or don't.  Maybe they were exploited as an overachieving team, maybe they simply had a bad week.  Whatever the case, Dwayne Bowe is too good for any of the Lions defensive backs to monitor, and I expect Matt Cassel to make sure the ball is in his hands a ton this weekend.  If not, it may be time to worry.
18. Brandon Lloyd (vs. Cin)
 If Lloyd turns out to be injured and can't play due to the groin strain he incurred last Monday night, then obviously knock him off your board.  However, if he's in there, Orton clearly still loves him as his top receiving option and will give him every chance in the world to put up fantasy numbers.  He had 11 targets last weekend against Oakland and caught six balls for 89 yards, so he's obviously still one of the more dangerous WRs in the game right now.
17. Kenny Britt (vs. Bal)
 Alright, so this kid is a monster.  No doubt about it.  He's a touchdown waiting to happen on any given play and can go get the ball with the best of them already.  Still, against a tough Ravens defense that might not give Hasselbeck much time to throw the ball, I have a tough time ranking him higher than this.  Like I said, though, Britt can give you the fantasy week you were looking for on any given play.
Elsa/Getty Images
16. Dez Bryant (@ SF)
 Bryant looks like a world-beater out there when he's healthy, but that's a question with him heading into the second week of the season.  He should be fine, but in case he's still hobbled a bit with that quad injury, I'm giving Miles Austin the higher ranking of the two this week.  However, you should still be comfortable with him in your starting lineup against a 49ers team the Cowboys will look to be passing against.  That said, make sure you check the newsbreakers on Dez before starting him this Sunday.
15. Steve Johnson (vs. Oak)
 The big question surrounding Stevie Johnson coming into the season was if he was a one-hit wonder or the real deal.  With 66 yards and yet another TD after putting up 10 last year, it looks like the question has been answered.  Oakland's pass D won't be nearly as good as they were last season, so I expect some nice numbers out of Johnson this weekend.
14. Brandon Marshall (vs. Hou)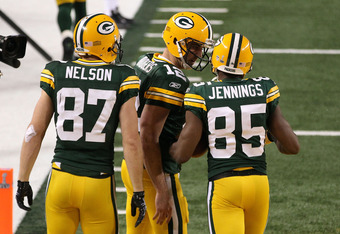 Streeter Lecka/Getty Images
 Marshall was once dubbed "Baby T.O.", and it looks like he's beginning to resemble that nickname again.  Not in a bad way, but in the fact that he plays with a chip on his shoulder that no defender could possibly knock off.  Accumulating 139 yards on seven catches was a great way to start the 2011 season, but more importantly, he ended up leading the league in targets after Week 1 with 13.  This game against the Texans could be another shootout, so it wouldn't surprise me to see him leading the league after two weeks as well.  If Miami becomes the passing team it looks like they are becoming, watch out for Terrell Owens-type stats from Marshall this year.
13. Santana Moss (vs. Ari)
 Going back to the beginning of last season, Moss looks to be as rejuvenated out there as any 30-year-old receiver in the league.  Last week, he had six catches for 76 yards on eight targets from Sexy Rexy, but I expect better than that against a piss-poor Arizona defense this weekend.  Feel comfortable with him as a solid WR2 play with upside this Sunday.
12. Anquan Boldin (@ Ten)
 Finally, the 'Quan we all love to see is back.  It took a year of getting in tune with Flacco, plus a little more speed in the offense and Vonta Leach leading the way for Ray Rice, but he's back and here to stay.  Against a Tennessee secondary that was one of the worst in the league last year and just allowed Luke McCown to lead the Jags to a victory against them, Boldin should be able to carve 'em up for a nice fantasy day.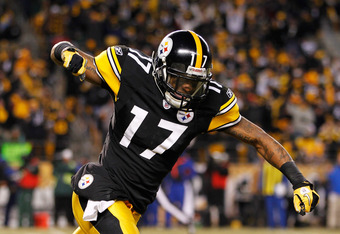 Gregory Shamus/Getty Images
11. Hakeem Nicks (vs. StL)
 Like the Cowboys, the Giants can't afford to go 0-2 to start off the year in this tough NFC East division, so look for them to do whatever it takes to win this game.  Nicks is dealing with a bum knee right now, but if he can play, he'll play, and he'll go all out against a banged up Rams secondary.  The Giants will turn to the run quite a bit in this one which should draw the defense in.  If that happens, Nicks will exploit it and have a couple of gigantic plays in this game.  However, make sure you check the news out of New York before getting him in your starting lineup this Monday night.
10. Santonio Holmes (vs. Jax)
 Santonio might end up a game-time decision this weekend, so make sure you check the news coming out of the Jets camp before inserting him into your starting lineup.  If he's scheduled to play, however, get him in there immediately.  Holmes was targeted 10 times on Sunday against the Cowboys which he turned into six catches for 70 yards.  Sanchez loves throwing to him and sooner rather than later, Holmes is going to break off a huge game.  Jacksonville's pass D was one of the worst in the world last season and didn't get a whole hell of a lot better in the offseason, so this could be the game he does it.
9. Larry Fitzgerald (@ Was)
 Fitz can't escape being a double-team target for opposing defenses, but if he's lucky, the Redskins will try to shadow him with DeAngelo Hall all day long in single coverage.  If they do, Larry is going to eat him alive.  If not, Fitz will still get double-digit targets and likely have a pretty good game anyway.
8. Mike Williams – TB (@ Min)
 Believe it or not, Mike Williams will have a better chance to do more damage if the Bucs rush the ball more against the Vikings as opposed to hitting the two-minute offense early in the game like they did last week.  Williams DID end up with four catches on 10 targets including a touchdown and 50 yards receiving, but his numbers will be way better than that if Tampa draws the defense in to defend against Blount.  The Bucs will do so to the delight of Williams' fantasy owners.
7. Miles Austin (@ SF)
 The Cowboys can't afford to go 0-2 to start off the season, especially in a tough NFC East, so look for them to try and get a win in the best way they know how…through the air.  Even if they were 1-0 right now, they'd likely be tossing the ball around a bunch anyway due to the 49ers stingy rush D.  If Dez Bryant is still the slightest bit banged up, watch for Austin to go ballistic in this one as Romo targets him 10-15 times.
6. DeSean Jackson (@ Atl)
 After three years in the league, it looks like the Eagles might finally be looking to target DeSean Jackson on offense the way he should be.  Last week against the Rams, D-Jax caught six balls for 102 yards and one TD on 12 targets, the second most he's seen in his career.  Though the increase may have partly been due to Philly's fear that Jeremy Maclin wasn't quite ready to play, it's also possible that Jackson's work in the offseason showed itself and got him open out on the field.  Indoors in Atlanta, the kid could be lethal this Sunday.
5. Greg Jennings (@ Car)
 Aaron Rodgers and the Packers passing game is pretty much unstoppable at this point with at least a good portion of that credit going out to Greg Jennings.  You can tell he is Rodgers' favorite receiver by the fact that he not only got Jennings the most targets in Week 1, but also made sure to get him the first touchdown of the season as well.  My guess is that Green Bay tries to go ahead real early against the Panthers to assure themselves a victory, which could mean some serious passing/scoring in the first half.  Jennings will be a nice part of that.
4. Vincent Jackson (@ NE)
 I don't care how poor V-Jax's numbers were in the Chargers first game, he's going to light it up this Sunday.  If Chad Henne and the Dolphins can throw for over 400 yards against the Patriots, Philip Rivers has a chance to as well.  V-Jax has basically the same body frame as Brandon Marshall (6'5, 230 pounds compared to 6'4", 230 pounds), so if Marshall can put up 139 yards against New England, so can V-Jax…only I think Jackson scores at least one TD here as well.
3. Mike Wallace (vs. Sea)
 Everyone on the Steelers should be getting into the fantasy scoring column this weekend against the Seahawks, and you can be sure Wallace's numbers will be amongst the best of them.  His speed out there in the field is blinding, and when combined with his strong 6'0", 200-pound frame, he's one tough cookie to stop.  Pittsburgh might take out a little Week 1 frustration here, and running up the score might be one way of doing it.
2. Andre Johnson (@ Mia)
 Besides the fact that Andre is probably the second freakiest wide receiver the NFL has to offer, the Miami defense just got destroyed for 517 yards passing by Tom Brady and the Patriots last weekend.  I'm not saying that Houston will be able to keep up that kind of pace, but Andre will certainly do his part in keeping them pretty close.  Besides that, in four career games against the Dolphins, Andre has averaged 7.5 catches for 106.5 yards and 0.75 TDs.
1. Calvin Johnson (vs. KC)
 Let's see, how many reasons are there to have Megatron as my top receiver heading into Week 2…1) He's the most freakish WR in the game.  2) Matthew Stafford is currently healthy and looking like a stud.  3) The Chiefs just gave up four passing TDs to the Buffalo Bills.  4) The Chiefs best defensive back/player, Eric Berry, just went down for the season.  5) Calvin has scored a TD in every single home opener of his career (five TDs in four games).  Anything else?
Week 2 rankings for QBs, RBs and TEs
Click here for WRs ranked 31-60
Follow Pyro® on Twitter:  https://twitter.com/pyroman1ac
Follow Pyro® on Facebook:  http://www.facebook.com/pyromaniac