Cowboys vs 49ers: Scouting Dallas from a San Francisco Perspective
September 16, 2011
George Rose/Getty Images
I have had the ability to watch Dallas more than any other team in the NFL other than the San Francisco 49ers over the course of the last few seasons. There are extenuating (family) circumstances that has given me the opportunity to get a closer look at the Cowboys. 
Many of us remember the rivalry of the 1990's between these two teams. It was a great time to be a fan of both clubs. At one point it became apparent that the winner of the NFC Championship game between these two teams were going to go on and win the Super Bowl. 
Well, those times surely have passed. That said, Sunday's game should rekindle a little bit of this for the fans and players.
Today, I am going to give San Francisco 49ers fans somewhat of an inside look at what the Dallas Cowboys are all about. I will scout each position and give you an idea of what Dallas does good—and bad.
Quarterback
By now, Tono Romo's successes and failures have been well documented. He is one of the most talented quarterbacks in the entire league but isn't able to put it together when it counts the most: in crunch time. These failures have been magnified because of the situations and the fact that Romo plays for "America's Team." 
The fact that Romo was an undrafted free agent hasn't been well-documented as of late. That is still an amazing story if you ask me. Tony Romo brings leadership capabilities to a Dallas Cowboys offense pretty much without it. He is, for all intents and purposes, a team leader. Of course, this is an important aspect of a quarterback's ability to succeed in the NFL.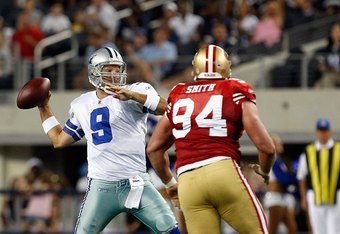 Ronald Martinez/Getty Images
Romo also has one of the strongest arms in the league, which could cause tremendous problems for San Francisco's secondary considering the issues after Carlos Rogers. He does tend to rush passes when getting faced with pressure in the offensive back field. When this happens, Romo becomes mistake-prone, as we noticed in the Jets game last week. 
If San Francisco gives Romo time to pass, he will eat apart their secondary. It really is that simple. With the weapons at his disposal, this could be a major issue for San Francisco on Sunday. 
Running Back
Felix Jones is taking over as the No. 1 back for Dallas, and he struggled a great deal last week against the Jets. These struggles included the inability to find holes, slow movement towards the line and bad pass protection. 
Still, Jones is an electric back who will scare opposing defenses. He can take it to the house on any given play and is a great pass-catching back. This is also something that helps Tony Romo a lot when he faces the pressure that San Francisco promises to bring. 
I do believe that Jones' success will be limited against San Francisco because of the presence of Patrick Willis and NaVorro Bowman in the middle of the 49ers linebacker group. They are extremely fast side-to-side and can penetrate the hole quickly when given an opportunity.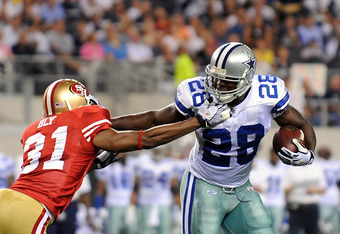 Ronald Martinez/Getty Images
If Jones doesn't get his act straight, it could be a long day for the Cowboys offense because San Francisco will be able to hone in on a solid passing game.
Tight End
This is a unit that would scare most defenses out of their collective jock straps. Jason Witten and Tony Romo seem to have a great relationship on the field. The signal caller knows where Witten is going to be, and the tight end is where the signal caller expects him to be. We see this a lot with quarterback-tight end duos. Philip Rivers and Antonio Gates come to mind first, but Romo-Witten isn't far behind.
Adding to his importance to the Cowboys is the fact that Witten isn't just a pure pass-catching tight end. He is extremely strong in pass protection and run blocking. 
The 49ers also have to worry about John Phillips, who missed all of the 2010 season. The Dallas Cowboys have high expectations of the former sixth-round pick from Virginia. He had two receptions against the Jets last week and appears to be back at full health. Martellus Bennett is a physically imposing tight end. He has the look of a wide receiver and is hard to cover in the slot. After being slowed by an ankle injury last week, it appears he will be ready to go Sunday.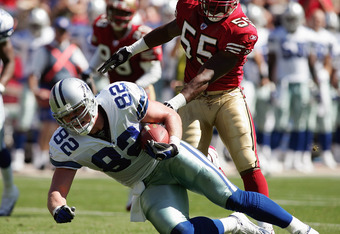 Jonathan Ferrey/Getty Images
San Francisco will be covering these tight ends with both Patrick Willis and Donte Whitner. The latter completely shut down Zach Miller last week, but going up against Romo and Witten is a completely different ball game. If Dallas is able to exploit Whitner's perceived coverage issues, San Francisco's defense could be in for a long day.
Wide Receiver
This is where it gets really interesting. Dez Bryant looked like a man among children last week against a great New York Jets secondary before he re-injured that foot. It appears that Bryant will be a game time decision this week. If Bryant is unable to go or is slowed down by the injury, it will have a dramatic impact on the Cowboys passing game. Kevin Ogletree would see more action, and he probably doesn't scare San Francisco corners that much at this point.
If Bryant is healthy, it will cause matchup concerns for San Francisco. He is physically dominating at the line of scrimmage and is usually able to throw corners off their coverage early on in his routes.
On the other hand, Miles Austin is healthy and ready to go. The former undrafted free agent from Monmouth has found a home in Dallas for the last couple seasons. Tony Romo and Austin are one of the better quarterback-wide receiver tandems in the entire NFL.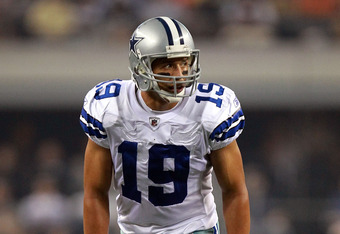 Ronald Martinez/Getty Images
Since acquiring the starting job midway through the 2009 season, Austin has been one of the most productive receivers in the league. In 26 starts since his coming-out party against the Denver Broncos in 2009, Austin has racked up 155 receptions, 19 touchdowns and two Pro Bowl appearances. He is also the type of receiver that San Francisco tends to struggle with. Austin doesn't kill you with his physical abilities. Instead, he runs precise routes, has great hands and is able to get separation down field. 
It will be interesting to see if Shawntae Spencer plays on Sunday, that will make a huge difference. He is really solid against physical receivers like Dez Bryant. That would enable Rogers to match up against Miles Austin, limiting the advantage Dallas has on the outside. If not, Carlos Rogers will probably line up against both receivers, a little like what Revis did last week with the Jets. Still, the other receiver will end up becoming Romo's top target and for good reason. 
Offensive Line
This unit is probably as shaky as the unit San Francisco played last week in the Seattle Seahawks. The Dallas Cowboys started two rookies against the New York Jets in their season opener, and it was apparent this is the weakness of a very good offense.
Derrick Dockery will be replacing Bill Nagy at left guard. While that gives Dallas a little more experience, it probably doesn't equate to a major upgrade from the rookie. Dockery has had his issues in pass protection over the seasons with the Washington Redskins and isn't getting any younger.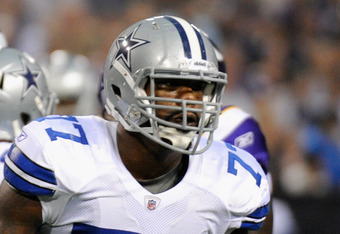 Hannah Foslien/Getty Images
Speaking of young, 20-year-old Tyron Smith will be starting at right tackle for Dallas against San Francisco. The first-round pick does have a tremendous amount of upside, but there does remain questions about his ability to handle a starting role this early in his career. Smith had issues in pass protection against the New York Jets, and that will be magnified going up against a better defensive line in San Francisco. The 49ers should be able to exploit this matchup.
If the 49ers are able to get pressure on Tony Romo, they will throw off the timing of an offense that relies a lot on timing. It will also force Romo out of his comfort zone, which will lead to mistakes from the quarterback. Putting pressure on him is probably the biggest key to San Francisco's success on Sunday.
Defensive Line
The Cowboys defensive line is solid but not spectacular. In my opinion they downgraded at the right defensive end position when they replaced Igor Olshansky, who is a good 3-4 player, with Kenyon Coleman, who seems a little light to play that role. Joe Staley shouldn't have much of a problem lining up one-on-one against Coleman.
It is the other side of the line that should worry the San Francisco 49ers. While Marcus Spears has been a disappointment for the Cowboys, he matches up good against Anthony Davis. Spears is incredibly strong and quick on the outside, two things that Davis has issues with. San Francisco will probably have to send help to that side.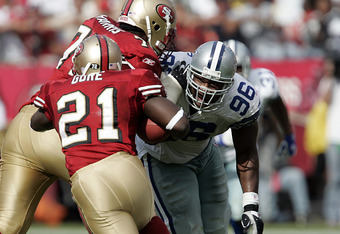 Robert B. Stanton/Getty Images
Jay Ratliff along the interior of the line is a strong 3-4 net tackle. He takes on double teams and opens up gaps for the Cowboys outside linebackers. That said, Jonathan Goodwin played extremely well last season and is a Pro Bowl performer. So, this matchup should be a wash. In fact, it will help the 49ers offensive line a great deal if Goodwin doesn't need help up the middle. That will be something to watch as the game progresses.
Linebackers
This will be something to keep a close eye on against the Dallas Cowboys. At this point, they matchup extremely well against San Francisco in regards to the linebacker position. We already know that Damarcus Ware is an absolute beast for Dallas. It will be the job of Joe Staley and Mike Iupati to pick up Ware's blitzes from the outside. This is not an enviable job if you ask me. Ware isn't just quick off the end, he has the ability to light up opposing offensive lines with a superior pass rush move. San Francisco will have to mix and match protection schemes in order to make up for the many talents of Ware. If they don't, it will be a long day for Alex Smith and Co.
However, Ware isn't the only concern for San Francisco when it comes to the Cowboys linebacker group. Anthony Spencer will be going up against Anthony Davis and either Adam Snyder or Chili Rachel along the right side of the offensive line. San Francisco will have to put Moran Norris and/or Bruce Miller in a lot in order to make up for the shortcomings on the other side of the line. The one important equation here is the fact that Kendall Hunter will be brought in a lot in two back sets. He has the ability to take on pass rushers, which could limit Spencer's ability to get to Smith. That is something to watch.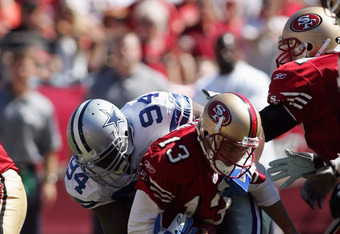 Jonathan Ferrey/Getty Images
Sean Lee will be starting in the middle for Dallas, and, while he has a lot of talent, the 49ers should be able to exploit him in coverage. There is no way that he will be able to cover either Vernon Davis or Delanie Walker one-on-one. You can bet that both Dallas and San Francisco understands this. You will see a chess match between the two coaching staffs. The 49ers will attempt to exploit this weakness, while Dallas will try to minimize it. I give the advantage to San Francisco in a big way here.
Secondary
This is an area where San Francisco would have a definite advantage even if all the Cowboys corners were healthy, which is not the case. Terence Newman has been ruled out of the game, and the Cowboys nickel corner, Orlando Scnadrick, wont be playing either. To add insult to injury is the fact that Mike Jenkins is beat up and may only see a limited role on Sunday. 
This would leave Alan Ball, Bryan McCann and newly signed Frank Walker as the Cowboys' top three healthy corners. Simply said, they are not good enough to matchup against Braylon Edwards and Joshua Morgan.
Additionally, I just found out that Michael Crabtree was a full participant in 49ers practice today. This is going to create a ton of matchup problems for Dallas. They will probably attempt to double Braylon Edwards on the outside, even if Jenkins is at full health. That will leave single coverage for Michael Crabtree on the other side and Joshua Morgan in the slot.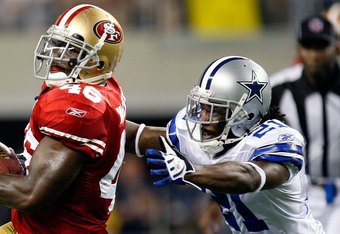 Ronald Martinez/Getty Images
The Cowboys safeties are not good in coverage either. In fact, both Gerald Sensabaugh and Abram Elam are liabilities out there. They wont be much help in defending 49ers receivers over the top and in the back end of the defense.
If Alex Smith gets time, he should be able to eat apart this secondary without much of an issue.
Overview
On paper the Dallas Cowboys are more talented, but San Francisco has closed the gap a great deal over the last couple seasons. It is no longer an eye popping discrepancy between the two teams.
The 49ers should be able to exploit a couple different weaknesses, one on both sides of the ball: the offensive line and secondary play of Dallas just isn't that good. If San Francisco is able to utilize their full amount of blitz packages and put pressure on Romo, it will cause timing issues for the Cowboys on offense and force Romo into some mistakes.
Accordingly, if San Francisco is able to give Alex Smith some time and limit the ability of Ware and Spencer, it will lead to coverage breakdowns on the back end of the Cowboys secondary.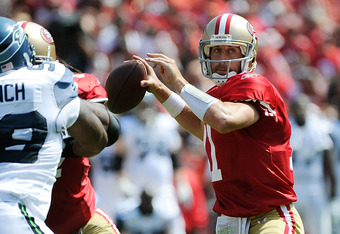 Thearon W. Henderson/Getty Images
Still, the Cowboys have a few different advantages in this game. While Alex Smith was not sacked last week, the 49ers were forced to go with max protection throughout the Seattle game. This disabled their ability to open up the offense. If the same scheme is run on Sunday, San Francisco will not win the game. They need to open up the offense but, in order to do that, protection needs to be better.
Final Prediction
San Francisco 49ers: 27
Dallas Cowboys: 20