NFL Predictions Week 2: Picking the Winners for All 16 Matchups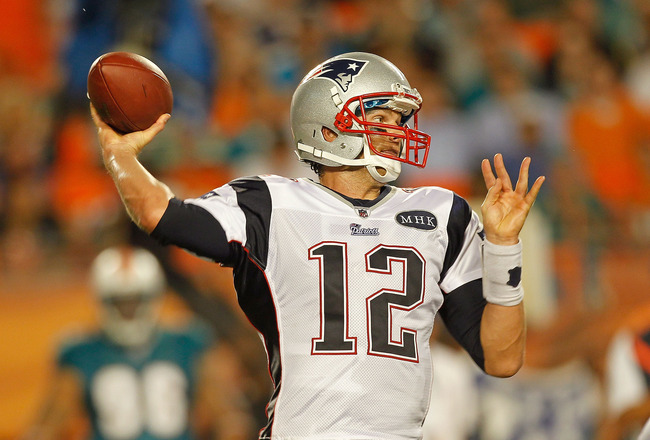 Mike Ehrmann/Getty Images
It certainly was a wild and wacky Week 1 in the NFL. Fourteen quarterbacks eclipsed 300 yards passing, and four eclipsed 400.
One of them was Cam Newton, who set an NFL rookie record with 422 passing yards, while another was two-time NFL MVP Tom Brady, who broke the 500-yard mark on his way to the NFL's fifth-highest total in history.
The AFC champion Steelers, who were in the top three in 2010 in turnover margin, turned the ball over seven times en route to a 28-point loss. Another division champion, the Kansas City Chiefs, got spanked 41-7 by one of 2010's worst teams, the Buffalo Bills.
So, what does it all mean? The 2011 season is going to be a hell of a ride for NFL fans. Now, let's take a peek into the winners and losers of Week 2.
Kansas City Chiefs at Detroit Lions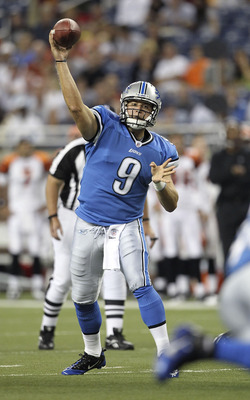 Leon Halip/Getty Images
Coming into the season, I had the feeling the Kansas City Chiefs were doomed. Matt Cassel had an awful preseason, and there was at least one training camp fight that cost them their first-round pick Jonathan Baldwin, for the first few weeks of the season.
This team had the look of a squad that had a major hangover from the loss the Baltimore Ravens handed them in the playoffs. My suspicions were confirmed by the embarrassing Week 1 loss to a Buffalo Bills team that made no noticeable improvements to the roster that finished 4-12 in 2010.
Granted, it was only Week 1, and the Chiefs were far from the only team that laid an egg. Still, Matt Cassel had a QB rating of 64.5 against a defense that isn't scaring anyone. The defense gave up four touchdowns and 5.6 yards per carry to Ryan Fitzpatrick and Fred Jackson. Now, the defense has lost star safety Eric Berry for the remainder of the season.
Things will not get any easier against a darling Detroit Lions squad that features big-time playmakers in Matthew Stafford, Calvin Johnson and Jahvid Best.
Pick: Detroit Lions 31-10
Oakland Raiders at Buffalo Bills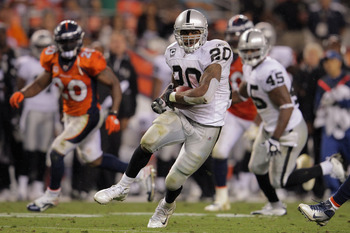 Doug Pensinger/Getty Images
The Oakland Raiders were one of the NFL's best rushing teams in 2010. They had the privilege of opening up against the league's worst rush defense, the Denver Broncos, in Week 1. Predictably, Darren McFadden had a great day for his fantasy owners, with 150 yards on the ground.
In Week 2, the Raiders get to take on another inept rush defense in the Buffalo Bills. Expect more of the same from McFadden and the ground game.
Ryan Fitzpatrick had himself a day against the Kansas City Chiefs with four touchdowns. Somehow, I think this is another Buffalo Bills quarterback aberration (anyone remember when Trent Edwards was believed to be the answer?) and Fitzpatrick will come crashing back down to mediocrity.
The Raiders believe, if no one else does, they will win the AFC West. To do that, they are going to have to do better than 2-6 against opponents outside of their division. Defeating the beatable Bills to go 2-0 would go a long way in securing their hopes.
Pick: Oakland Raiders 24-13
Tampa Bay Buccaneers at Minnesota Vikings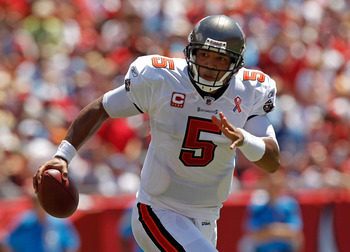 Mike Ehrmann/Getty Images
The Tampa Bay Buccaneers' Week 1 matchup was a feature of two young up-and-comers. The Bucs came up short by a touchdown against the Detroit Lions, but there is still a lot to like with this roster.
When Raheem Morris and the coaching staff look at the team's performance, they should be shocked to see that Josh Freeman threw the ball 43 times. Freeman is to be trusted with the game in his hands, but to chuck it around like that is not necessary.
Running back LeGarrette Blount touched the ball just five times in that game. Blount entered the season with stud potential, after gaining over 1,000 yards on five yards per carry as a rookie.
Blount's ability—you've got to love a 250-pound back with the athleticism to jump over defenders—would lead you to believe he has a 1,500-yard season in his future.
The Minnesota Vikings, however, looked awful against the San Diego Chargers. Predictably, Adrian Peterson was the lone bright spot on an offense that saw Donovan McNabb gain only 39 yards through the air. The only reason that game was close was due to a patented Chargers special teams collapse.
Don't be surprised to see Blount get 20 or more carries as the Bucs go back to a more balanced game plan en route to the victory.
Pick: Tampa Bay Buccaneers 28-14
Chicago Bears at New Orleans Saints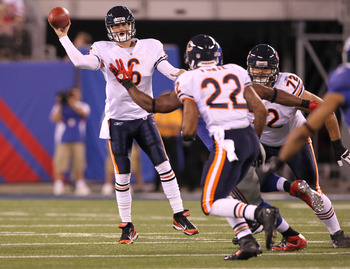 Al Bello/Getty Images
The Chicago Bears defense was devastating against a talented Atlanta Falcons offense. The defense battered Matt Ryan with five sacks, picked the quarterback off, recovered two fumbles and scored a touchdown of its own.
The New Orleans Saints offense might be better off with Drew Brees, but not by much. They will be without leading wideout Marques Colston in this one, and still seem to be trying to find some offensive balance with new running back Mark Ingram.
Jay Cutler looked great in the debut of his second season in the Mike Martz offense. Could this be the year the big-armed quarterback puts it all together?
It is tough to pick against New Orleans here, as they would drop to 0-2 on the year. Still, what is the adage, "defense wins championships?" New Orleans did not show a lot of that in allowing Aaron Rodgers to throw three first-quarter touchdowns in the debut game of the season.
Pick: Chicago Bears 20-17
Baltimore Ravens at Tennessee Titans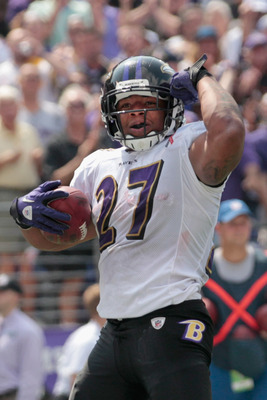 Rob Carr/Getty Images
The Ravens looked like absolute world beaters in tearing up the rival Pittsburgh Steelers, 37-7 last week. If champions were crowned after Week 1, they may hold the title. Still, you would think the team has to come back down to earth, to a degree.
The Tennessee Titans probably will not win a lot of games this year, but they should be competitive throughout. Matt Hasselbeck gives them stability at quarterback for as long as he is healthy, and Chris Johnson should hit his pace soon enough.
The Titans have to be disappointed by dropping a winnable division game against the Jacksonville Jaguars. They should keep this one closer than some may think.
Pick: Baltimore Ravens 20-14
Cleveland Browns at Indianapolis Colts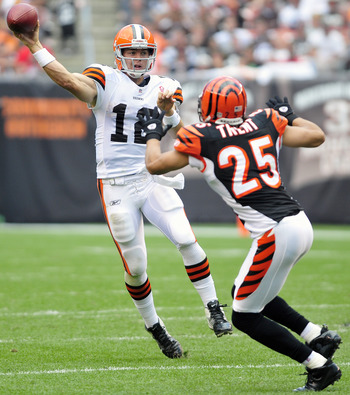 Jason Miller/Getty Images
The Browns were picked by some to be a sleeper team in the AFC. Then they took a nap themselves against an awful Cincinnati Bengals team. Colt McCoy is supposed to be a breakout player, but he had better games as a rookie, as he completed fewer than 50 percent of his passes in the loss.
The Indianapolis Colts got an ugly dose of life without Peyton Manning, with an in-division beat down by the Houston Texans. The team was defeated handily in all facets of the game: offense, defense and special teams.
Neither team inspires much confidence here. Still, the Colts defense should provide Colt McCoy with a solid bounce-back game as the Browns even their record.
Pick: Cleveland Browns 21-17
Jacksonville Jaguars at New York Jets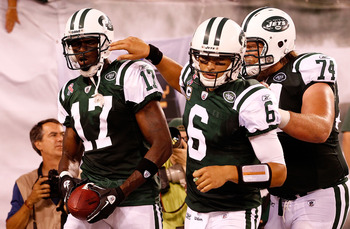 Jeff Zelevansky/Getty Images
Say what you want about Jacksonville Jaguars coach Jack Del Rio, but the man does not like quarterback controversies. For the second time in his tenure, he released the believed incumbent at starting quarterback just weeks before the season started.
This time it was David Garrard, who inherited the position when Del Rio cut Byron Leftwich five years ago.
Rather than be sent reeling, the team opened the season with a division win against the Tennessee Titans. Still, there is a thing called talent, and the Jaguars don't have much of it.
The New York Jets certainly do, and are coming off a big prime-time win against the Dallas Cowboys. Maurice Jones-Drew and company will keep things from getting out of hand here, but the Jets should win easily.
Pick: New York Jets 21-10
Seattle Seahawks at Pittsburgh Steelers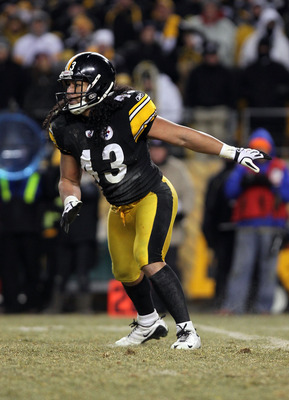 Nick Laham/Getty Images
The Pittsburgh Steelers shocked the NFL, and not in a good way, with their performance against the Baltimore Ravens. Still, with a team that returns 21 of 22 starters from the Super Bowl squad, we have to chalk that up to an aberration until proven otherwise.
The Seattle Seahawks looked awful against a San Francisco 49ers club that is not scaring anyone. New quarterback Tarvaris Jackson had three turnovers, and the team only accumulated 219 yards of total offense.
If the Steelers are indeed a team that is going to compete for a seventh Super Bowl title, be afraid for the Seahawks, very afraid.
If the Seahawks win, or if this game is even competitive, we may be witnessing the end of Super Bowl contention for this current core of Steelers.
Pick: Pittsburgh Steelers 41-10
Arizona Cardinals at Washington Redskins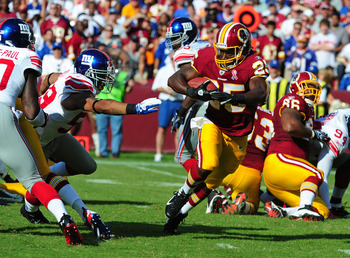 Scott Cunningham/Getty Images
The Washington Redskins proved all the good vibes coming out of training camp were not just bluff and bluster. The 'Skins handled the New York Giants fairly easily to open the second season of the Mike Shanahan era.
Tim Hightower looks like the next running back in line to benefit from Shanahan's system, while Rex Grossman threw for over 300 yards and two touchdowns to bring his Redskins' touchdown/interception ratio to 9/4. Could the questionable decision-making that has plagued his career finally be over?
The Arizona Cardinals looked good on offense under new quarterback Kevin Kolb, and terrible on defense. The team gave up 422 yards to Cam Newton, and were lucky to escape with a win via a punt return by their own rookie, Patrick Peterson.
Expect Hightower to run angry against the team that did not think he could be a feature back, while Grossman enjoys an easy day against the Cardinals pass defense.
Pick: Washington Redskins 31-24
Green Bay Packers at Carolina Panthers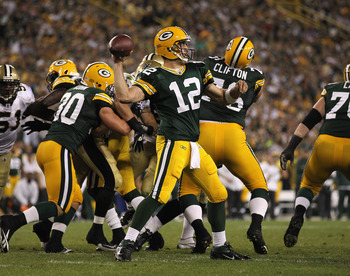 Jonathan Daniel/Getty Images
Aaron Rodgers enjoyed a field day against the New Orleans Saints as the Green Bay Packers prevailed. The bout featured the last two NFL champions, and Rodgers picked up right were he left off in the Super Bowl, picking apart the Saints defense.
Their own D left a lot to be desired, as Drew Brees threw for over 400 yards—but he is Drew Brees, and it was Week 1, so we will give them a pass.
Cam Newton silenced a lot of critics with his record-setting day. Still, he won't see a lot of pass defenses worse than the Cardinals'. Expect a much more challenging day against a defense that has Pro Bowlers all over the field, including the secondary.
Pick: Green Bay Packers 28-17
Dallas Cowboys at San Francisco 49ers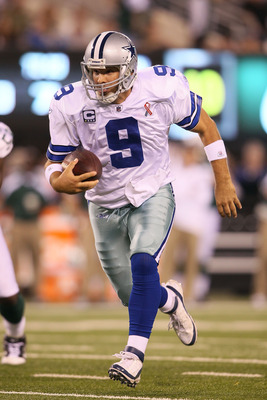 Elsa/Getty Images
The Dallas Cowboys let one slip away in Week 1. Lost in all the bashing of Tony Romo's late-game collapse (which is warranted, to a degree) is the fact that the game never would have been that close had they not let Joe McKnight come in to block a punt that immediately led to a Jets touchdown.
The San Francisco 49ers scored one offensive touchdown against a mediocre Seattle Seahawks defense. The law of averages suggest that Ted Ginn Jr. cannot bail them out on special teams again, not two weeks in a row.
Expect a statement game from a Cowboys team that should be furious for letting a sure win get away.
Pick: Dallas Cowboys 31-13
San Diego Chargers at New England Patriots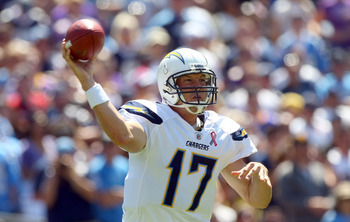 Donald Miralle/Getty Images
Lost in ESPN's obsession over Tom Brady is the fact that the New England Patriots defense gave up 416 passing yards—to Chad Henne! Plus, the play that everyone is talking about, the 99-yard touchdown to Wes Welker, never should have happened.
Sure, Henne was having a great day, but Peyton Manning he is not. There is no way he should be throwing a fade to Ben Hartline from the half-yard line on fourth down with the game's outcome in question.
Quite simply, the New England Patriots defense looked old and slow in giving up over 500 yards of total offense to the Miami Dolphins. What is going to happen when the team faces a San Diego Chargers offense featuring playmakers Phillip Rivers, Antonio Gates and Vincent Jackson?
The final score for the San Diego Chargers against the Minnesota Vikings did not look impressive, but there were positive points to build on: the defense embarrassed Donovan McNabb with 39 yards passing allowed, and it contained the dangerous Adrian Peterson. Turnovers (two) and special teams (surprise!) are the elements that need to be corrected.
As long as the Chargers special teams does not implode (no guarantee), they should handle this one in a shootout.
Pick: San Diego Chargers 41-38
Houston Texans at Miami Dolphins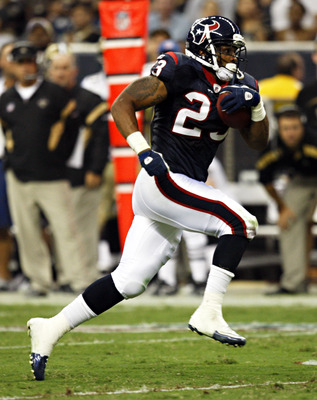 Bob Levey/Getty Images
The Houston Texans destroyed the Peyton Manning-less Indianapolis Colts. They should be considered the favorite to finally win their AFC South championship.
Arian Foster returned to practice Wednesday and should be good to go Sunday, though Ben Tate impressed with over 100 yards and a touchdown in his absence.
Cornerback Benny Sapp was cut after the embarrassing 99-yard touchdown he gave up to Wes Welker. Sapp was a mere scapegoat, as that play should not have happened. You just brought in Reggie Bush, why not let him try and take it in? I like his odds better than a Henne fade.
Plus, the fault was truly on safety Reshad Jones, who decided to jump a route on a ball he had no chance of picking off. If Jones takes the right angle, he lights up Welker, maybe breaking up the pass, but at the least stops Welker in his tracks.
On the whole, Miami did look better than advertised on Monday night, and Chad Henne's 400-yard night was encouraging. They still have work to do, but will be more competitive than many thought.
Pick: Houston Texans 21-17
Cincinnati Bengals at Denver Broncos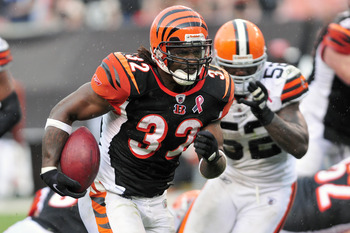 Jason Miller/Getty Images
The Cincinnati Bengals surprised a lot of fans by defeating the Cleveland Browns in Week 1. The Denver Broncos surprised no one in losing to the Oakland Raiders.
Andy Dalton impressed before leaving early with injury, but he should be ready to go come Sunday. The real story for the Bengals was the performance of recently-released (from prison) running back Cedric Benson. He went for 121 yards, including a game-sealing 50-yard run against the Browns.
The Denver Broncos defense as a whole looked better than the 2010 version. Elvis Dumervil and Von Miller will wreak havoc on a lot of quarterbacks. Still, the rush defense looked awful and gave up 150 yards to Darren McFadden on 6.8 yards per carry.
The Broncos offense looked terrible. Only a 90-yard punt return by Eric Decker kept Monday Night Football's late game interesting. Fans were calling for Tim Tebow by the fourth quarter, though don't expect Broncos coach John Fox to give in any time soon.
Expect an easy 100 yards for Cedric Benson as he helps his team grind out a win, and a shocking 2-0 record.
Pick: Cincinnati Bengals 14-10
Philadelphia Eagles at Atlanta Falcons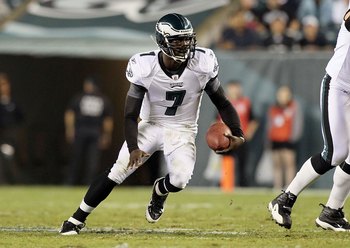 Jim McIsaac/Getty Images
The Atlanta Falcons were one of the league's surprise teams in Week 1, though the surprise was not what they had in mind. They were simply manhandled by Brian Urlacher and the Bears defense.
The Philadelphia Eagles got the win against the young St. Louis Rams, but there was a lot not to like, in spite of the 31-13 final score.
The rush defense gave up 154 total yards, 171 if you subtract the 15 Sam Bradford lost by tripping over his own feet and fumbling. Cadillac Williams had 140 total yards, and Steven Jackson had 56 and a touchdown—on two carries.
Michael Vick looked like the Atlanta Falcons version. That is great if you want highlights and a playoff appearance, not if you want to win a Super Bowl. The star quarterback completed just 14 of 32 passes, and ran for 97 more. However, he was hit 21 times—not good for a player who has played in all 16 games just once.
In picking the Rams in the upset last week, I said it would be as a result of a lack of continuity and chemistry that cost the Eagles. I will chalk some of those faults up to those deficiencies, but the "Dream Team" still has a lot to work on.
Still, I think Matt Ryan and Co. are curtailed for one more week, and the Eagles escape with a close one here.
Pick: Philadelphia Eagles 17-14
St. Louis Rams at New York Giants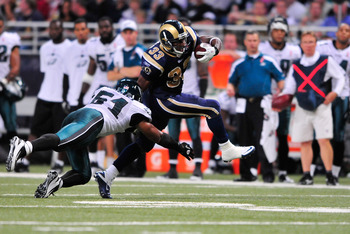 Jeff Curry/Getty Images
The St. Louis Rams played a more talented Philadelphia Eagles team more competitively than the 31-13 final score would let you believe. The team played most of the game without star halfback Steven Jackson, and momentum was probably shifted for good by Sam Bradford's "stumble fumble" that was returned for a touchdown.
The New York Giants dropped a game against a Washington Redskins team they were expected to beat. The Giants saw a 14-7 lead squandered, and they surrendered 21 unanswered points. The team has a lot of talent, but has not put it together since their 2007 Super Bowl title.
Both teams have playoff aspirations for 2011, and will be in a dog fight not to be winless through two games.
Pick: St. Louis Rams 24-20
Keep Reading