Andrew Luck and the Seattle Seahawks: A Masochism Made in Heaven
September 15, 2011
Ezra Shaw/Getty Images
Once the Seattle Seahawks replaced Matt Hasselbeck with (brace yourself) Tarvaris Jackson, I knew we were in for a long season—a notion corroborated by last week's 17-33 drubbing at the hands of the San Francisco 49ers.
Yes, the Seahawks will, once again, be a bad team. The only question is: Just how bad can they be?
Call me nuts. I understand the absurdity of this statement, really I do.
But if we're going to be bad, ladies and gentlemen, let's be bad enough.
In the not-so-storied history of this franchise, I'm sorry to admit that mediocrity is the norm. Can't we do just this one thing better than anybody else?
Another season of 5-11, 6-10, 7-9 will go over just like the ones that came before: Meekly. We'll take our medicine—with a side of homemade rhetoric about "building a team."
I know because I'm the best at taking my medicine. I'm a regular Mary Poppins.
But frankly, a 3-13 season is not all that different from 7-9 in the end. We can wax philosophical all day long about just how much such-and-such win really helped this team going forward, and that may be true. But folks, I'm tired of the runaround.
I want to get off this hamster wheel.
A prospect like Andrew Luck is a once-in-a-generation guy. The type of guy that takes a middling franchise and propels them, year after year, to greatness. We all saw what the Indianapolis Colts looked like last week without that guy (let's hope they get him back soon). Is 7-9 this year worth possibly ten years of future glory?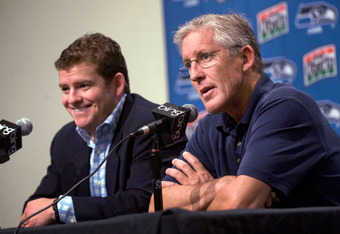 I remain optimistic about the Carroll/Schneider regime, and this is not an indictment of them. But I've seen too many good coaches get chewed up and spit out by this game because they never had "that guy." In the NFL you don't win anything important without "that guy." Not this year; not next year.
But of course you don't need the No. 1 pick to get to the Super Bowl. In fact, quarterbacks picked No. 1 overall tend to be busts more often than not.
Though it would be equally naive to think that it gets any easier to find a franchise QB elsewhere, either. It's a crapshoot. And any team without Manning (No.1 overall), Vick (No.1 overall), Rivers (No. 4 overall), Rodgers (first-round), Brees (second-round), or Brady (sixth-round) can attest to that. Those players are rare. It doesn't matter where or how you get them.
But I'm not talking about the amorphous idea of a No.1 pick in the draft here. What I'm talking about is a particular prospect. And he just so happens to be the most highly touted QB to come out of the draft since John Elway—who, as it turned out, ended up being pretty good.
It's also reasonable to suspect that, perhaps, Luck is not infallible after all. Alex Smith was supposed to be a sure thing, and we all know how that's gone. Skepticism is a healthy approach to have.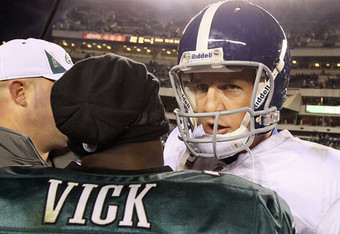 But if ever there was a time to take a shot, it's now. I sure don't want to be the one that has to look on at the new media-darling Jaguars, or Raiders and wonder "what if," while our team is still 7-9 three years later. Is that what we pay to see? Are you satisfied with patchwork offenses, retreads, and perpetual rebuilding?
I have not reached this conclusion by accident, nor do I take any great deal of solace in it. But I must be perfectly honest with myself about the place I now find myself in as a fan. As it turns out, my patience is not inexhaustible, even if my allegiance is. I haven't the opacity to anoint, yet another inconsequential season as some kind of inevitable procession towards greatness. Even if this is only the second year of our newest, truest rebuilding project.
It's vaguely reminiscent of watching a family member on life support; they just don't have the ability to do it on their own. I know it's only year two, and Carroll deserves time. But to the fans, this season may seem like a rerun. Don't be alarmed if you feel like you've seen this episode before. You have. Except the scenario of the last four years is reversed now: It's the quarterback position that has deteriorated around an otherwise improved team.
Now, let me be perfectly clear: I do not advocate that the Seahawks try to lose games. They will have plenty of help in that regard from the opposition. The only thing I can hope for is that all our suffering amounts to something.
I know of only one sure way that it will.
And so, this season I will watch each game, root for the Hawks on every snap, and then, after it's over, rejoice in defeat.
The only thing standing in our way, other than the moderate talent on this team, is the potency of our rivals' malaise.
But there is reason for hope: Buffalo, Cincinnati, Jacksonville, Oakland and Detroit all somehow managed to win last week. And while I think it's unlikely that we are the absolute worst team in the league, perhaps our tough schedule will help us to impersonate one. Don't say winning the division never did anything for us.
And on that contradictory note, I open up the floor for your mass shunning and deprecation.
I accept the criticism.
It's not easy being the one who pulls the plug on grandma.