Donovan McNabb: Is the Minnesota Vikings' Quarterback Really This Bad?
September 13, 2011
Donald Miralle/Getty Images
The Minnesota Vikings' Donovan McNabb has had a Hall of Fame career since being drafted second overall in the 1999 NFL draft.
The former Philadelphia Eagles' quarterback enjoyed a lot of success with Andy Reid in Pennsylvania. During his time there, McNabb appeared in six Pro Bowls, was twice selected as an All Pro, was once the NFC Offensive Player of the Year, won four consecutive NFC East crowns and appeared in five NFC Championship games and one Super Bowl.
McNabb did everything but win the Super Bowl in Philadelphia, and many fans will never forgive him for that, astoundingly. The franchise appreciated him, however, as he was named on the Philadelphia Eagles 75th anniversary team.
In his final season with the team, McNabb led the Eagles to an 11-5 record and a playoff spot, finishing second in the NFC East. During the regular season, he threw 22 touchdowns to 10 interceptions in 14 games. He completed 60.3 percent of his passes and threw for over 3,500 yards.
In the 14 games that McNabb played, the Eagles were 10-4, including six victories in their final seven games to secure a playoff spot. It is difficult to fathom that this is the same quarterback that threw for 39 yards against the San Diego Chargers this weekend for the Vikings.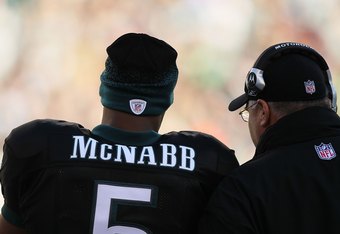 Al Bello/Getty Images
McNabb is only two seasons removed from that 92.9 rating season with the Eagles. He was traded from the Eagles after that season. He landed in Washington with the Redskins as Mike Shanahan's new signal caller.
In a now infamous move, McNabb was eventually benched in favor of Rex Grossman. His first season in Washington was the first in his career that saw McNabb throw more interceptions than touchdowns. His 77.1 quarterback rating was his worst since his rookie season.
However, statistics rarely ever tell the whole story of anything.
At 33 years of age, McNabb was likely leaving his comfort zone considering he had been playing in Philadelphia for 11 years. More significantly, he left a very talented offense for a very poor one in Washington.
You may look at the Redskins' offense from this past weekend and point out that Rex Grossman threw for 305 yards and two touchdowns with zero interceptions. However, the pieces around Rex Grossman in his first start of this season were much different from those around McNabb at this time last year.
The Redskins featured Clinton Portis in their backfield last year. Portis was slow and playing with a body that was at the end of a career of beatings. He was a broken player and didn't bring any of the intensity or explosion needed for the position.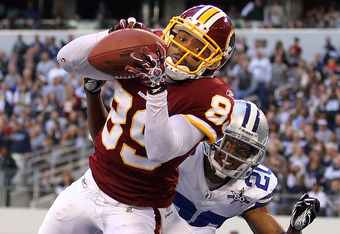 Ronald Martinez/Getty Images
Tim Hightower lined up behind Rex Grossman at the weekend but brought a lot more intensity and talent to the position than Portis did. Hightower was punishing, and while he didn't have huge statistics, he made his presence felt in the game.
Santana Moss was still standing on the outside at the first snap, but this year, he has much better receivers on the depth chart behind him. Jabarr Gaffney was brought in from Denver in the offseason to become the team's second receiver.
Gaffney is the perfect receiver for the Redskins' offense, as he runs excellent routes just like Moss. Gaffney had three receptions for 54 yards and a touchdown over the weekend. He was third on the team behind Moss and tight end Fred Davis in yards.
Last season in Week 1, Anthony Armstrong was the only receiver with a catch besides Moss, as he had one reception for 11 yards. This year, Armstrong was demoted to the third choice receiver, while Fred Davis' emergence gave them another strong receiving threat to free up coverage.
At times last year, Joey Galloway was getting time on the field for the Redskins at 39 years of age. This season, Donte' Stallworth is the team's fourth-choice receiver when he would have been a starter last year.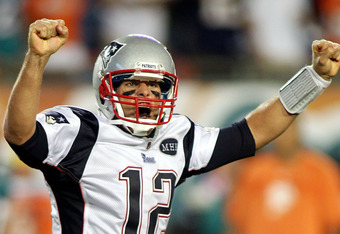 Marc Serota/Getty Images
When you evaluate quarterbacks, you have to remember that football remains a team game where the quarterback relies on the talent around him almost as much as they rely on him.
Look at Tom Brady in New England. Throughout his lengthy career, he has had a lot of talent around him and just average pieces around him at various stages. When he had the talent, he got the best out of it and flourished by breaking records; without it, he was still good, but not as good as he has been in recent times.
McNabb now finds himself in Minnesota after being traded for the second time in 14 months.
His debut didn't go so well, as the Vikings lost to the Chargers while McNabb himself ended the game with a 47.9 rating. However, McNabb has potentially landed in an offense even less talented than that in Washington.
If you take Adrian Peterson out of this team, there is very little so far as playmakers on the Minnesota roster. Peterson is running behind one of the worst offensive lines in football that is even worse in pass protection.
Charlie Johnson was the starting left tackle in Indianapolis for the majority of the last few years as Peyton Manning was repeatedly abused by opposing pass rushers. Johnson is a major reason why Manning is currently in the situation he is in and why he had such a poor season last year.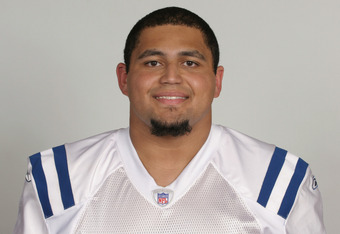 Handout/Getty Images
His feet are slow and he lacks the strength to withstand the bull rush. Manning looked poor with him at left tackle. The Colts QB overcame most offensive line issues over the years with his intelligence. McNabb has gone from having Jason Peters protecting his blindside in Philadelphia to having one of the worst tackles in the league.
The other side of the line isn't looking good for McNabb either, as Phil Loadholt looks more like a right guard than a right tackle. The interior of the line also isn't what it used to be, as Steve Hutchinson has been in decline and Anthony Herrera and John Sullivan are reliable if unspectacular.
He does have two reliable tight ends in rookie Kyle Rudolph and veteran Visanthe Shiancoe at his disposal, but neither player is going to give you many big plays. It's not like those two can affect defenses in the way Aaron Hernandez and Rob Gronkowski can in New England.
They are reliable pass catchers and good route runners, but not game breakers or significant matchup headaches.
Worsening that is the lack of talent at receiver. Percy Harvin has gone from the third receiver on the team to having to carry the load. Harvin was the third receiver as a rookie behind Bernard Berrian and Sidney Rice, which made him almost impossible to match up against.
Now that Rice is gone and Berrian is a shadow of his former self, Harvin can be focused on by the defense's coverage. The Vikings have solid receivers behind him, but none are scaring defenses or are viable second-choice receivers.
Michael Jenkins was unimpressive in Minnesota and looks to be the starter across from Harvin. With he, Greg Camarillo, Bernard Berrian and Devin Aromashodu, the Vikings receiving corp is lacking the talent of a Jeremy Maclin, Jason Avant and DeSean Jackson that McNabb had in Philadelphia.
Sure, that's comparing the best in the league to the worst, but that is the gap in what McNabb now works with. The Vikings look to have recognized this issue, as Percy Harvin was used in various ways last Sunday to get the ball in his hands.
After taking the opening kickoff to the house, Harvin had more rushing attempts than receptions and more rushing yards than receiving yards on offense. When McNabb's best weapon can only get free by lining up in the backfield, how does anyone expect him to put up respectable numbers?
With Donovan McNabb, the best way to evaluate him is to simply ask yourself how effective would Tom Brady or Peyton Manning be in this offense? Would they be that much better after leaving the comfort zones of their respective teams?
Both the Colts and Patriots have very talented offenses surrounding their quarterbacks. The Colts may have looked horrific at the weekend, but no quarterback can pick up that system in a few weeks as Kerry Collins was asked to do. Curtis Painter simply isn't very good also.
If Donovan McNabb had Reggie Wayne, Dallas Clark, Austin Collie and Pierre Garcon catching his passes, would he only throw 39 yards?
At 34 years of age, McNabb has obviously declined somewhat. All players do—exceptions of Brett Favre and Tom Brady proving the rule—however, McNabb's athleticism is still viable, as he rushed for 32 yards at the weekend and still has his arm strength.
Donovan McNabb may not be an elite quarterback in the NFL anymore; however, he is definitely not as bad as his 47.9 quarterback rating.
Statistics tell you a lot about football, but statistics don't run out on the field on Sundays.