The New England Patriots: Postseason Problems and Solutions
September 18, 2011
Jim Rogash/Getty Images
It's a given folks—the Dynamic Duo of Top Gun Tom Brady, and the sapient coaching of Bill Belichick will propel the three-time Champion New England Patriots back to the postseason.
Indeed most NFL pundits would agree, that the lethal combination of Brady and Belichick make the Patriots perpetual postseason favorites—but how far will they advance has become a worrisome problem. As of late, they have only been postseason attendees—then swiftly ejected spectators like the rest of us. 
Great expectations for the New England Patriots were started back in 2002 in that infamous Tuck-rule game with the Oakland Raiders. On that cold snowy day, the Tom Brady legend began. The Patriots would go on to win three Super Bowls in four seasons, creating a dynasty rivaling the Pittsburgh Steelers.
Then came Spy-gate in 2007. The darling team of the media, the New England Patriots would be accused and found guilty of illegally taping practices and using other surveillance equipment during games dating back to their first Super Bowl victory with the St. Louis Rams. This was a devastating blow to the whole organization but specifically Tom Brady and coach Belichick, whose integrity was now questioned.
Especially since the Patriots winning ways were carving a spot in NFL history as the greatest team of all-time. Many questions were never answered as the Commissioner destroyed the evidence. For instance, did the Patriots electronically steal live play calls during games? Were these stolen signals sent into Tom Brady's helmet during actual games?
Folks, we will never know, but one thing for sure, it lit a fire in the Patriots belly that year as they went on to win every single game in the regular season only to lose the most important game of the year—the Super Bowl. Was this a judicial act of the Divine, it well may be, but let me offer an earthly pragmatic solution to solve the Patriots postseason woes.
Some people, and I am one of them, think that part of the postseason problems with the New England Patriots is occupational burnout. Each week, you hear Tom Brady, parroting coach Belichick about mistakes they made in games—most of which were lopsided victories by the Patriots. 
I am starting to wonder if coach Belichick has lost the motivational pages to his playbook, especially the part that says it's okay to feel good about winning. I think by the end of the regular season, coach Belichick mistakenly has the Pats players thinking more about mistakes they might make, then the good things they have accomplished—if true, a formula for failure for sure.
It's just part of a football team's natural psyche to rise and fall emotionally over a 16 game season.  If locker room chatter is to be believed, and interpreted correctly, coach Belichick seemingly appears to put so much pressure on his players to be perfect during the regular season; essentially demanding playoff performances right out of the gate—there is no place to go in the postseason but down and out. 
Whether this assessment has some merit to it or not, may be given some credibility by last year's stunning loss to the NY Jets after the Pats blazing 14-2 start, and the Patriots 2007 run to perfection, only to be hijacked by the New York Giants in the most important game of the year.
The second postseason problem I see with the Patriots is that coach Belichick has put the weight of the fourth Lombardi trophy squarely on the shoulders of the already overburdened Tom Brady—who for lack of any other quality assets now becomes the bull's eye of any opposing defensive scheme.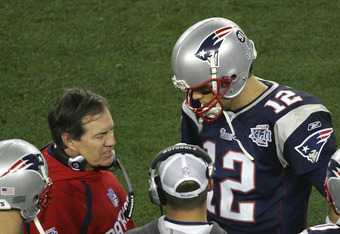 Jim McIsaac/Getty Images
This makes the strategy much simpler for defensive coordinators, although the prosecution of such is always challenging with the Patriots almost impenetrable offensive line.  The NFL has become a passing league for sure. However, make no mistake though; come playoff time, you better have some kind of running game that defenses respect on third and short, or your postseason ride is over.
Looking back over the Patriots' championship years, power back Antowain Smith, and the bruising Corey Dillion, gave New England Patriots the moxy to pass when all cylinders on defense were on run. This got the bull's-eye off of Tom Brady's back and allowed Tom to work his magic. Investing in your running game early in the regular season, not only gives the offensive line reps at refining their run blocking craft, but pays dividends in the postseason.
The current combination of BenJarvus Green-Ellis, and body-like-a-gymnast Danny Woodhead, are talented for sure, but neither have that bull's-eye x-factor—you know a gut check runner, that runs over and through you.  Postseason defenses just don't fear these two on third down and short, nor Tom's QB sneak play. All of which have proven to be ineffective in the postseason.  Most of the Patriots breakout runs are from smoke and mirror plays: spread formations, usual passing situations that can catch defenses off-guard.
A championship team must have some semblance of a power run game—otherwise defenses will pin their ears back and wreak havoc. Given coach Belichick's understandable penchant for the passing game with Tom Brady at the helm, he needs to go back into his memory bank and review his past template for success, which was big strong threatening running backs.
When Patriots offense steps out on the field in the postseason, at some point they will meet a team, with skilled personnel that can play press coverage, makes clean tackles and has an aggressive pass rush. This is the template to breaking the Patriots offensive wheel-house. Tom Brady is not a quarterback who is used to being under pressure—credit to his great o-line, but then trying to temper the pressure by turning to an un-invested running game, it's too late—they don't have the backs and apparently the interest either.
The defense has no leader. A disciplined defense, with a dedicated coordinator is critical. Such was the case during the championship years, led by the quintessential team leader, Teddy Brushci, who knew how to kill-off game winning offensive drives, is sorely missing from this team.  Why coach Belichick continues in the roll of defensive coordinator, when his defense has struggled in crucial games is curious to me. It's time to hire a defensive coordinator.
Finally, until coach Bill Belichick comes to the humble realization that the rest of the league is not sitting on their laurels praising the Patriot template, like most of the media commentators do. Instead defensive coordinators have figured out how to beat this Humpty Dumpty, one egg in the basket offense—Tom Brady, who if cracked in a game, all of King Belichick's men can't put Tom back together again.  Unless coach Belichick addresses these issues—three Lombardi's are the final resting place for Tom Brady and Bill Belichick's storied careers.