Raiders vs. Broncos: 11 Biggest Plays from Monday Night Football
September 13, 2011
Ezra Shaw/Getty Images
Welcome to the NFL, Von Miller 
On Oakland's first offensive play of the game, No. 2 overall pick Von Miller lit up Jacoby Ford, and the rookie forced a fumble on his first-ever NFL play.
Denver was in prime position to score the game's first touchdown, but settled for a field goal.
3-0 Denver 
Darryl Blackstock blocked punt, 4:00 left, first quarter 
Denver punter Britton Colquitt (who had a 66-yard punt later in the game) was set to pin Oakland deep in its own territory and give Denver a nice little advantage in the battle for field position. Then Darryl Blackstock busted through the line and blew that idea up.
The reserve linebacker blocked the punt, and just like that Oakland had the ball at Denver's 42-yard line.
Still, it would have all been for nought if not for Darren McFadden's 20-yard run on 3rd-and-13. That impressive rush was followed by Jason Campbell's eight-yard scramble on 3rd-and-8 to set up 1st-and-goal. 
Oakland finally capitalized on Blackstock's big play with a three-yard touchdown pass to Marcel Reece.
10-3 Oakland 
Pass defense by David Bruton with 1:30 left in the first half
The Oakland Raiders were poised to take a 17-3 lead heading into halftime. Judging by the performance of Denver's offense thus far in the game, that may have been enough to seal a win for Oakland.   
Instead, Denver Broncos safety David Bruton dove out of nowhere to break up a pass to Raiders tight end Brandon Myers, who seemed wide open a split-second ago. 
Brian Dawkins certainly helped Bruton keep the game in play with a great pass rush, leaping over Darren McFadden that reminded fans of his days with the Philadelphia Eagles. 
Interception by Matt Giordano with :24 left in the first half
Just as the Denver Broncos stopped Oakland Raiders points from going up on the board, Oakland returned the favor on the next drive.
Denver seemed to have something going with less than a minute left in the half when Kyle Orton lobbed it up for Brandon Lloyd. Unfortunately for Orton and the Broncos, Giordano cut in front of the pass to pick it off.
Which led to…
Sebastian Janikowski's record-tying field goal just before halftime
Just before halftime, Oakland Raiders kicker Sebastian Janikowski nailed a 63-yard field goal, which tied an NFL record. Janikowki's kick would prove pivotal later.         
More important than Janikowski's field goal is what he can produce on every Raiders score. For a player who has split the uprights at the old kickoff distance, my question is this: Will Janikowski have a kick returned all season?
16-3 Oakland 
Eric Decker's 90-yard punt return with 12:45 left in the third quarter
The Denver Broncos offense had not done a thing all night and seemed poised to be pinned deep within its own 20-yard line. 
Then, Eric Decker jump-started Denver's hopes with an electrifying 90-yard punt return for a touchdown to keep the Broncos in the game, 16-10.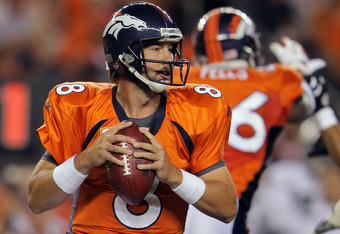 Doug Pensinger/Getty Images
Knowshon Moreno leaves two Oakland Raiders jocks on the turf with 3:30 to go in the third quarter
The Denver Broncos offense was looking anemic closing in on the fourth quarter. Then Knowshon Moreno took a short, mundane Kyle Orton pass and turned it into an electrifying, ankle-breaking run to put the Broncos in prime position.
Accordingly, Denver did not completely capitalize, but did get three points out of the possession to close in.
16-13 Oakland
Kyle Orton's fumble with 14:11 to go in the fourth quarter
This is not so much a highlight as it is a Kyle Orton lowlight. The Denver Broncos seemed ready to put something together early in the fourth quarter and Orton had receivers open deep, when…
He dropped the ball, and Lamarr Houston picked up the fumble.   
Darren McFadden capitalizes quickly with a 47-yard run with 14 minutes left
McFadden's explosive run is followed by a Jason Campbell one-yard plunge to put the Oakland Raiders up.
23-13 Oakland 
Kyle Orton's fourth-quarter drive
Denver's offense had looked pretty bad throughout the first 52 minutes of the game. The "Tebow" chants were coming out, as Denver Broncos fans were mercilessly booing Kyle Orton. 
Then Orton inspired hope with a little magic of his own. A few 15-yard passes, including a great completion on 3rd-and-10 to Eddie Royal put Denver in the red zone. 
Then Orton again capitalized on third down with a dump-off to Lance Ball that saw the reserve back leap over an Oakland defender en route to the touchdown, bringing the Broncos to within three points.
23-20 Oakland 
Michael Bush's game-clinching run with two minutes left in the fourth quarter
The Denver Broncos were still alive for an ugly win. Then Michael Bush put an end to that with a punishing run for a fresh set of downs, just after the two-minute warning. Bush's run put the game away for the Oakland Raiders.
Thanks for reading! You can follow Alexander on Twitter @thesportsdude7 or on his Bleacher Report profile.