NFL Power Rankings: Which Teams Are Flying Up Rankings After Week 1?
September 13, 2011
Larry French/Getty Images
The first week of the NFL season is always filled with eye-opening results and this year was no exception. Several teams expected to be playoff contenders laid an egg in their opening game and just as many solidified their position as a contender.
These three teams will be among the biggest movers in NFL power rankings heading into week 2.
Baltimore Ravens
The Ravens made a huge statement by winning their season-opening game against the Pittsburgh Steelers. Not only did it give them the upper hand over the Steelers in the division early on, but it might end all the talk that the Ravens aren't a team on par with Pittsburgh.
It will still be a dead-heat race to determine the AFC North champion, but the Ravens certainly helped their case with a blowout win over their rivals in Week 1.
If Baltimore ends up as a team fighting for a spot in the Super Bowl at the end of the season, we will look back on that Week 1 win as a turning point for the franchise.
Houston Texans
No one is going to get overly excited about a win over the Colts without Peyton Manning, but the Texans couldn't have looked much better in getting that win.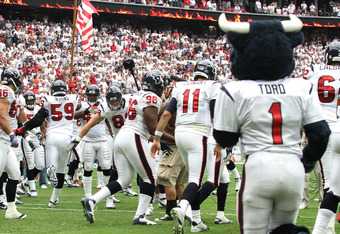 Thomas B. Shea/Getty Images
The offense looked just like it has for the last several seasons and the defense looked much improved. The front seven spent the entire game in the face of quarterback Kerry Collins and when Collins did get passes off, the secondary was aggressive in playing the ball.
After all this time, it finally looks like the Texans have turned the corner and taken the next step to becoming a serious playoff contender.
Washington Redskins
I'm not ready to say that the Redskins are anything more than a middle of the road team in the league, but in their Week 1 victory over the Giants, they showed that they can compete on any given week.
Rex Grossman made some plays and stayed away from turnovers and their new-look defense was all over Eli Manning and the Giants' collection of running backs.
The Redskins lack talent in many key areas and their schedule won't do them many favors, but for now, the Redskins have done more than many to show that they should be much higher in power rankings.
Joseph Healy's NFL Power Rankings for Week 2
1. New England Patriots
2. Green Bay Packers
3. Philadelphia Eagles
4. Baltimore Ravens
5. Pittsburgh Steelers
6. San Diego Chargers
7. New Orleans Saints
8. Houston Texans

9. New York Jets

10. Atlanta Falcons
11. Chicago Bears
12. Detroit Lions
13. Tampa Bay Buccaneers
14. St. Louis Rams
15. Dallas Cowboys
16. New York Giants
17. Jacksonville Jaguars
18. Arizona Cardinals
19. Minnesota Vikings
20. Indianapolis Colts
21. Buffalo Bills

22. Oakland Raiders

23. Tennessee Titans
24. Kansas City Chiefs

25. Miami Dolphins

26. Washington Redskins

27. San Francisco 49ers

28. Carolina Panthers
29. Cincinnati Bengals
30. Cleveland Browns
31. Seattle Seahawks
32. Denver Broncos