Rex Grossman, Washington Redskins Prove Doubters Wrong
June 23, 2016
Ronald Martinez/Getty Images
Suffice it to say, there was a point in this game where I figured that everything was exactly the same as it used to be.
Early in the game, my head began to throb.
Rex was having trouble moving the ball. The offensive line was struggling. The defense couldn't quite stop the run. Notoriously immobile Eli Manning scored a rushing touchdown, and I felt like I had to stop watching.I turned on the free view of NFL Red Zone and was prepared for a long day.
Apparently, the Redskins knew something I didn't. Eli Manning scored a touchdown, and the Redskins turned right around and marched down the field.
A year ago, I'm almost positive that would've been it. The Giants would've gone up, the Redskins would've been down, and that was the end of that. Game over, man, game over.
But this time, the Redskins' resolve did not break. In fact, it appeared stronger. They didn't look like they were panicking.
The Redskins didn't waiver in the face of the team, who had beaten them six straight times, scoring a touchdown. 
The offense responded by Rex Grossman playing one of the best games of his career. In three of Grossman's four starts as Redskins quarterback, he's thrown for over 300 yards.
When Grossman was announced as the opening day quarterback, many rolled their eyes, and a team that many had sold as a below-.500 cellar dweller looked even worse.
"Rex Grossman? He sucks! Did you see him play for the Bears! He's awful! He'll never be more than a back-up in the NFL!" were regular comments.
Well, the quarterback looked like a starter on Sunday.
He finished 21-for-34 for 305 yards and two touchdowns. The Giants stacked the box to stop Tim Hightower from breaking out against them, and when called upon, Grossman answered.
He was sacked, he was hit, but he got up after every one, time and time again. After hanging some receivers out to dry early, he found his groove and threw some nice passes, including the beautiful fade to Anthony Armstrong for his first touchdown of the day.
On NFL Network's "No Huddle," Hall of Fame running back Marshall Faulk asserted that the Redskins would be better than anyone thought.
Fellow Hall of Famer Michael Irvin replied, "Who are they going to throw the ball to?"
Well, Fred Davis, for one.
The young tight end came into camp in the best shape (physically and mentally) of his career, and it showed. He finished with his first 100-yard receiving game, notching five catches for 105 yards.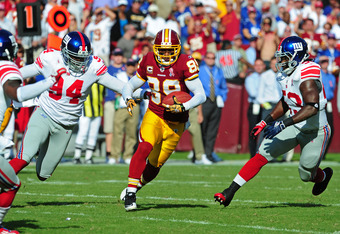 Scott Cunningham/Getty Images
Armstrong dropped a couple balls he should've had (and he will kill himself over it), but his touchdown catch mirrored a play call from last season. Only this time, he caught the ball when it counted.
Not to mention a truly nuts lay out catch which set up Hightower's first touchdown as a Redskin.
Santana Moss was reliable as always, with six catches for 76 yards, and former Bronco Jabar Gaffney made his presence known as well with three catches for 54 yards and a touchdown, that iced the game for the Redskins.
People had better believe that offensively, the Redskins finally have some solid offensive firepower, and they can attack in a variety of ways.
But perhaps more impressive was Washington's defense. The defense kept Manning in check the entire day.
The Giants offense could only muster one third down conversion in 10 attempts.
A pair of rookies picked on opposite sides of the draft came up huge with momentum changing plays. Outside linebacker Ryan Kerrigan, a first-round pick, notched his first career interception and his first career touchdown. Seventh-round pick Chris Neild recorded two sacks.
Additions from our division rivals helped as well.
Barry Cofield helped create pressure all day and Stephen Bowen got a sack without that hideous star on the side of his helmet. Adam Carriker continued his growth, sacking Manning.
And where would this defense be without London Fletcher? The linebacker is undoubtedly the leader of the defense, and at 36 years old, he flew around like crazy, making plays and stuffing the Giants on a fourth and one.
Someone has to give punter Sav Rocca some love. Why did the Eagles let Rocca go. He pinned the Giants inside the 20 (if not inside the 10) on nearly never punt.
Graham Gano missed a field goal, but he didn't miss any extra points and was booming kickoffs about five rows up into the stands, and Brandon Banks had a nice punt return, when they bothered to actually kick to him.
This was as complete a team win as has been seen in Washington in a long time.
The Redskins went up by two scores, and for the first time, it felt as though they had the game. They played well on all levels, and at least for the time being, have quieted the haters.
Yes, it's only week one. Yes, the Giants were depleted by injuries. But in the past, the Redskins wouldn't have been able to take advantage of injuries and mistakes made by the opposite team, and instead made dumb mistakes to negate them.
But a win is a win, and this a total team win. The Redskins haven't fielded a consistent winner in a long time.
It usually had to be some extraordinary effort by an individual, or by one side of the ball. This time, neither the defense, the offense or the special teams had to bail out any other unit. They played together, in unison.
And it feels good. It feels better than beating Dallas on opening week last year. That game felt like a fluke. This game felt like a well-earned victory.
It remains to be seen if the Redskins can keep it up. But the Redskins deserve to be applauded and congratulated for not only playing like a team, not only getting a victory, but also turning down a victory Monday and a day off to get right back to work to prepare for the Arizona Cardinals.
It's been rare to feel really proud of the Redskins lately. This time, in this game, made me feel as proud as I've felt in my time as a young Redskins fan.
Here's to many more victories.