2011 NFL Predictions: The New England Patriots Take the AFC East
September 8, 2011
Elsa/Getty Images
It's finally here—Kickoff Thursday.
Actually, that still kind of feels awkward to say. It still feels like it should be Kickoff Sunday.
Giving us tonight's game is like getting to open one Christmas present on the 22nd. No one's going to say no to the idea, but it does make those next couple of days an excruciating wait. So let's enjoy tonight, and then we can look forward to gorging on football that counts being played at its highest level this Sunday. 
With these games that count, I'm going to continue to bring you knowledge and hopefully some fun all season long. The regular season column will start running in full next week, and will be a mixture of looking back on the week that was and looking forward to the week that's coming up.
Just to get things started, here's a breakdown of tonight's game. In the regular column I'll do this for every upcoming game, plus have a few fun sections looking back on what we saw the week before. 
Saints (0-0) at Packers (0-0)
What a matchup to start off the season. The defending Super Bowl champs get a home game under the lights, and we get to see them face off against one of the best stories in recent football memory in the revamped New Orleans Saints. 
What Type Of Game to Expect to See: High scoring and fast paced. The Packers run a forward thinking, vertical passing game. Plus, they let it leak that they've been practicing an up-tempo no-huddle attack. The Saints won't back down from that pace, as they also love to stretch the field. Expect to see lots of offense and lots of points.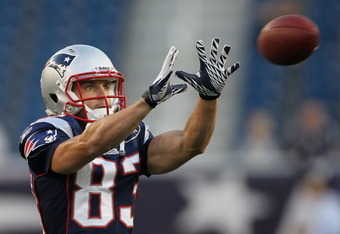 Jim Rogash/Getty Images
Key Matchup: The quarterbacks. We've got two of the best on display tonight. If you have a young signal caller around tonight, have him watch these two guys to see how to get the job done. 
Risky Prediction: The Packers struggle out of the gate. This team has spent the last six months hearing how great they are; it's going to be a shock to be back on the field again. 
Who wins and why: I'm going to go with the Packers, mostly because they're at home. Also because their defense will make more plays than New Orleans' defense will. Neither team will dominate on the defensive side of the ball, but Green Bay's defense has the playmakers to make those couple of key plays that will give them the edge.
Make sure to check out the column this season, and in case you missed it, here is last week's AFC North Preview. 
For now, enjoy our look at the AFC East and Happy Football-Watching!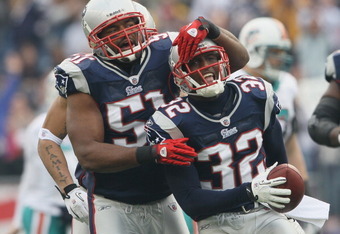 Elsa/Getty Images
2010: 14-2
Better or Worse in 2011: Worse, I guess, just because it's hard to think any team is going to get 14 or more wins 
So huge disclaimer here: I'm a Pats fan. Have been since before I can remember.
My dad, who's been a fan since the Boston Patriots played in Harvard Stadium, invented "The Sports Watching Club" just to con me and my brother into watching the Patriots with him when we were so young we weren't even in school yet.  
Okay, disclaimer aside, this Patriots team is primed to make a serious run at a Super Bowl in 2011. They have the best quarterback alive, a deep receiving group, and a re-stocked running back corps. Their defense has been the weak link for a few years, but now their young players have grown into their roles and the coaching staff is really starting to get into their groove, gam-planning and play-calling to their strengths. 
The reality is that as long as Tom Brady stays healthy the Patriots are going to be a championship contender, and this could be the year that the defense finally doesn't let him down in the playoffs. 
Offense
Important Acquisitions: Chad Ochocinco, Stevan Ridley (R), Brian Waters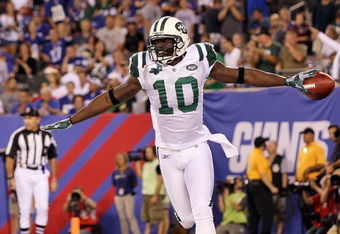 Jim McIsaac/Getty Images
Toughest Player Losses: Alge Crumpler
Key Player: Benjarvis Green-Ellis
The "If" Factor: Low. This offense comes back with all the key pieces in place
2010 Offensive Ranking: 11th Passing, 9th Rushing 
The Patriots offense is led by the best quarterback in the league. While Tom Brady is a guy that elicits all kinds of reactions from fans, his results can't be denied. 
The team once again has a good group of running backs, having replaced veterans like Sammy Morris and Kevin Faulk with draft picks Stevan Ridley and Shane Vereen. Ridley is a shifty runner who isn't afraid of contact, and Vereen is a good pass-catching third down type. They'll be solid backups for the two undersized first string ball-carriers Benjarvis Green-Ellis and Danny Woodhead. 
The receiving group is again coming into the year with several question marks, like can Ochocinco pick up the offense and can Deion Branch still be effective, but we've seen before that Tom Brady can make his receivers better and he doesn't need to be throwing to superstars to put up points. One way that the Patriots will make up for their lack of depth at receiver is to use their two second-year tight ends, Rob Gronkowski and Aaron Hernandez, in the passing game.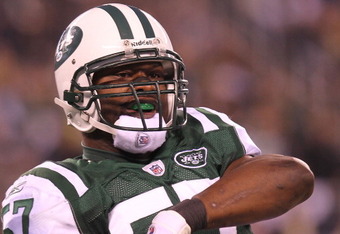 Nick Laham/Getty Images
One thing that could stop this offense from being one of the best around could be the ability of the offensive line to protect Brady. The left tackle, Matt Light, struggles against top level speed rushers coming off the corner, and his backup is an untested rookie in Nate Solder.
Logan Mankins is as good as they come, and I'm glad the team was able to lock him up for the long term. Dan Koppen is solid at center, but the right side of the line scares me. Dan Connelly is good against the run but can struggle in pass protection and Sebastian Vollmer is another project that has plenty of size but the jury is still out whether or not he has what it takes to be an every-down tackle in the NFL. 
This offensive unit would be average at best if you swapped out Brady for an average quarterback, but with Brady under center they'll put up the type of points it will take for New England to get back to double digit wins. 
Defense
Important Acquisitions: Albert Haynesworth, Shaun Ellis, Mark Peterson, Andre Carter
Toughest Player Losses: Tully Banta-Cain, James Sanders, Brandon Merriweather
Key Player: Jerod Mayo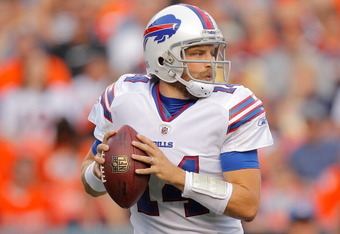 Justin Edmonds/Getty Images
The "If" Factor: Actually kind of high. I can't believe how much I've already talked myself into guys like Spikes and Cunningham
2010 Defensive Ranking: 30th Passing, 11th Rushing 
The big question for 2011 is in what defensive front this Patriots team will line up. In the past they've used an ever adapting 3-4 system to confuse opposing blocking schemes and create mismatches along the other team's offensive line. 
This year they brought in a plethora of players who fit into the 4-3 more than they do the 3-4, so rumors have run rampant that the Pats will be using an old-school 4-3 this year. I'm on record as suggesting that New England may show more 4-2-5 than anything else (which they did in the first half of the last preseason game against the Detroit Lions), but all signs point towards them unleashing an aggressive, attacking style 4-3. 
They have all the pieces in place, from defensive lineman who can demand double-teams (Wilfork, Ellis and Big Al) to the linebackers who can get after the other team's offensive backfield (Mayo, Cunningham and Spikes), to the defensive backfield (Chung and McCourty) that can take advantage of the mistakes that the front seven will create. 
Mayo is the most important of the bunch, this could be the year that he steps up and joins the ranks of the elite linebackers in the NFL. 
If he does, this New England defense will be back to the level it needs to be to help their high flying offense to a championship. 
2010: 11-5
Better or Worse in 2011: Worse 
This Jets team, if nothing else, is always interesting. They were one of the most talked about teams again this offseason, either being actually involved or rumored to be involved in pretty much every big time free agent. While some of the rumors turned out not to come true, like pairing the two best cover corners in the league together on the same defense, some of the rumors turned out to be very real, like signing the player with the highest "if factor" around in the newly free Plaxico Burress. 
The Jets have been knocking on the door of the NFL elite for a few years now. Is 2011 the year they finally kick the door down and force their way into the club? 
Well, I'll say possibly but not likely. Possibly because they should be in contention for a wild card spot and we've all seen that once you get into the playoffs, anything can happen. Not likely because they've gotten a lot of breaks the past few years, and still haven't been able to get all the way to the Super Bowl, and this year's squad isn't as talented as last year's was.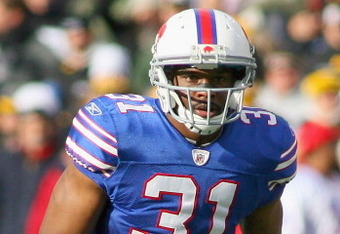 Rick Stewart/Getty Images
The defense will continue to carry the load, but the team is only going to get over the AFC Championship game hump if quarterback Mark Sanchez can continue to progress and get better. 
I just don't see him, or this team as a whole, having that kind of top end potential. Then again, after what we've seen out of them in the last two playoffs, I wouldn't want to be facing them come January.
Offense
Important Acquisitions: Plaxico Burress, Derrick Mason
Toughest Player Losses: Braylon Edwards, Brad Smith
Key Player: Mark Sanchez. This team will only go as far as he can take them this year
The "If" Factor: Very high
2010 Offensive Ranking: 22nd Passing, 4th Rushing 
This Jets' offense is about as old-school as you're going to see on an NFL field. They run the ball well, mostly because they run it a lot. They were fourth in yards gained on the ground last year, but they were second in the league in rushing attempts.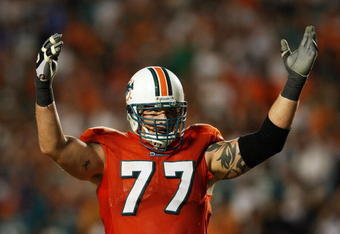 Doug Benc/Getty Images
They run as much as they do because up until now their quarterback, Mark Sanchez, hasn't shown the ability to spread the field vertically with his arm. He has weapons around him, though. The Jets bring back their top option in Santonio Holmes and have high hopes that Plaxico Burress can at least replace what they lost in Braylon Edwards. The key guy here will be tight end Dustin Keller, a good receiver who has the potential to put up big numbers if he becomes the second option for Sanchez. 
The running game will again be based around Shonn Green, but whether it can move the chains at the same level as it did in 2010 will center around whether or not LaDanian Tomlinson has anything left in the tank. Most people, me included, thought he was done going into last year, but he proved us all wrong. Will this be the year that his legs let him and the Jets down? 
If so, it's going to be a tough year for this offense. Sanchez has yet to show that he is anything better than a mediocre NFL quarterback who can take advantage of defenses bringing extra defenders out of pass coverage to stop the run. If those same defenses no longer feel the need to take those players out of the coverage schemes, Sanchez is going to be forced to show that he has the ability to be the guy in charge of moving the ball.
Defense
Important Acquisitions: None
Toughest Player Losses: Shaun Ellis, James Ihedigbo
Key Player: Jim Leonard
The "If" Factor: Low, this defense is good because of its scheme is ahead of the curve
2010 Defensive Ranking: 6th Passing, 3rd Rushing 
For the past two years, or more specifically since Rex Ryan took over as head coach, the Jets have had the most destructive defense in football. Destructive doesn't always mean best, but it can certainly mean a few extra wins. 
They bring back all of the key players from the past two years, including two of the best one-on-one cover guys in the league, Revis and Cromartie. One has his own island and one has more kids than he can count on both hands. Put them together and you get a unique set of corners who give Rex Ryan the ability to use the other 9 players all over the field, because both of the corners can lock down whoever is lined up in front of them. 
That's a huge advantage, and that's the reason why this defense gets so much pressure on quarterbacks and plugs all the holes in the running game. I mean, when you look at the rest of this defense you have to ask yourself how they've been so good?
The rest of the players are decent at best, but it's the schematic advantages that Revis and Cromartie give this defense that puts those average players in above average positions to be successful. If you gave Rex Ryan dominant lineman and linebackers, like he had back in the day in Baltimore, this defense would be truly dominant, even in today's era of high scoring offenses.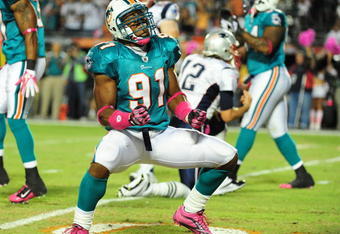 Scott Cunningham/Getty Images
The one player who is underrated on this squad is safety Jim Leonard. Leonard is a guy who Ryan had as a young player in Baltimore, then brought him to the Big Apple because he's a tough guy who is always in the right place in this complicated defensive scheme. 
The defense will be good, no doubt about it, but if they can get above average performances from guys like Leonard and Bart Scott, this Jets team is going to be one tough team to beat come playoff time. 
2010: 4-12
Better or Worse in 2011: The same 
I wasn't going to include the Bills in my previews this year because I thought they had finally made their move to the CFL. When I saw them still on the schedule this season I was confused. Don't they play in Toronto now? 
Oh well, if they're still here then we'll go over them. 
Once again they'll be bad. Shocking, I know. Not enough analysis for you? Alright, they'll be really bad.
The only reason I don't think they're going to be the worst team in the league is because there are teams out there actually starting people at quarterback like Tarvaris Jackson and Rex Grossman, and Ryan Fitzpatrick is actually a half decent quarterback. Not good mind you, but actually one of the 32 best signal callers alive, which is more than I can say for some other team's week one starters. 
That quarterback, a solid running game, and a defense that was surprisingly good against the pass last year will mean they'll win a few games, but not much more than that.
Offense
Important Acquisitions: Brad Smith
Toughest Player Losses: Lee Evans, Jonathan Stupar
Key Player: C.J. Spiller
The "If" Factor: Kinda high here, this offense could be better than it looks
2010 Offensive Ranking: 24th Passing, 18th Rushing 
If I told you that there was a professional football team that had a starting quarterback from Harvard, a starting running back from Coe College (it's real), and a number one wide receiver from Kentucky, would you believe me?
Welcome to the world of the Buffalo Bills. And the best part is that all three of these guys are underrated. Ryan Fitzpatrick is capable at quarterback, Fred Jackson consistently gains yards on the ground, and Steve Johnson is a legit top level deep threat. This is starting to sound pretty good, right? 
Don't get ahead of yourself, it goes downhill pretty fast from there. Their next two receivers aren't very good and their offensive line is mediocre at best. 
The one thing that could make a difference for them is if their first round pick from last year, running back C.J. Spiller, has his breakout season. It'll be tough for him to be a top back with the Buffalo offensive line in front of him, but he has the raw skills to be a dynamic playmaker. 
This Buffalo offense will move the ball, but unless Spiller can provide some big plays, they'll again struggle to put up many points.
Defense
Important Acquisitions: Kirk Morrison, Nick Barnett, Marcell Dareus (R)
Toughest Player Losses: Paul Posluszny, Donte Whitner, John McCargo
Key Player: Shawne Merriman
The "If" Factor: Low
2010 Defensive Ranking: 3rd Passing, 32nd Rushing 
I've always wondered why Buffalo doesn't build it's team around a strong defense. It seems like the kind of city that should. It's cold, windy and snowy there. Wouldn't they be one of the few teams that would actually benefit from forcing visiting teams to play against a strong, run-stuffing defense? It couldn't hurt, right? 
Instead, when I think of good Buffalo teams I think of the K-Gun offense, a squad and a system way ahead of their time that dominated through wide-open multiple-receiver sets and a dominant quarterback.
But that was a long time ago, so why hasn't this team tried to bulk up on their defensive ranks? The answer is they have, or tried to, at least. 
Looking at their defensive roster, the only player who stood out as a first-round pick (by Buffalo) is this year's pick, Marcell Dareus. But then I look up the actual numbers and was shocked to find that five of the last eight first-round picks made by the Bills, dating back to 2006, have been on the defensive side of the ball.
So it's not that they haven't tried to build through the defense, it's even simpler that they've just failed on so many top draft picks. And to make matters worse, they failed to re-sign starters Donte Whitner and Paul Posluszny, two of their best defensive draft picks in recent memory.
So what does all this leave us with? A weak defense that has very little chance of stopping anyone. Last year they were the worst team in the league at stopping the run, so they can't get worse there, but they might in reality be worse against the run without tackling machine Posluszny patrolling the middle of the field. Somehow they were third against the pass last year, but I'm guessing that was mostly because other teams quickly got leads on them and then just ran the ball the rest of the game. 
This defense isn't going to do their average offense any favors, and the Bills are going to struggle to get wins this year.
2010: 7-9
Better or Worse in 2011: Worse 
It was only two years ago that the Miami Dolphins "revolutionalized" the league with the wildcat formation, but now that defensive coordinators have proven that it was actually not that hard to stop, they've fallen right back to the bottom of the NFL. 
The rule still stands that if you can't gain chunks of yards through the passing game, you're going to have a really hard time winning games. The Dolphins will have one of the worst passing games in the league this year because neither of the two quarterbacks on their roster has the ability to stretch a defense when needed. The running game will be solid, but that only keeps you in games, it doesn't win them for you.
The defense will help keep them in those games but also won't be dynamic enough to win them on their own. Miami will be in enough close, low scoring games to win maybe four or five of them, but that's about it. But they do get to play Buffalo twice, so that will help the win total. 
Offense
Important Acquisitions: Marc Columbo, Reggie Bush, Daniel Thomas (R), Matt Moore
Toughest Player Losses: Ricky Williams, Ronnie Brown
Key Player: Reggie Bush
The "If" Factor: Low
2010 Offensive Ranking: 16th Passing, 21st Rushing 
The games this Miami team will win, they'll win the old-school way, by controlling the clock through the ground game, limiting the number of opponent's offensive possessions and hoping that their quarterback can stay away from game-killing interceptions. 
And that's where the whole thing breaks down.
Chad Henne is a turnover machine. He tossed 19 picks last year compared to only 15 touchdowns. That type of sloppy ball protection totally submarines a game plan that will be based on low-scoring, ball-control offense. 
Aside from Henne, the rest of this team isn't that bad. Reggie Bush is a huge upgrade in the playmaker department. He gets a lot of heat because he hasn't, and never will, live up to the future hall of fame billing he had coming out of USC, but if you look at him honestly he's still a threat to score when he gets the ball in space. 
The Dolphins have quietly built a strong offensive line, including one of the best left tackles in football, Jake Long. They added Marc Columbo from the Dallas Cowboys this offseason, and first round draft choice Mike Pouncey has the makings of a really good pro. 
Brandon Marshall is a top-tier playmaker at the wide receiver position, but once again it all comes down to the guy throwing him the ball, and Chad Henne just isn't good enough to take advantage of his best wideout. 
Why the Dolphins didn't pull the trigger on a better quarterback like Orton or Kolb this offseason I don't understand, but the guy they're left with isn't good enough to get them into the playoffs this year. 
Defense
Important Acquisitions: Kevin Burnett
Toughest Player Losses: Channing Crowder, Will Allen
Key Player: Koa Misi
The "If" Factor: Actually, kind of high. They will still be worse than last year though
2010 Defensive Ranking: 8th Passing, 7th Rushing 
The Miami defense has been a sneaky good bunch for a few years now. I tried to figure out why, but really I can't. 
At first I thought it was because they got a couple of really good years out of Joey Porter, but he wasn't there last year and they were still a top-ten defense. It's not the secondary, that's been average at best, and they don't have any dominant defensive lineman either. 
The thing that leaves is the scheme, and then things start to make sense. The Dolphins run an aggressive, pass rushing 3-4 system. This is the type of defense that has dominated the league in the past decade, and Miami has been one of the teams at the forefront of this transition. 
So they have the scheme, but in the end the players still have to be good enough to execute it, and this Dolphins squad doesn't have enough top level talent to do so. The two guys to watch who could make that jump this year would be outside linebackers Cameron Wake and Koa Misi. Both have talent and have shown promise, but they still need to prove that they can be consistent difference makers. 
In the end, the Miami defense be good enough to keep the team in some games, and if the offense doesn't make too many mistakes they can steal a few wins in 2011.