5 Reasons Chad Henne Will Silence the Critics in 2011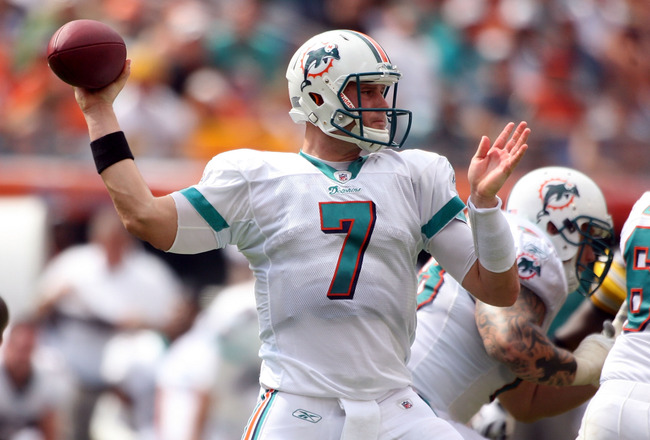 Marc Serota/Getty Images
During the course of the 2011 NFL offseason, various players around the league were charged with crimes ranging from aggravated assault to resisting arrest to driving under the influence. Yet, no other NFL player has absorbed as much criticism as Dolphins quarterback Chad Henne—in Miami, anyway.
His own fans booed him at practice.
But fans have short memories and considering the NFL is a "what have you done for me lately" league, all it takes is a string of solid performances for Henne to erase horrid images of a disastrous 2010 season.
Will Henne be able to silence the critics in 2011?
Maybe. Maybe not.
But there are a slew of variables that might propel him past his tumultuous past.
A Vastly Improved Supporting Cast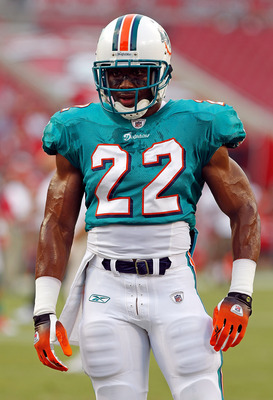 J. Meric/Getty Images
Last season, the Dolphins' offense grew stagnant, lethargic, anemic, redundant, bland, conservative and well, you get the picture. There's a whole laundry list of reasons why this happened, but arguably the most notable was the absence of speed, explosiveness and overall talent.
Aging running backs Ricky Williams and Ronnie Brown are replaced by a fresh, complementary duo of Reggie Bush and Daniel Thomas. Clyde Gates provides a much, much needed vertical threat, Donte Rosario bolsters a formerly useless tight end corps, and Mike Pouncey and Marc Colombo help reshape a hapless offensive line.
So, even if Henne doesn't progress from last season, he will not be as bad because of this revamped and rejuvenated offense.
The Drew Brees Theory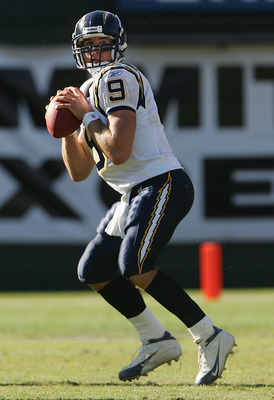 Jeff Gross/Getty Images
The parallels between Drew Brees and Chad Henne are uncanny, so this theory that Henne will follow Brees' career path has been tossed around for much of the offseason. Bill Barnwell of Football Outsiders and Grantland.com provided a breakdown in his NFL preview:
They're both undersized second-round picks from the Big Ten. They both sat out for most of their rookie season and then came in to play for most of their second year. Brees completed 60.8 percent of his passes. Henne completed 60.8 percent of his passes. Brees threw an interception on 3.0 percent of his passes and averaged 6.2 yards per attempt. Henne threw an interception on 3.1 percent of his passes and averaged 6.4 yards per attempt. In his third season, Brees tanked; in fact, to a much worse extent than Henne did. All of his numbers fell off, but what was particularly noticeable was his interception rate, which hit 4.2 percent. And unlike the Dolphins, the Chargers actually went through and pulled the trigger on replacing Brees by drafting Eli Manning and then trading him for Philip Rivers. There's no guarantee that Henne will follow that career path, but it's something to think about amidst wave after wave of hysterics about how Henne isn't an NFL starter.
Statistics and physical resemblance aside, there's one thing everybody is neglecting: leadership. Sure, Henne totally amped up his leadership efforts this summer by hosting lockout workouts, but does he have the charisma that Brees has?
Can he command a huddle or pump up his teammates before a fourth quarter drive?
This is arguably the most important factor for Henne's success but it won't be answered until the regular season.
Replacing Dan Henning with Brian Daboll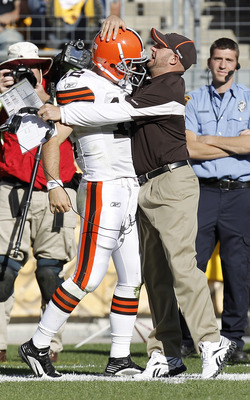 Gregory Shamus/Getty Images
Following in this summer's theme of youth and speed, the Dolphins replaced crumbly old man Dan Henning with young, innovative and aggressive Brian Daboll.
The Daboll hire didn't exactly excite fans, but when you consider that he propelled an abysmal Browns offense led by rookie quarterback Colt Mccoy to victories over the Patriots and the Saints last season, there's reason to believe he can work magic with Henne.
Miami's offense is vastly superior to Cleveland's, and though Henne may or may not be better than McCoy, the surrounding talent should lift him to greater heights.
A Bolstered Offensive Line... Maybe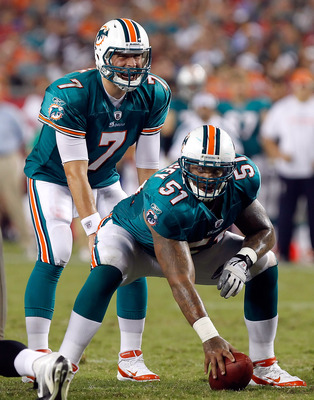 J. Meric/Getty Images
Just a few weeks prior to the start of the 2010 NFL season, Tony Sparano infamously ushered in a new trio of unskilled and unproven offensive linemen. The results were disastrous.
Miami's rushing attack completely collapsed which placed loads of pressure on an overhyped Chad Henne.
However, the Dolphins were quick to recognize their mistake and used a first-round pick on Mike Pouncey—easily the best interior lineman in the 2011 Draft. Although Sparano was back at his old tricks during training camp by moving long-time right tackle Vernon Carey to guard and signing oft-injured 32-year-old Marc Colombo to start at right tackle, there is no denying this line's superiority to last year's.
Henne should reap the largest benefit.
Henne Will Not and Cannot Be so Unlucky Again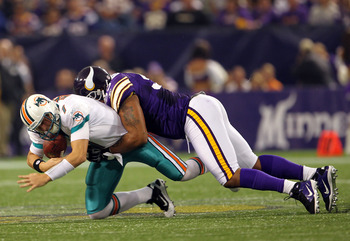 Jamie Squire/Getty Images
It's impossible to defend much of Chad Henne's play in 2010. "Checkdown Chad" played robotic and prudent, and just never displayed the innate moxie or leadership that the league's greats possess.
However, when you consider some of the aforementioned factors at hand—a slacking supporting cast, a stale offensive coordinator and an overwhelmed offensive line—it's easier to see why Henne struggled so much. But, there's one more factor that has gone criminally overlooked: luck. Once again, Bill Barnwell explains:
The Football Outsiders Almanac 2011 notes that Henne had just one dropped interception last season. That was the lowest total in the league amongst quarterbacks with 400 attempts. For reference, his fellow starting quarterbacks in the AFC East averaged more than eight dropped picks each. Defenders will drop a few of Henne's would-be interceptions this year, which should help cut down on his pick rate.
Keep Reading

Miami Dolphins: Like this team?