NFL Roster Cuts: 5 Potential Studs That Got Away
September 6, 2011
Dilip Vishwanat/Getty Images
The deadline for preseason NFL roster cuts is a nervous time for everyone. Players are nervous that they or a good friend of theirs will get cut, and front offices are nervous that someone they cut will blossom into a star with another team.
The following are five players that have a chance to blossom into stars. The teams that cut these players will be nervous as they watch their careers unfold.
WR Dorin Dickerson
The former Texans wide receiver simply got caught in a numbers game. The Texans already have several good receivers on the roster, and they just signed veteran Bryant Johnson.
Dickerson is a bulky receiver that excels at catching the ball in traffic. He had a good training camp, and the Texans always seemed high on him. You get the feeling they would have kept him if it weren't for their crowded roster.
TE Dante Rosario
It's a little late in his career for Rosario to be considered a young prospect, but I feel like he was still developing. His production with the Panthers had increased in each season.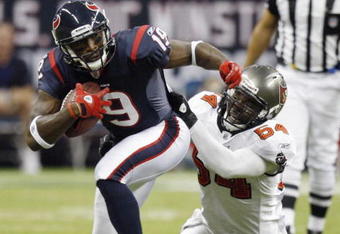 Bob Levey/Getty Images
Given the Broncos' propensity for a short passing game with Kyle Orton at quarterback, I'm a little surprised they didn't keep him around. Rosario will be a huge get for a team that needs a safe, solid receiving target.
DT John McCargo
McCargo has done little to back up being selected as a first-round draft pick the same season as his college teammate Mario Williams. The Bills have been patient with him, but they decided it was time to cut ties.
Somewhere within him, there is the talent that made him a first-round pick. He may just need a change of scenery to be able to channel it.
S Shiloh Keo
Not to harp on the Texans, but they let a good one go in Keo. The rookie out of Idaho was one of the more overlooked safety prospects in this past draft. All he did in college was make plays. He ended up on the school's top 10 lists in both tackles and punt return yardage.
There is a chance that Keo ends up on the Texans' practice squad if he clears waivers, but given his talent level, opposing teams would be smart to grab him before Houston gets him back.
The New York Jets made a mistake in cutting the rookie receiver out of Colorado. He is a good friend of Mark Sanchez's, so there was potential for good rhythm between the two.
McKnight was one of the more productive receivers in the history of the Colorado program—no small feat when you consider how bad the quarterback play has been there for the last few years.