Preseason Gems: Underclassmen Who Could Make a Fantasy Impact
September 3, 2011
Rookies
Cam Newton—Carolina
As a football player lining up under center, the kid is a menacing beast of a man standing 6'5" and weighing 244 pounds.  As a quarterback in the NFL, Cam is a bit rough around the edges and might take a few years to smooth himself out.  However, depending on the rules of your league, Newton could still make an impact this fantasy season.  For instance, if you play in a league where you have to start a rookie or if your points system gives double-points for QB rushing TDs, Newton is a no-brainer to start for your team.  Otherwise, leave him on the waiver wire.
Chance of Making a Fantasy Impact:  Slim to None ~ 0-5 percent

Mark Ingram—New Orleans
Ingram was the first running back taken in the 2011 NFL Draft…and for good reason.  The former Heisman Trophy winner doesn't have a single hole in his game to speak of and will provide the Saints with that much-needed workhorse they've been looking for.  Even though both Pierre Thomas and Darren Sproles will bogart some carries from him, Ingram should have a legitimate chance to put up over 1,000 yards rushing and possibly even 10 TDs during his rookie season.
Chance of Making a Fantasy Impact:  Excellent ~ 95-100 percent
Stevan Ridley—New England
Ridley may have been the later pick of the two running backs New England grabbed in the 2011 draft, but he'll have the first chance to make an impact for the Patriots this season.  At 5'11", 225 pounds, Ridley was thought to be just a power-back coming into the NFL, but has since shown otherwise in camp and the preseason.  Though more talented than BenJarvus Green-Ellis, it's unlikely he'll overtake him on the depth chart until at least the middle of the season or unless BJGE happens to get hurt.  That said, you never know what Bill Belichick has up his sleeve for the RBs from season to season.
Chance of Making a Fantasy Impact:  Below Average/Low ~ 15-25 percent
Kendall Hunter—San Francisco
Hunter was drafted out of Oklahoma State and is listed at 5'7", 199 pounds  by the 49ers.  22 years ago, Barry Sanders had nearly the exact same measurables coming out of OK St, though we're not saying Hunter is on the Hall-of-Fame track just yet.  However, like Sanders, Hunter is super quick on his feet and has a real nose for the end-zone.  Furthermore, he ended up playing so well during the preseason that he just might start off the year backing up Frank Gore instead of Anthony Dixon…and we all know Gore's injury history.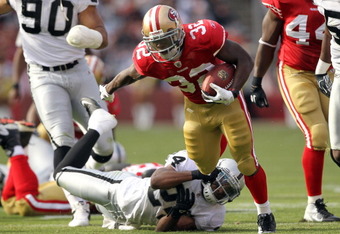 Ezra Shaw/Getty Images
Chance of Making a Fantasy Impact:  Below Average/Low ~ 15-25 percent
Delone Carter—Indianapolis
Carter has all the intangibles the Colts look for in a running back and seems to have done enough in the preseason to overtake the perennially disappointing Donald Brown.  He can move a pile, pick up short yardage, doesn't put the ball on the ground, and maybe most importantly, he can pass-block.  It looks like he'll begin the 2011 season as Joseph Addai's backup over D. Brown and considering Addai's history with injuries, it's a pretty good backup job to have.  He might even get the goal-line work all to himself as well.
Chance of Making a Fantasy Impact:  Fair ~ 30-40 percent
Roy Helu—Washington
Helu showed off his speed and play-making ability during the preseason and has a legitimate chance to backup starter Tim Hightower to start off the season.  He's no small fry at 5'11", 219 pounds, but he's also no bigger than either Hightower or the Redskins other backup possibility, Ryan Torain.  Helu might actually have the most game-changing ability of the bunch, but until he learns the ropes and gets better in pass protection, he might not see much time on the field.  That said, Torain is always injured and Hightower is by no means a tough guy to eventually beat out.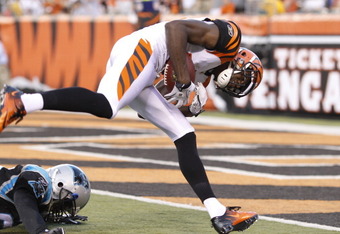 Joe Robbins/Getty Images
Chance of Making a Fantasy Impact:  Below Average/Low ~ 15-25 percent
A.J. Green—Cincinnati
We all know A.J. Green is a physical specimen with speed, size, hands and superior athleticism.  We all know he'll be a starter at WR for the Bengals from Day One.  What we don't know, however, is how rookie Andy Dalton will perform as the starting QB for Cincinnati.  Green's impact will somewhat depend on how quickly Dalton matures, but it might not even matter from what we're hearing.  Everyone who has seen Green practice says that it doesn't matter who covers him, who throws him the ball or where the ball is…he simply goes and gets it.  He's just that good.
Chance of Making a Fantasy Impact:  Above Average/High ~ 75-85 percent
Julio Jones—Atlanta
A la A.J. Green, Julio Jones is another can't-miss wide receiver from the 2011 Draft Class.  He has all the specifics a coach would look for in a receiver; he's huge, fast, explosive and a true competitor.  He's absolutely lit up the preseason for Atlanta's offense and as their GM, Thomas Dimitroff, said—from Day One, Jones should begin the season as the Falcons WR 1-A to Roddy White's WR 1.  His upside compared to Green's is slightly higher due to Matt Ryan being his QB.  However, with Roddy White being one of the best in the game, A.J. may see more targets/chances than Jones during the season.  Receivers tend to take the longest in the NFL to make an impact, but Jones is as close to a sure thing as there is in this draft class.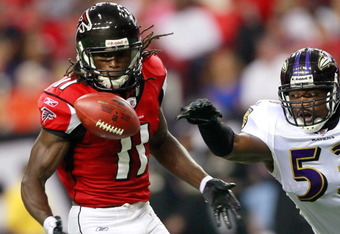 Kevin C. Cox/Getty Images
Chance of Making a Fantasy Impact:  Very High ~ 80-90 percent
Greg Little—Cleveland
Greg Little is a super-big, athletic, 6'2", 231-pound receiver who was actually a running back when he started his college career.  His leaping ability and potential for immense yards after the catch will be highlighted in a West Coast offense like the one Cleveland will be using, if the Browns give him the chance to do it.  On a team void of a true No. 1 WR, Little just might step into the role from Day One and never look back…though it's more likely to take at least a few weeks before that happens.  Our bet is Colt McCoy goes to bat for him and gets him out there sooner than later.
Chance of Making a Fantasy Impact:  Fair/Average ~ 35-45 percent
Denarius Moore—Oakland
Moore has been wowing the Raiders coaching staff, the fans, fantasy players, teammates and everyone in between throughout the preseason.  However, this IS the Oakland Raiders we're talking about here…which means Al Davis pulls the strings.  Besides Jacoby Ford, Moore might be the best WR on the roster right now but probably won't get too much playing time (much less start) until Shallow Al lets go of his love for Darrius Heyward-Bey.  He looks to be a real nice talent, but with Jason Campbell as his QB and this being Oakland and all, we're not getting our hopes up.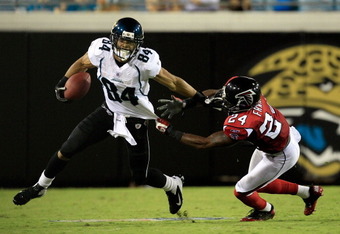 Sam Greenwood/Getty Images
Chance of Making a Fantasy Impact:  Slim to None ~ 0-5 percent
Cecil Shorts—Jacksonville
From QB David Garrard all the way down to the Jaguars beat reporters, everyone seems to think Cecil Shorts is a star in the making.  Some think he's already the best receiver on the roster and should be starting the first game.  However, that likely won't happen until about mid-season when the Jags are at the bottom of their division and ready to throw rookie Blaine Gabbert under center.  If Shorts gets a starting gig with Garrard at the helm, he has a chance to make some noise this season.  If not, wait 'til next year.
Chance of Making a Fantasy Impact:  Pretty Far-Fetched ~ 5-10 percent
Lance Kendricks—St. Louis
Holy cow, does this kid look like the real deal!  Normally, we would tell you to stay away from tight ends in a Josh McDaniels-style offense, but Kendricks and Sam Bradford were so dominant together this preseason that it became impossible to ignore.  Lance will be used as more of a big wide receiver than a tight end in this offense and with the lack of a true WR1 on the team; he might come away with some really good numbers in his rookie season.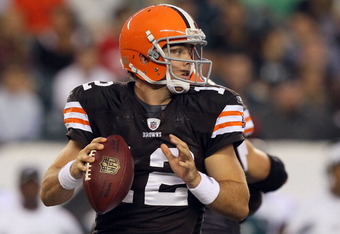 Jim McIsaac/Getty Images
Chance of Making a Fantasy Impact:  Above Average ~ 65-75 percent

Dark-Horse Sophomores to Watch For
Colt McCoy—Cleveland
McCoy has been on fire this preseason and like we've been saying all along, he looks like a young Drew Brees in the making.  The Browns' new West Coast offense is perfect for his style of play and if Greg Little and TE Evan Moore get the chance to play, McCoy could sneak into fantasy significance later this season.
Tim Tebow—Denver
If Kyle Orton goes down for any significant amount of time or the Broncos get off to a real bad start, do you really think Denver wants to see how Brady Quinn would be as a starting QB?  Tebow has the potential to put up a combined two TDs per game (passing & rushing), which is really really nice in the fantasy world.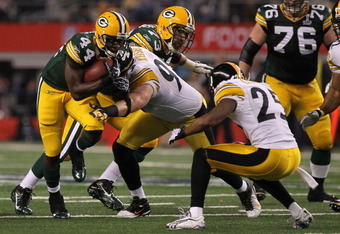 Doug Pensinger/Getty Images
Ben Tate—Houston
Tate's fantasy potential stems purely from Arian Foster's health which at this point, is not so good.  We'll see how things shake out, but if Foster goes down and Tate gets the main role, we expect him to put up similar numbers to Foster's Fantasy MVP 2010 season.
James Starks—Green Bay
Starks won't begin the season as a starter, but supposedly Ryan Grant has lost a step so it could happen sooner than later.  The Packers want to win another Super Bowl and will do whatever they have to for another chance at it.  If that means benching Grant, they'll do it.  They already know they can win it all with Starks.
Jordan Shipley—Cincinnati
Shipley will be a stud when it comes to PPR leagues, as shown by his grabbing the third-most receptions in the NFL preseason, but that's about it.  With a rookie QB under center for the Bengals this year, you can bet he'll be targeted plenty on check-downs, but don't expect many yards or TDs as he only had 98 yards on his 12 preseason catches (8.2 YPC) and zero touchdowns.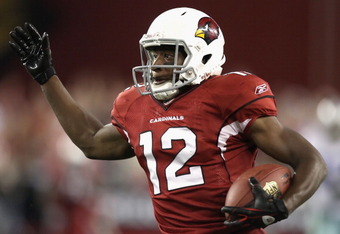 Christian Petersen/Getty Images
Eric Decker—Denver
Denver will be running a new offense this year with run-oriented head coach John Fox on board, but that doesn't mean Decker won't have a chance to shine.  After being hampered by injuries last season, the 6'3, 220-pound WR might come in as the WR2 this year now that Eddie Royal is the only other WR to beat out with Jabar Gaffney in Washington.
Andre Roberts—Arizona
Roberts will start off the season as the guy lucky enough to start opposite double-team magnet Larry Fitzgerald.  Roberts is as electric as any other player in the league and with Steve Breaston gone to Kansas City, Roberts will have the chance to show his stuff with new Cardinals QB Kevin Kolb tossing him the pill.
Antonio Brown—Pittsburgh
Brown has been the darling of the preseason, but don't read too much into it.  Emmanuel Sanders, another sophomore receiver, will be back in full force within a week and should regain the love he deserves in no time.  That said, Sanders seems to be a bit injury-prone, so with Hines Ward knockin' on Pigskin Heaven's Door, Brown may actually end up with the Steelers WR2 job at some point this season.
Dezmon Briscoe—Tampa Bay
Briscoe is actually a super-duper dark horse here, but one you should look out for nonetheless.  He's been lighting it up for the Bucs in the preseason and with predicted starter Arrelious Benn not quite back from offseason ACL surgery, Briscoe has taken full control of the WR2 slot for Tampa.  It's a long-shot, but worth a flier in the late rounds of your draft.
Jimmy Graham—New Orleans
Graham is a former basketball player, like Antonio Gates and Tony Gonzalez, and may end up playing like them soon enough as well.  The Saints let go of Jeremy Shockey without blinking an eye because of their confidence in him and thus far, he has not disappointed.  He and Brees have hooked up for a terrific preseason and it looks as if Graham has found a nice little spot in one of the highest-octane offenses in the league.
The Pyro® 2011 Draft Kit will help you win your league:  Buy Our Draft Kit Now!
Follow Pyro® on Twitter:  https://twitter.com/pyroman1ac
Follow Pyro® on Facebook:  http://www.facebook.com/pyromaniac