Detroit Lions Season Preview: Game-by-Game Prediction and Results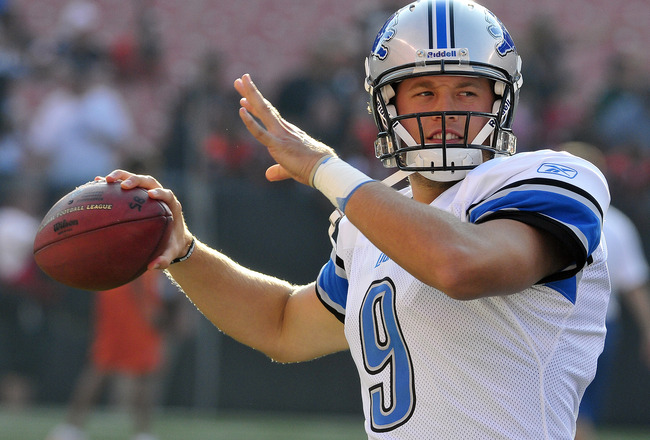 Jason Miller/Getty Images
The anticipation is palpable.
This is the most excited I have ever been for a Lions season.
We have an exciting defense, quarterback and wide receiver.
This is just flat out exciting!
Of course, the football gods would have to punish us by giving us one of the league's more difficult schedules.
But as a wise man once said, nothing worth having is gained cheaply. This will be difficult, but it is far from impossible.
Here is a game-by-game prediction for the Lions.
Week 1 at Tampa Bay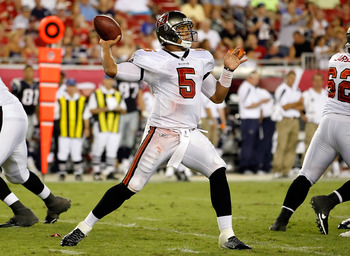 J. Meric/Getty Images
This is certainly unfortunate scheduling for Detroit.
Last year, Tampa Bay had a breakout season and nearly made the playoffs.
Unfortunately for them, they came across a very resilient Lions team that handed them an improbable loss.
This year, Tampa certainly will be looking for paybacks.
Key For Detroit
The Lions will need to slow down the Buccaneers running game. LaGarrett Blount had a breakout year last year, and is the key piece in a power running game. The Lions will be trying out their new linebacker corps, and they have the pieces in place to slow them down.
Quarterback Josh Freeman had a very good year last year as well, but the Bucs need their running game to hum in order to open up the game for Freeman.
Prediction
The Bucs provide a very tough test for Detroit, and the Lions have had their struggles on the road over the last decade.
That being said, this will be a very close game that should come down to the last possession. I am tempted to take Detroit given the excitement surrounding the team, but the Bucs are just too tough.
24-21 Tampa Bay
Week 2 vs. Kansas City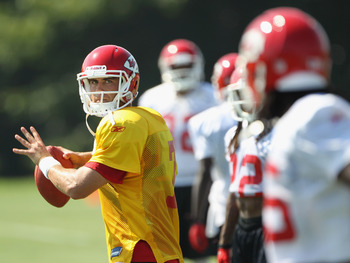 Jamie Squire/Getty Images
The Chiefs had a very surprising year last year, making the playoffs before getting massacred.
They have an explosive running back in Jamaal Charles and a very stout defense.
That being said, they are far from a finished product, as their exit from the playoffs suggests.
Key For Detroit
They likely aren't going to stop Charles, but they can contain him. Either way, the key will be getting pressure on quarterback Matt Cassel.
If the Lions can exploit the Chiefs offensive line and hit Cassel early and often, they can withstand the speedy Charles.
Prediction
Sure, they were a playoff team a year ago, but the Lions will have too much firepower.
27-14 Detroit
Week 3 at Minnesota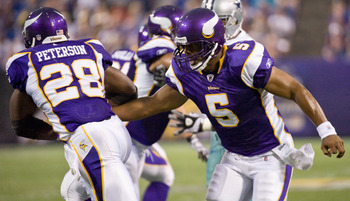 Hannah Foslien/Getty Images
The Vikings had a disappointing year last year, resulting in the ousting of their coach and a brand new veteran quarterback in Donovan McNabb.
They still have a very good veteran defense and the best back in the business.
But age is creeping in, and the offensive and defensive lines finally look mortal.
That being said, the Lions never win in Minnesota.
Key For Detroit
Detroit needs to set the tone early and dictate the pace on offense. They have the type of explosive passing game that could give the Vikings fits, especially if they aren't able to get to the quarterback.
The Lions should look to test the Vikings cornerbacks deep from the get go and do their best to build a big early lead, rendering Adrian Peterson less of a threat.
The Vikings can not win a shootout with Detroit.
Prediction
The Vikings will be better this year than last, but the Lions with Stafford are a whole lot better than they were without him.
34-14 Detroit
Week 4 at Dallas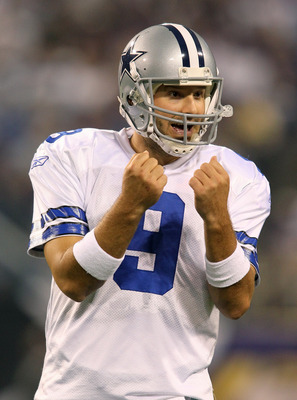 Adam Bettcher/Getty Images
The Cowboys, like the Lions, finished last year on a roll.
After firing coach Wade Phillips, offensive coordinator Jason Garrett took over and opened up the playbook.
As a result, the running game found their niche and the defense played very well.
Add to that the fact that star quarterback Tony Romo was hurt nearly all year, and this team's turnaround was truly impressive.
Key For Detroit
Make no mistake about it, this is the toughest matchup amongst the first four games of the year.
This Cowboys team is arguably the toughest in a very tough NFC East, and Romo is going to have a huge year.
The Lions will need to keep pace with the Cowboys offense, as this game is sure to be a shootout.
The Cowboys receivers are going to eat the Lions' cornerbacks alive. Miles Austin and Dez Bryant are big and fast, and unlike anything the Lions will face this year.
Prediction
That being said, their offensive line is a mess, and the Lions should feast on their running game.
This game, like the one against Tampa, will be one that will come down to the wire. In a lot of ways, this game could be a big indicator of how successful this team can be.
If they can outscore the Cowboys, it will give this team even more confidence heading into the next quarter of the year.
If they fail to keep pace, they could take a step back.
I'm betting they have just enough firepower to hold on.
34-31 Detroit
Week 5 vs. Chicago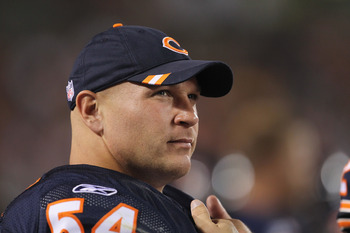 Jonathan Daniel/Getty Images
The Bears are not in great shape these days. Sure, they still have a strong defense, but their offensive line is a mess, their receivers are unproven and they have a mistake prone quarterback.
They also have an offensive coordinator that likes five step drops, which should mean a feeding frenzy in Detroit.
Key For Detroit
Avoiding a letdown after a big win in Dallas.
If they can keep the pedal pushed down against an inferior Bears team, they should be able to win easily.
Prediction
This shouldn't be close.
28-14 Detroit
Week 6 vs. San Francisco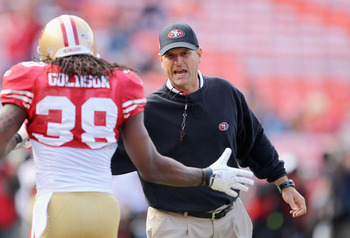 Ezra Shaw/Getty Images
The San Francisco 49ers should be much improved defensively. They also have a dynamic running back that should have a monster year.
That being said, they still are a mess at quarterback and they have vulnerabilities in the secondary.
Key For Detroit
Running the ball will be key for the Lions.
This plays into the strength of the 49ers defense, but it is essential to open up the big plays downfield.
Look for Jerome Harrison and Maurice Morris to pound the rock, and for Jahvid Best to have a nice game against his home town team.
Prediction
The 49ers will be a good team in a few years, but not this year.
31-10 Detroit
Week 7 vs. Atlanta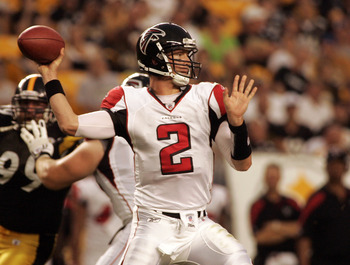 Justin K. Aller/Getty Images
A year ago, the Falcons were a surprise team down south. Led by their young quarterback Matt Ryan, the Falcons stormed their way into the playoffs.
They were a great team at home; lucky for Detroit, this game is in Detroit.
Key For Detroit
The Lions need to speed up this game. If it turns into a slow, methodical game of field position, the Lions will be in trouble. The Falcons have a great running game led by the beastly Michael Turner.
Ryan is a stud quarterback, but his game is predicated by the running game.
Prediction
The Falcons will finally figure out how to win on the road this year, and their running game will be the cause.
21-17 Atlanta
Week 8 at Denver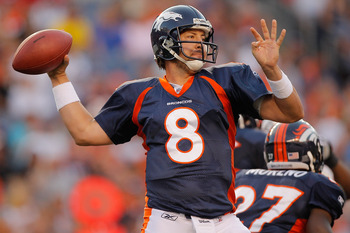 Justin Edmonds/Getty Images
The Denver Broncos are not very good these days.
They have a solid running back, a solid quarterback and a weak defense.
This is not the recipe for success against the Lions.
Key For Detroit
The Lions need to be merciless in their pursuit of Kyle Orton. They need to hit him, and hit him often. Once they get the lead, they need to crush them and keep the fans out of the game.
Prediction
The Broncos don't stand a chance in this game.
27-10 Detroit
Week 10 at Chicago
Grant Halverson/Getty Images
After a much needed bye, the Lions open up in Chicago.
Key For Detroit
The Lions need to keep their foot on the throttle.
They beat the Bears easily the last time, and there is no reason to believe that the different venue will have a bearing on this result.
Prediction
Bears are only marginally more successful this time.
24-17 Detroit
Week 11 vs. Carolina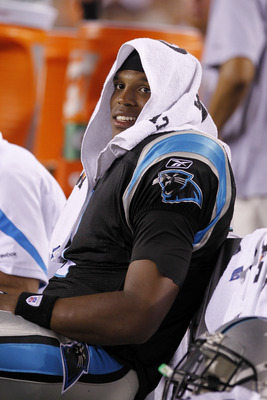 Joe Robbins/Getty Images
This is one of only two easy games left for the Lions, so they need to capitalize.
Key For Detroit
The Lions need to avoid getting too concerned about the running game. DeAngelo Williams and Jonathon Stewart will get their yards.
But the key will be getting pressure on their young quarterback Cam Newton.
They need to break his confidence and crush his spirit.
If the backs can just be marginally contained, the Lions should be OK.
Prediction
Suh and the boys are sure to lay the lumber to the No. 1 overall pick.
31-10 Detroit
Week 12 vs. Green Bay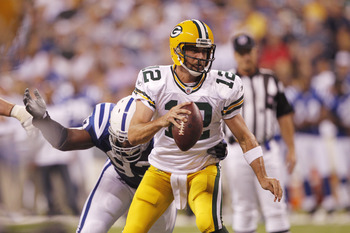 Joe Robbins/Getty Images
This will be the Lions first shot at the champs following last year's improbable victory.
However, that game was without Aaron Rodgers.
Key For Detroit
The Lions need to win a shootout, plain and simple.
The Packers have a very good passing game and a very strong defense keyed by Clay Matthews.
Whoever has the ball last should have the chance to win.
Prediction
The Lions need to win this game since their only other game against them is the last game of the season.
That should prove easier said than done, however.
37-31 Green Bay
Week 13 at New Orleans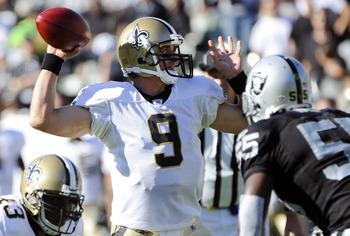 Thearon W. Henderson/Getty Images
The Saints looked like they were well on their way to another trip to the Super Bowl when the improbable Seattle Seahawks knocked them out in the first round of the playoffs.
Key For Detroit
Similarly to the game prior against Green Bay, the Lions will need to control time of possession in order to keep the explosive New Orleans offense on the bench.
Sadly, they will be doing this in a very unfriendly location, hence much more difficult.
Prediction
Too much Brees, but also too much Darren Sproles and Mark Ingram.
27-14 New Orleans
Week 14 vs. Minnesota
Adam Bettcher/Getty Images
After two consecutive tough games, this is just what the doctor ordered.
Key For Detroit
Crush their spirit early and make it impossible for Adrian Peterson to stop you.
I recommend quick strikes and massive blitzes to get into McNabb's head.
Prediction
The Lions will be glad to see this game at home and will act accordingly.
31-14 Detroit
Week 15 at Oakland
Jed Jacobsohn/Getty Images
Last year, the Raiders finally showed signs of life. So what do they do? Fire their coach and lose their top receiver and defensive player.
Key For Detroit
The Raiders struggle against the pass and struggle to establish the pass themselves.
This bodes well for Detroit.
Essentially, they just have to outscore the Raiders. And with their explosive passing game, this shouldn't be a problem.
Just stop the Raiders a handful of times, and the Lions should be able to coast, even in an unfriendly environment like the Coliseum.
Prediction
24-14 Detroit

Week 16 vs. San Diego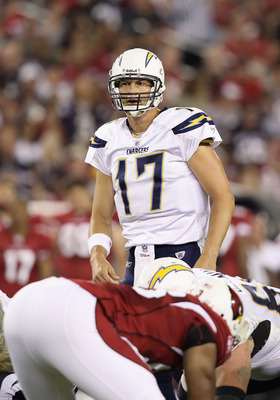 Christian Petersen/Getty Images
This could turn into the most important game of the year.
The Packers will no doubt be rolling, and the Lions don't want to have to go to Lambeau needing a win.
However, the Chargers are a great second half team, featuring their own explosive passing game and a running attack that should be much improved with Ryan Matthews having a full season under his belt.
Key For Detroit
Getting under Philip Rivers' skin. Rivers has proven to be a very excitable guy that tends to show a lot of emotion on the field.
If the Lions can hit him enough and get him playing emotionally, they might just have a chance.
That being said, he was nearly flawless last year in the second half of the season, and his offensive line isn't exactly minced meat.
Prediction
In San Diego this might be a blowout, but in Detroit, they at least stick in this game.
37-31 San Diego
Week 17 at Green Bay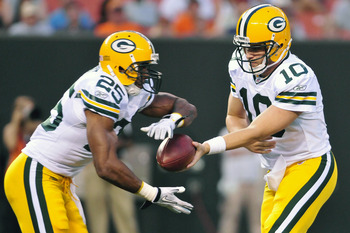 Jason Miller/Getty Images
This is not the place Detroit wants to be in late December.
Key For Detroit
This game, given the weather, will come down to the running game. If the Lions can establish one, and negate the Packers, they may just have a shot.
I wouldn't hold my breath, though.
Prediction
21-10 Green Bay

Overall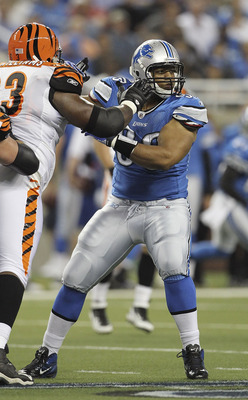 Leon Halip/Getty Images
The Lions finish 10-6, which typically would be a miracle season.
As it is, however, they will need some help to make the playoffs, as the NFC is stacked this year.
Seriously, this could go either way. But I am an optimist, so I have them in!
Go Lions!
Keep Reading

Detroit Lions: Like this team?