NFL Free Agency: Dallas Cowboys Rejects Could Save Seattle Seahawks' 2011 Season
August 29, 2011
Dating analogies in sports are tired.
Whether it's comparing LeBron James leaving Cleveland to a boyfriend dumping a girlfriend, or slapping Mike Ditka and Ricky Williams on the cover of a magazine in wedding gear, the whole practice has gotten old.
Besides that, most of them don't work anyway. One particular truism from the dating world that couldn't be more false in the sports world is that nobody likes sloppy seconds. Because in everything from pro sports free agency to college recruiting to the battle amongst high schools for elite talent, snatching up somebody else's leftovers is an everyday reality.
The Seattle Seahawks have already used this NFL offseason to build their offense around a trio of cast-offs from the Minnesota Vikings: quarterback Tarvaris Jackson, wide receiver Sidney Rice and offensive coordinator Darrell Bevell.
But over the first three weeks of the preseason, the newcomers have barely had a chance to show what they can do, because Seattle's offensive line has been terrible (That unit happens to feature two notable rejects from the Oakland Raiders in left guard Robert Gallery and O-line coach Tom Cable).
Fans and media who only check the box scores or don't understand the ways of preseason football will argue that Rice already looks overpaid on his $41 million contract and that Jackson has been severely outplayed by backup QB Charlie Whitehurst.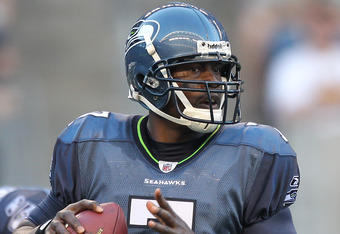 But the truth is that Rice hasn't had time to let his routes develop, and Jackson doesn't have time to throw the ball, because Seattle's first-string offensive line can't keep opponents' first-string defenses out of the backfield. By the time Whitehurst and other preseason playmakers like RB Thomas Clayton and WR Doug Baldwin have entered the game, they're playing against second- and third-string defenses.
In other words, it's a lot tougher for Jackson to move the chains on third down when he's being chased by Jared Allen than it is for Whitehurst to lead a scoring drive when he's facing Jared from Subway.
So even if head coach Pete Carroll grants the wishes of some Seahawks fans and gives Whitehurst the starting job, there's no reason to believe the slower, less-athletic Whitehurst would be any more effective running for his life than Jackson, who has been forced into mimicking Barry Sanders while trying to keep fire-breathing defensive ends and linebackers out of his earhole.
Unfortunately, the only solution Seattle appears ready to offer to solve its O-line problem is time. The lockout-shortened NFL offseason created a huge learning curve for a group that boasts two rookie starters in RT James Carpenter and RG John Moffitt, a first-year starter in C Max Unger, a newcomer to the team in Gallery, and second-year LT Russell Okung—who only played a couple of snaps in the preseason opener before going down with an ankle injury. The line needs time to develop chemistry and for its players to learn the blocking schemes.
Or, another solution would be to go the sloppy-seconds route, and immediately upgrade the offensive line with a pair of veteran, Pro Bowl players.
Earlier today, the Dallas Cowboys released 32-year-old center Andre Gurode, a five-time Pro Bowler. Last month, the Cowboys released 32-year-old guard Leonard Davis, a three-time Pro Bowler who is still on the free-agent market. The Seahawks would be doing themselves a disservice if they didn't at least consider signing both players.
The game plan in Seattle is one of rebuilding through youth, but at the same time, the Seahawks are the defending NFC West champions, and could repeat that feat this season in a division that is still wide open. But they won't be winning any more than five or six games if they can't put together a solid offensive line. Bringing in the Cowboys' rejects could be two moves that save Seattle's season.
Don't worry, this isn't Jerry Rice making a pit stop in Seattle at the tail-end of his NFL career, or Patrick Ewing serving a brief stint with the Sonics on his way out of the NBA.
Davis (6'6", 355 pounds) made the Pro Bowl as recently as 2009, and hasn't missed a start in five years. Gurode (6'4", 334 pounds) made the Pro Bowl last season, and hasn't missed a start in three years. Dallas didn't cut the two because they can't play anymore or because they're injury risks. It was because they made more money than the Cowboys were willing to pay. And due to the timing of their releases and their age, Davis and Gurode should come at a cheaper price for Seattle or any NFL team that signs them going into the regular season.
For the Seahawks, the two veterans could slide right into starting positions at center and right guard.
All of a sudden, Tarvaris Jackson would remember the feeling of setting his feet to throw the ball, Sidney Rice would be able to run those deep-fly routes knowing the ball may actually come to him and Darrell Bevell will see the plays in his playbook come to life.
Not to mention running backs Marshawn Lynch and Justin Forsett, who have been mostly bottled up in the preseason due to lack of running lanes, would have the space and opportunity to make plays on the ground behind the two massive linemen.
The obvious losers in the Davis/Gurode scenario would be Unger and Moffitt (and the backup linemen who probably lose their jobs with the new additions), but as young players in the league, having a potential starting role yanked away to sit and learn behind a veteran is often part of the job. If superstar QB Aaron Rodgers can do it with the Green Bay Packers, Unger and Moffitt can do it in Seattle.
In the best interest of the Seahawks' running game, the health of its quarterbacks and the team's chances of making a return trip to the playoffs, it's the right thing to do.