2011 NFL Predictions: Predicting the Top 10 Quarterbacks This Season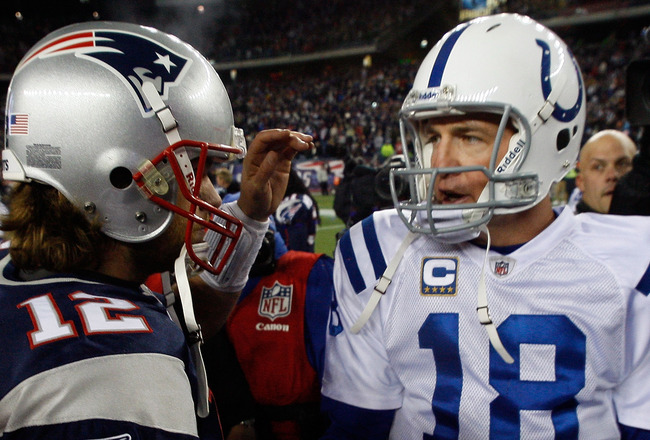 Jim Rogash/Getty Images
With every new NFL season comes the topic of who will break out and hang with the elites at the quarterback position?
Who will be the 10 best at the most crucial position in football?
If you're one of those people asking yourself that question, look no further for the answer.
Here are the top 10 quarterbacks at the end of the 2011 season.
10. Josh Freeman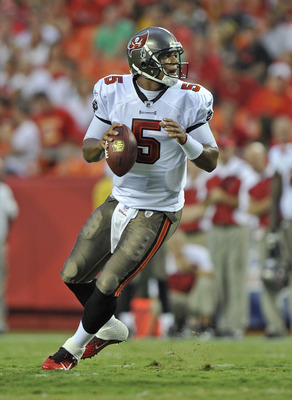 Peter Aiken/Getty Images
Many reading this article might not have had the opportunity to see Josh Freeman play last season down in Tampa Bay, and if you didn't, boy did you miss out.
The Buccaneers' starting quarterback had himself a fantastic breakout season in 2010, posting 25 touchdowns and just six interceptions on the year.
Last season, Freeman threw fewer picks than Peyton Manning, Drew Brees, Aaron Rodgers and Philip Rivers.
His 3,451 passing yards also placed him above quarterbacks such as Donovan McNabb, Michael Vick and Ben Roethlisberger.
Freeman has No. 1 receiver Mike Williams (entering his second season) and LeGarrette Blount to throw to in what could be an impressive Tampa Bay offense this year.
9. Matt Ryan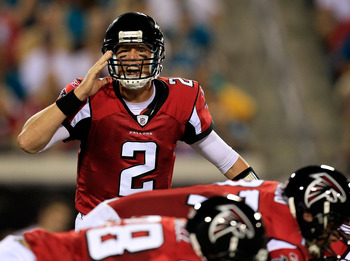 Sam Greenwood/Getty Images
Not to be outdone by his NFC South rival Freeman, the Atlanta Falcons' Matt Ryan posted similarly stellar numbers last season.
Ryan posted a career best in completions, passing yards and touchdowns as well as a career low in interceptions for 2010 en route to a playoff berth for Atlanta.
"Matty Ice" will enter his fourth year in the league and hopes to build off of his 28-touchdown, nine-interception 2010 season.
He will look to bring his team deeper into the playoffs this time around.
8. Matt Schaub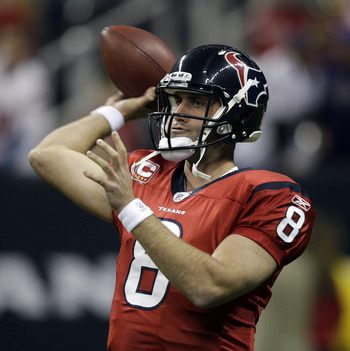 Bob Levey/Getty Images
For the past few seasons, analysts and Houston Texans fans have pondered whether this would finally be the year the Texans make the postseason.
With Tennessee and Jacksonville looking to be in transition at quarterback and Peyton Manning's health in question for Indianapolis, perhaps 2011 is the year Houston fans have waited for.
Schaub may not have had the better stat line between himself and Matt Ryan, but that could be due to plenty of handing off to Arian Foster last year.
Schaub has proven that he can produce numbers, with Andre Johnson and tight end Owen Daniels leading the team in receptions. Over the past two seasons, he's posted back-to-back 4,000-yard years and a 92 or better quarterback rating in the past three.
There's no reason he can't put together another great year for his team.
7. Tony Romo
Ronald Martinez/Getty Images
Tony Romo and the Dallas Cowboys' 2010 campaign was disastrous to say the least.
One of the NFC favorites to reach the Superbowl, they ended up finishing 6-10 after beginning 1-7.
2011 is a new year for America's Team, however, with a healthy Tony Romo back under center and new head coach Jason Garrett at the helm.
Just because Dallas' No. 9 wasn't on the field much in 2010 doesn't mean we can forget about his breakout 2009 season. In that season, Romo threw for just nine interceptions, better than Tom Brady, Kurt Warner, Eli Manning and Matt Schaub. He also threw for a career-best 4,483 yards.
With Dez Bryant, Miles Austin and Jason Witten to throw to and Felix Jones in the backfield, the Cowboys offense is still full of firepower, which should add up to a top-10 finish among quarterbacks for their field general.
6. Michael Vick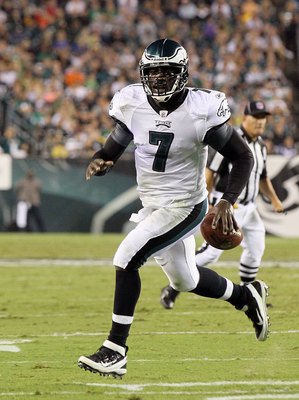 Jim McIsaac/Getty Images
Say what you will about Michael Vick from a personal standpoint, there's nothing you can do to take away his storybook 2010 season.
Vick was set to begin the year behind Kevin Kolb for Philadelphia and due to stellar play after Kolb's injury was able to keep the job and go on to resurrect his football career.
Michael Vick finished 2010 as the 35th best rusher in the league statistically. You might think that's a somewhat low number, but Vick finished with more rushing yards than Danny Woodhead, Ricky Williams, Beanie Wells and Marion Barber. Did I mention he's a quarterback?
A quarterback that finished with a 100.2 passer rating with 21 passing touchdowns, nine rushing touchdowns and just six interception in only 12 games.
Vick had a monster 2010, and with DeSean Jackson, Jeremy Maclin, Ronnie Brown and LeSean McCoy at his disposal, 2011 should be at the very least a repeat year for Vick.
5. Philip Rivers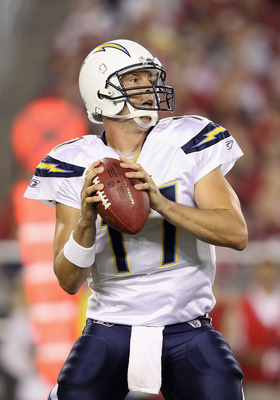 Christian Petersen/Getty Images
While 2010 may have been a letdown in the eyes of San Diego Chargers fans, Philip Rivers gave them a reason to feel good despite no postseason play.
Rivers has been one of the most productive and least talked about quarterbacks in recent years. In the past three seasons, Rivers has thrown for 34, 28 and 30 touchdowns. He threw 30 last season without a full year with his No. 1 receiver Vincent Jackson on the field.
Despite having Greg Jennings and Roddy White to throw to for almost all of last year, neither Matt Ryan or Aaron Rodgers can say they threw for more touchdowns than the Chargers QB.
With a full year of Vincent Jackson as well as Malcom Floyd to throw to, there's reason to believe Rivers can reach 35 TDs this season and bring San Diego to a AFC West crown.
4. Peyton Manning
Scott Boehm/Getty Images
I don't need to sit here and wow you with numbers for Peyton Manning.
His reputation alone should tell you all you need to know.
What I assume I'll have to do, however, is defend putting him fourth on this list. Manning is as good as they come at the position, but the worries around his injury and the fact he could miss time has to bring him down a few spots.
On top of the amount of games he could miss, we don't know how quickly he'll be back to his usual self.
It could be Week 4 or Week 6 when Manning starts to throw for four touchdowns with no picks, and that's a lot of time in football.
There's no knock against the future hall of famer's ability here, just worries about how and when we'll see Manning back to usual form for his Indianapolis Colts.
3. Drew Brees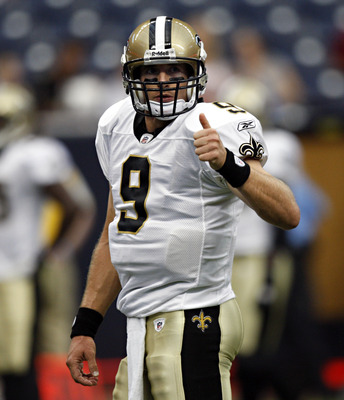 Bob Levey/Getty Images
In 2010, he had 4,620 passing yards, 33 touchdowns and an average of 289 yards per game.
For most, that's a great season. For Drew Brees, it was an off year.
The New Orleans Saints' quarterback had some great numbers in 2010, but the 22 interceptions were just too much for his team to overcome.
Their season ended with the stunning wild-card loss to the 7-9 Seattle Seahawks in a game where Brees threw for 404 yards and two touchdowns.
The Saints' quarterback will be looking forward in 2011 and should enjoy another year with Marques Colston, Jimmy Graham, Pierre Thomas and newcomer Mark Ingram.
New Orleans has more than enough weapons for Brees to take advantage of, and if he can have numbers like 2010 without the picks, don't expect the Saints to go quietly if they make it to the playoffs.
2. Aaron Rodgers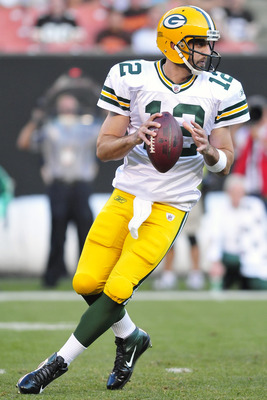 Jason Miller/Getty Images
If anybody believed that 2008 and 2009 were fluke years for Aaron Rodgers, they've certainly been quieted after 2010's Superbowl Championship season.
Rodgers' Green Bay Packers brought back the trophy to TitleTown with 28 passing touchdowns, four rushing touchdowns and more than 4,000 total yards on the season.
Rodgers has a plethora of talent to throw to, including Greg Jennings, Donald Driver, James Jones and Jordy Nelson.
The running back position is suspect, but that wasn't much of an issue for them last year.
The Packers are the favorites to take the NFC North again in 2011, and if they achieve this goal it will be in part due to Aaron Rodgers having another great year.
1. Tom Brady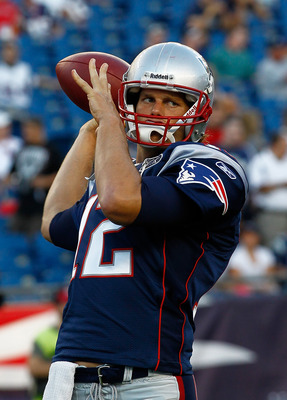 Jim Rogash/Getty Images
Similar to Peyton Manning, Tom Brady has earned the right to be placed atop of the elite quarterbacks over the past several seasons.
He's shown throughout his career that he can win whether he's throwing to Jabar Gaffney and David Patten or Randy Moss and Wes Welker.
The New England Patriots' star QB threw just four interceptions last season.
He finished 2010 with a 111 passer rating and brought his team within two games of making it the the Superbowl for the fifth time in his career.
Tom Brady has proven that regardless of the team around him, he's going to find a way to put up some of the best numbers at his position every year as long as he's healthy.
2011 should be more of the same from the three-time Superbowl champion.
Keep Reading