2011 NFL Preview NFC West Edition: Seattle Seahawks Doomed by QB Situation
August 25, 2011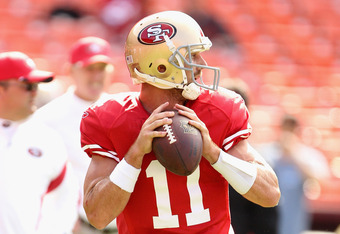 Note: This is part six of an eight-part series of NFL divisional predictions.
Last year, the NFC West was perhaps the most pathetic division in the history of pro sports. The Seattle Seahawks won the division despite a record of 7-9. The division will still be the weakest in the league this year, but at least it is trending upwards. In addition to that, I find it the most fascinating division based on the parity. This is easily the most wide-open division. Gamble at your own risk.
Sam Bradford and the St. Louis Rams showed enough last year to make you think they have a bright future. I think they take another step forward this year and capture the division crown. Led by a more seasoned Bradford, I predict the Rams to win the NFC West with a record of 9-7.
The Arizona Cardinals are my pick to finish second in the division. Honestly, it is a toss-up. QB Kevin Kolb should improve the offense, but injuries to Ryan Williams and Adrian Wilson have to damper expectations a bit. I would like this team a lot better if it was healthy and Kolb had a full offseason to get a handle on things. I think the Cards finish 6-10.
The San Francisco 49ers are my pick to finish third in the division. This is the other side of the coin in the Cardinals toss-up. I think the 49ers also finish 6-10. Alex Smith is still the QB, which is both a positive and a negative.
He doesn't excite you, but at least offers a little continuity. That will be tempered by the fact that head coach Jim Harbaugh didn't have a full offseason to install his imprint on the team. With a few minor changes, I could see the 49ers climbing the division in future years.
The Seattle Seahawks are my pick to go from first to worst in the division. If Matt Hasselbeck had re-signed, I would have liked the Seahawks' chances a lot more. However, Tarvaris Jackson is now at the helm. Seattle fans don't deserve the sorrow and misery that will fall in their laps with Jackson slinging the ball for them. I see the Seahawks bottoming out at 4-12.  Even if Charlie Whitehurst wins the starting job, this prediction doesn't change.
Part one: http://bleacherreport.com/articles/813411-2011-nfl-preview-afc-east-edition-miami-dolphins-qb-drama-hampers-team
Part two: http://bleacherreport.com/articles/814030-2011-nfl-preview-nfc-east-washington-redskins-destined-for-last-place
Part three: http://bleacherreport.com/articles/814936-2011-nfl-preview-afc-south-edition-colts-reign-as-champs-coming-to-an-end
Part four: http://bleacherreport.com/articles/817829-2011-nfl-preview-nfc-south-edition-panthers-poised-for-back-to-back-top-picks
Part five: http://bleacherreport.com/articles/819567-2011-nfl-preview-afc-west-edition-denver-broncos-qb-controversy-to-ruin-season