2011 NFL Preview AFC South Edition: Colts Reign as Champs Coming to an End?
August 22, 2011
Note: This is Part Three of an Eight-Part Series of NFL Divisional Predictions
The Indianapolis Colts win the AFC South almost every year. The obvious reason as to why is QB Peyton Manning.
It seems like in recent years, more and more people have picked someone else to win the division citing that Peyton was getting old. Typically, I scoffed at those predictions.
Not this time.
I think Peyton Manning is the best QB to ever play in the NFL. However, his second neck surgery and its subsequent slow recovery has me spooked.
With that said, I am predicting the Houston Texans to finally rise out of mediocrity and win the AFC South.
They have always had an explosive offense the last few years, but now I believe the defense will show enough to take them to the top. It does not hurt that Peyton is slowing down as well. I think they capture the division crown with a mark of 10-6.
The Colts still have enough left in the tank (assuming Peyton does not miss any time) to finish in second place. However, my projected record of 9-7 will leave them out of the playoffs.
I would not be shocked if Peyton proves me wrong and captures the division crown once again. However, I would put my money on a second place finish with a winning record.
The Jacksonville Jaguars may be on the rise, but they have a long way to climb. Nothing about this team excites you or disgusts you. I predict they finish at 6-10.
Honestly, the biggest worry Jaguars fans should have is whether or not the team is going to stay in Jacksonville long term, with Los Angeles looming in the background as a possibility.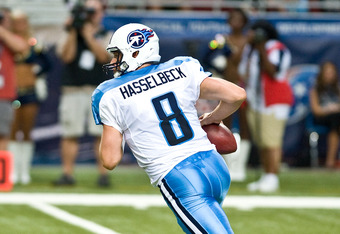 I would be shocked if Tennessee did not end up in last place this year. They are bringing in a new QB past his prime with little time to prepare in Matt Hasselbeck. On top of that he has had a hard time staying healthy in recent years.
The Titans finished in last place a year ago and haven't done enough in my opinion to climb out of the basement of the division. I predict they finish with a 5-11 record.
Overall, the AFC South is a mediocre division. Certainly not full of pushovers, but it lacks multiple teams that scare you as well.
Part One: http://bleacherreport.com/articles/813411-2011-nfl-preview-afc-east-edition-miami-dolphins-qb-drama-hampers-team
Part Two: http://bleacherreport.com/articles/814030-2011-nfl-preview-nfc-east-washington-redskins-destined-for-last-place