Pittsburgh Steelers: Predicting Each Steelers Game for 2011-12 Season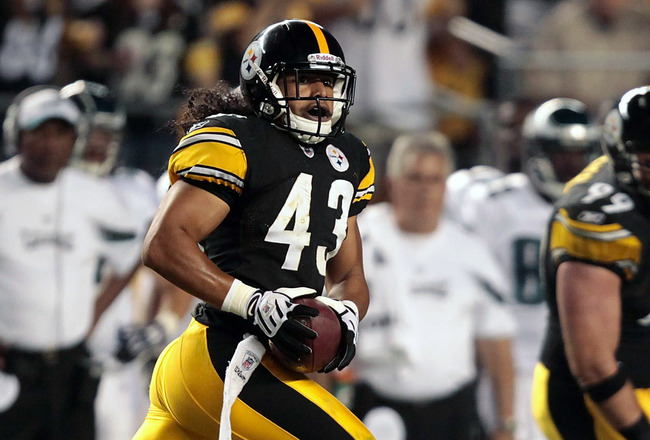 Jared Wickerham/Getty Images
Are you ready for some football?
No one is more ready to get back on the field than the Pittsburgh Steelers. After their Super Bowl loss to the Green Bay Packers, the Steelers are looking to get back to the big game and win their third Super Bowl in the last seven years.
Let's take a look at the Steelers 2011-12 schedule game by game and see if the Super Bowl runner-ups have what it takes to get back to playoffs.
Week 1: Pittsburgh Steelers @ Baltimore Ravens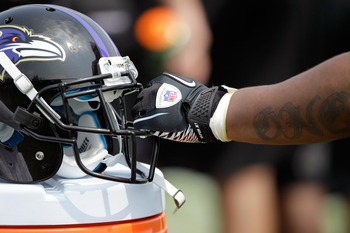 Rob Carr/Getty Images
Could there be a more physical game to start the season?
Not only are these two of the most smash-mouth teams in the NFL, their hatred for each other is unrivaled. Win, lose or draw, this is a game that both teams walk away from banged up.
With that said, who will win this pivotal week-one matchup?
I give the early nod to the Steelers who seem to have a little more offense at this point than do the Ravens. Just like the Steelers, the Ravens cornerbacks will be the weak point of an otherwise stellar defense.
I believe Ray Rice is more of a playmaker than Rashard Mendenhall, but the Steelers receiving corps is far superior to Baltimore's. Hines Ward, Mike Wallace, Antonio Brown and Heath Miller have a distinct advantage over Anquan Boldin and the recently acquired Lee Evans. Plus, Baltimore can't seem to beat a Ben Roethlisberger-led Steelers team.
Steelers 24 Ravens 20
(Steelers 1-0)
Week 2: Seattle Seahawks @ Pittsburgh Steelers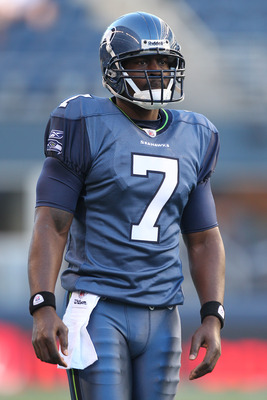 Otto Greule Jr/Getty Images
The QB situation in Seattle is one of the league's worst. To start either Tavaris Jackson or Charlie Whitehurst against an attacking Steelers defense is unfair.
The Steelers should be able to move the ball fairly easy on an overmatched Seahawks defense and come away with a fairly easy week-two win.
Seahawks 10 Steelers 27
(Steelers 2-0)
Week 3: Pittsburgh Steelers @ Indianapolis Colts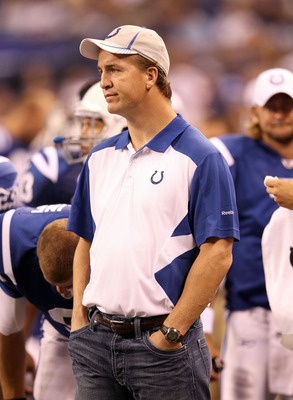 Andy Lyons/Getty Images
Does this Colts team really scare anybody?
Even if Peyton Manning is back before this game, with little to no playing time for him to get back in sync with his receivers, I really have a hard time believing that he will be ably to fully exploit the weakness of the Steelers defense.
The Colts hang around and make it interesting, but in the end, the Steelers cruise to a somewhat comfortable victory.
Steelers 31 Colts 21
(Steelers 3-0)
Week 4: Pittsburgh Steelers @ Houston Texans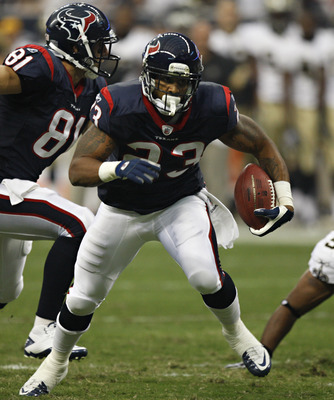 Bob Levey/Getty Images
Does this team scare anybody? I'll be the first to raise my hand and admit that I am afraid!
Matt Schaub, Andre Johnson, Arian Foster and Owen Daniels lead a high-powered offense that can score on anybody. But it's the much improved defense that will be the difference in the game.
Johnathan Joseph was perhaps the most important free agent acquisition made by any team in the league. He allows the rest of the defense to play a little more free with less chance of giving up the big plays that killed this team last year.
Steelers 17 Houston 27
(Steelers 3-1)
Week 5: Tennessee Titans @ Pittsburgh Steelers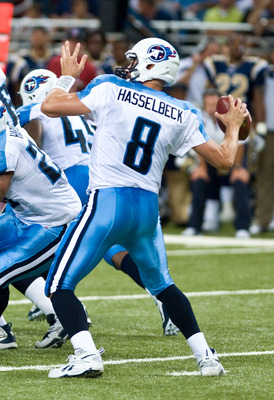 Ed Szczepanski/Getty Images
Matt Hasselbeck is a steadying presence at QB for the Titans, but is he a playmaker? And is "steadying presence" really a compliment?
The Chris Johnson situation appears to be far from over and Kenny Britt could face some type of suspension for his off the field run-ins. That combo of misfortune could leave this offense without any real threats.
The Steelers get back on track after a disappointing loss to Houston with a nice bounce-back win.
Tennessee 10 Steelers 21
(Steelers 4-1)
Week 6: Jacksonville Jaguars @ Pittsburgh Steelers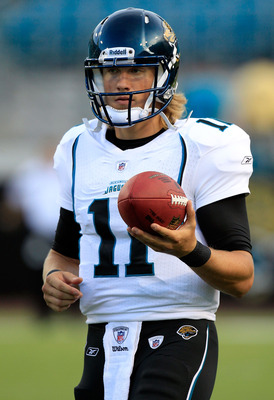 Sam Greenwood/Getty Images
Will it be David Garrard or Blaine Gabbert? My gut says Garrard will still be under center at this point in the season. It really doesn't matter who takes the snaps, this offense will be bad.
MJD is the only serious playmaker on the offensive side of the ball. Their wide receivers are a hodgepodge group at best. I see this offense struggling early and often, not only versus the Steelers defense, but against most teams they play.
Jaguars 6 Steelers 24
(Steelers 5-1)
Week 7: Pittsburgh Steelers @ Arizona Cardinals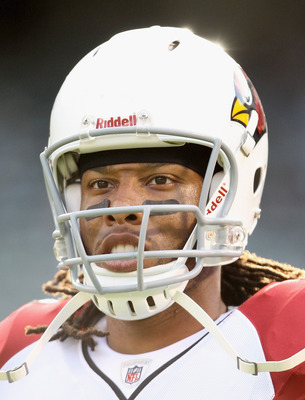 Ezra Shaw/Getty Images
The Arizona Cardinals will be an improved team.
Kevin Kolb is a drastic upgrade over any QB they had on their roster last year which is one of the main reasons Larry Fitzgerald decided to stay with the Cardinals (the monster deal they offered probably didn't hurt either).
In a couple of years this team will challenge once again for the Super Bowl. Unfortunately for the Cardinals it will take a few years for the pieces they have in place to gel.
Steelers 27 Cardinals 14
(Steelers 6-1)
Week 8: New England Patriots @ Pittsburgh Steelers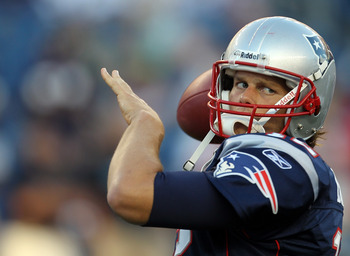 Jim Rogash/Getty Images
No need to waste a lot of time here.
The New England Patriots OWN the Steelers and usually the games are not competitive. I have a feeling that the same old thing will happen this time.
Patriots 31 Steelers 17
(Steelers 6-2)
Week 9: Baltimore Ravens @ Pittsburgh Steelers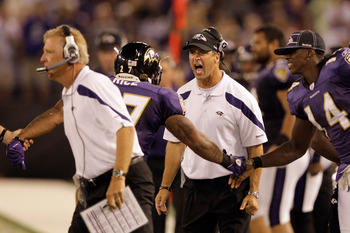 Rob Carr/Getty Images
Something feels wrong about the final matchup (possibly) of the year between these two teams happening before the Steelers have their bye week.
While I want to pick the Steelers to sweep the two games this year, I feel like the Ravens somehow find a way to split the series at 1-1.
Could another matchup happen in the playoffs?
Ravens 24 Steelers 21
(Steelers 6-3)
Week 10: Pittsburgh Steelers @ Cincinnati Bengals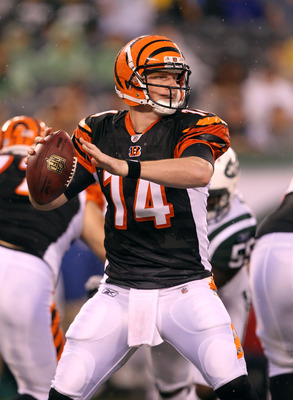 Al Bello/Getty Images
This team will be terrible.
Congratulations Cincinnati, you are officially on the clock.
Steelers 31 Bengals 7
(Steelers 7-3)
Week 12: Pittsburgh Steelers @ Kansas City Chiefs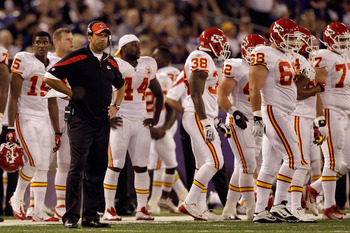 Rob Carr/Getty Images
Why does everyone seem to be down on the Kansas City Chiefs?
Matt Cassel had a solid first year in Kansas City and Jamaal Charles is a beast at the running back position. They have other playmakers on offense such as Dwayne Bowe, Dexter McCluster and Tony Moeaki.
The defense will once again be solid and I could easily see this team challenging to return to the playoffs. That being said, I think the Steelers are an overall deeper and better team.
Steelers 20 Chiefs 14
(Steelers 8-3)
Week 13: Cincinnati Bengals @ Pittsburgh Steelers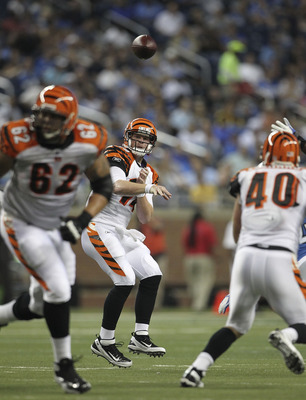 Leon Halip/Getty Images
Still on the clock Cincy.
Pittsburgh 34 Cincinnati 3
(Steelers 9-3)
Week 14: Cleveland Browns @ Pittsburgh Steelers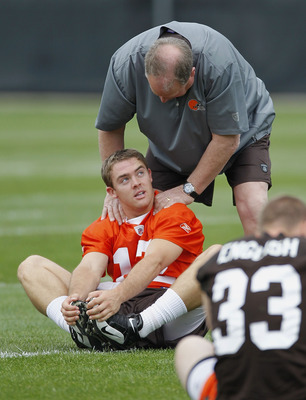 Gregory Shamus/Getty Images
Mike Holmgren is building something positive in Cleveland.
They have a nice young core group of players on offense including the Brett Favre instructed Colt McCoy. Madden cover athlete Peyton Hillis is always a tough guy to bring down. Josh Cribbs, Mohamed Massaquoi and Greg Little should be a solid receiving corps.
Joe Haden leads an improving young defense. It won't be too long before the Browns should be back battling for an AFC North division title. In the meantime, take solace in knowing that you will not be a pushover for anybody this season.
Browns 17 Steelers 24
(Steelers 10-3)
Week 15: Pittsburgh Steelers @ San Francisco 49ers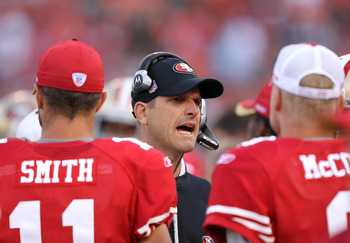 Ezra Shaw/Getty Images
Mr. Harbaugh, Alex Smith is not the answer.
The 49ers have underachieved for so many years that it's hard to get a grasp on just where this team will end up. Would I be surprised if they battled for the NFC West? Nope. Would I be surprised if they were battling Cincinnati for the top pick in the draft? Nope.
It's difficult to gaze into my crystal ball and see one area where the 49ers will be better than the Steelers in week 15.
Steelers 34 49ers 23
(Steelers 11-3)
Week 16: St. Louis Rams @ Pittsburgh Steelers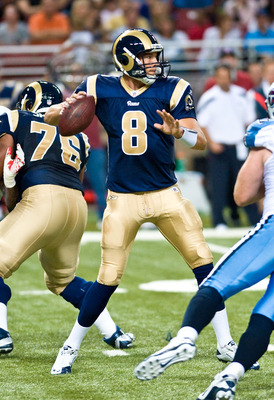 Ed Szczepanski/Getty Images
Along with the Arizona Cardinals, the Rams appear to be the team to beat in the weak NFC West.
St. Louis has a lot of pieces in place to make a run at the playoffs, but questions still remain. Can Sam Bradford avoid a sophomore slump? Can Steven Jackson stay healthy? Will the defense play well enough to allow the Rams offense to remain balanced?
While I still think they are at least a year and a couple playmakers away, I believe they keep the game close enough to make Steelers fans uncomfortable up until late in the 4th quarter.
Rams 23 Steelers 30
(Steelers 12-3)
Week 17: Pittsburgh Steelers @ Cleveland Browns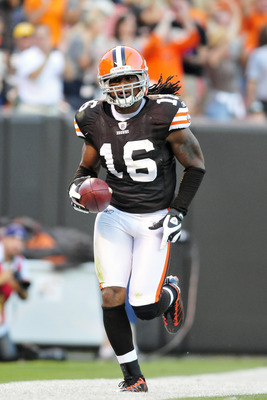 Jason Miller/Getty Images
To be honest I'll only take the Browns in this game because:
1. I'm hoping the Steelers have the division title locked up at this point and rest the majority of their starters.
2. I really didn't see the Steelers going 13-3, but cant find another loss on the schedule.
The Browns are an improved team and could see them squeaking out a division win. They will play hard and this "throw me a bone" pick is all the reward they will get from me.
Steelers 14 Browns 17
(Steelers 12-4)
Thoughts?
Jonathan Ferrey/Getty Images
Do you agree? Disagree? Let me know. As always comments and feedback are welcome. God bless!
Keep Reading

Pittsburgh Steelers: Like this team?