Eagles @ Steelers: Observations on the Pittsburgh Offense
August 23, 2011
Much has been made of last Thursday's game at Heinz Field by pumped Steeler fans. Many attempts have been made to minimize the importance of the game by embarrassed Eagles fans. The latter attempts are much like the rationalizations used the previous week by Steeler fans after the Redskins loss.
So what should we make of it? Is this a meaningless win for the Steelers?
Take, for instance, Vick's three picks. The Steelers were very happy to take them. But I suspect they were partially the product of an insistence by Vick's coaches that he stay put and throw the ball.  Or as "put" as one can stay when being chased down by large men with bad intentions.
After all, if he had thrown 30 picks, it still wouldn't count for anything. It's only the preseason.
Because of these sorts of considerations, this game doesn't indicate as much as we might like about how the Steelers will perform this season. But here are a few things I took from it.
The preseason is a great opportunity to experiment with plays that you might not want to risk in a regular season game.
A possible example of this was the second-quarter end around reverse, culminating in a pass from Antonio Brown to Arnaz Battle. The pass fell harmlessly to the turf, but was an impressive throw, sailing almost 50 yards. Brown ended the night with a better passer rating than Vick, although he will never be able to match Antwaan Randle El's career passer rating of 157.8. Neither will anyone else.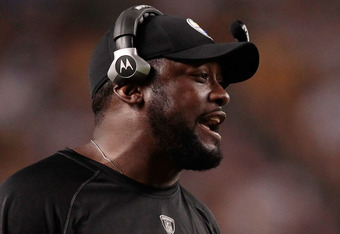 But the primary purpose of the early preseason games is to evaluate your players, especially rookies and new hires.
Prior to the Redskins game, Mike Tomlin said:  "Intelligence in the classroom is one thing, intelligence on the practice field is another thing, intelligence inside stadiums is another thing...We have a lot of men to evaluate, and we have a short time in which to do it. This will be a significant step. It will be telling in terms of what people are capable or willing to do." 
Eighty-nine players are currently listed on the Steelers.com roster. Twenty-four players are tight ends, wide receivers, or running backs. Forty-six percent of them are headed for the chopping block (some may make it onto the practice squad).
Eighteen different Steelers were intended receivers during this game, and 15 of them caught at least one ball.
Of those 18, nine of them are locks to make the roster, barring serious injuries: TEs Heath Miller and David Johnson; RBs Rashard Mendenhall, Mewelde Moore, and Isaac Redman; WRs Mike Wallace, Antonio Brown, Hines Ward and Jerricho Cotchery. Assuming that Emmanuel Sanders is healing on schedule, he is a lock for another of the WR spots.
That leaves three possible openings—No. 4 RB, No. 3 TE and No. 6 WR.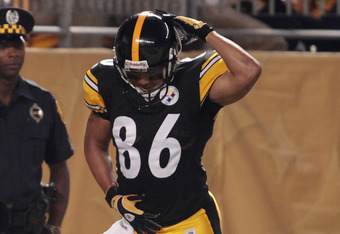 Jonathan Dwyer had "bust" written all over him when he showed up to camp overweight and underfit. But he lost 20 pounds during camp and put up a decent showing in this game. He ran a total of 44 yards in 13 attempts for three-plus yards per carry, and was 2-for-2 on receptions.
He has also improved in his other assignments. As Dave Bryan writes: "Jonathan Dwyer is night and day different from last season when he doesn't have the football in his hands. He looks like he is recognizing who to get now when asked to protect...I saw two nice blocks that saved hits on the quarterback."
Had Baron Batch not gone down, the competition might have been much fiercer, but at this point he seems to have practically sewn up the No. 4 RB position. Always assuming they keep four RBs.
One of the surprises of the Eagles game was the impressive showing from Arnaz Battle. After the Redskins game I figured he was on thin ice, but he now seems to have the best chance at the sixth WR slot. He had three completions for an average of 15-plus yards. Battle certainly strengthened his case to make the final 53. Assuming they keep six WRs.
It seems that the only spot that is truly up in the air is the third TE slot. It will be interesting to see how that shakes out in the next few weeks.
It was nice to see Hines Ward looking as spry as any of the youngsters on his leaping catch in the endzone. That end-zone dance was a Samba, BTW, not a Paso Doble, as one of the terpsichoreally-challenged announcers stated.
One person/position that Tomlin didn't get to analyze as he intended was Tony Hills at right guard. After three years of not impressing as a backup tackle, Hills showed up to camp in "the best shape of his life." He spent the summer with a Texas trainer who helped him increase both his strength and his flexibility.
"He's got great athleticism," [Offensive Line coach Sean] Kugler said. "His redirect, his pulling skills, his ability to adjust in space, those translate to guard. I'm not saying he can't play tackle, but we're going to see if those skills flourish at the guard spot." After showing well at right guard in the Redskins game, he was put in as the starter last Thursday.
Injuries to Jonathan Scott and Marcus Gibson meant that Hills had to move to left tackle. Given that neither Scott nor Gibson's injuries were serious, Hills should have another chance to show what he can bring to the RG position.
Finally, the game indicated that the offense may be carrying more of the burden than it has for some time. Roethlisberger looks better than ever, the team is stacked with fresh young talent in the receiving corps, and the running attack looks thoroughly dangerous. If the O line can hold down their end of things, we may see what Roethlisberger termed an "explosive" offense.
But, as I keep reminding myself, it's only the preseason...